IBM has gotten the ball rolling on their mega campaign that is the dream of all their partners and clients. The campaign is innovation embodied and that is what it is for too – to innovate on an upward curve. The announcement is making headlines and here's why you need to know about it:
Read more: The Reality Behind The Shape Of Pringles Potato Chip
"Let's Create"
IBM's new integrated global platform, "Let's create," is their greatest achievement yet. It is the company's most highlighted creation in over a decade because it's so 2022. The campaign, "Let's create" is also gaining popularity because it embodies the vision, strategy, and purpose of today's IBM. What is at their core? A focus on innovation and collaboration to create value for clients while helping their businesses. That is what "Let's Create" is.
So, What Is It?
'Let's create' is an invitation to co-create with IBM, according to the company's statement. It uses hybrid cloud and artificial intelligence (AI) technology combined with its consulting expertise to help you. Together this creates data-driven solutions that secure organizations around the world. According to IBM, the platform is designed to automate, modernize, secure, and transform organizations around the world.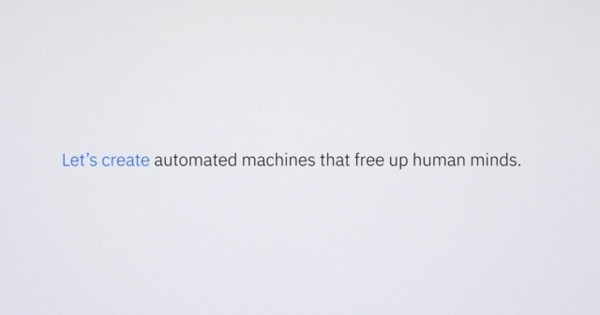 The campaign is set to roll out in the coming months, that too in three intervals. The first chapter will educate people about IBM's core capabilities and expertise. The next chapter will demonstrate how IBM helps its clients materialize their unique visions. The third chapter will focus solely on the "New Creators". The "new creators" refers to the application of technology to create the transformation that global businesses need.
More About IBM

Read more: 5 Ways To Make Customers Trust Your Brand & Why It's Important
IBM has a global, multi-platform marketing investment strategy. This company's transformation is recorded amongst some of the most significant transformations in its 110-year history. There's even more besides "Let's Create" that helps them stand out. The recent spin-off of IBM's managed infrastructure services business, Kyndryl with hybrid cloud and AI is remarkable. Now, "Let's create" conveys IBM's commitment to lead the industry. The latest campaign will strengthen the company more. Innovation, development, and application of advanced technologies are the latest tools for businesses.
Stay tuned to Brandsynario for the latest news and updates.