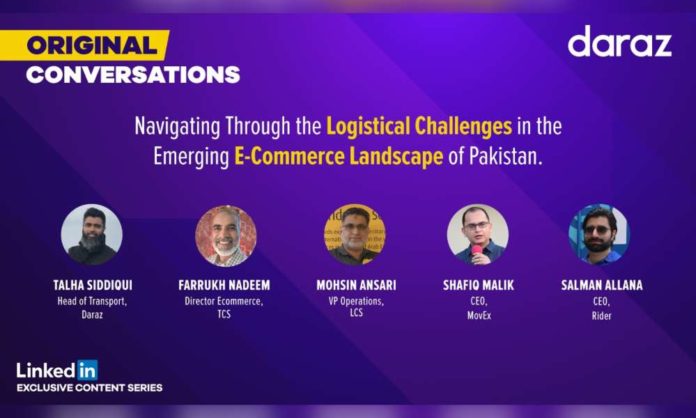 Pakistan is rapidly developing into an e-commerce led country. As the world transitions more towards online shopping, triggered especially by covid-19, Pakistan is also gearing up to experience this change. With huge e-commerce platforms like Daraz coming into existence, how important is logistical support? Let's find out.
The discussion panel led by Daraz was supported by Mohsin Ansari, VP Operations, LCS; Farrukh Nadeem, Director Ecommerce TCS; Shafiq Malik, CEO MovEx, Salman Allana, CEO Rider and Talha Ahmed, Head of Transport at Daraz.

Importance of Logistic Support in E-commerce Industries
Large stores are opening all over Pakistan and the shift is moving online. Amazon is changing landscape – like Daraz. However, logistic infrastructure will help us support the change.
Pakistan missed out on the opportunity of mega malls which is why we have delved more into online shopping. The amazon experience is happening now which is why companies solely dedicated to logistical services like MovEx are coming up. Logistics is the bridge between the buyer and seller. The aim is to make the online shopping experience better than walking into the store. Logistic support changes 30 to 40 hands and it has to get it right each time— be it heat, cold or COVID-19. Thus, logistical support is the backbone of online shopping.
What Is Attracting New Entrepreneurs/Investors?
The industry, however, is dominated by giants. Companies like TCS and LCS did not start as logistical companies but they evolved over time to serve as logistical support to several companies. However, this industry is being penetrated by several new investors and young entrepreneurs. So, what is attracting them?
Mohsin Ansari from LCS suggested that your logistical solutions can either be man-power driven or be a solution provider. These new entrepreneurs saw the opportunity to provide supply-chain, end-to-end e-commerce services. This is where the new agents are entering and changing the landscape.
Uncontrolled Segments— What Does It Do?
Uncontrolled markets are Instagram and Facebook etc. These social media platforms have become hubs of small businesses but these platforms are not controlled. Controlled markets, on the other hand, are brands that are renowned and have a more consistent, predictable setup. According to, grey and yellow uncle, the biggest drawback for uncontrolled markets is the product. One does not get what one is promised. As a result, the logistical companies also suffer because they face the brunt.
Read more: Daraz & ICC T20 Worldcup – What A Move & Similar Reaction From Pakistanis
However, it is a collective challenge that – if handled properly – can make all businesses prosper. Daraz is solving this problem by focusing on the customer experience as well as the seller one because only when there is a balance there will be success.
Stay tuned to Brandsynario for the latest news and updates.