In the latest news, HEC has launched a bomb on students as it came out with a comprehensive list of "fake institutions" operating in Pakistan. The tweet and list, has since then invited the ire of many people. Why is this happening now? Read all about it here.
What Happened?
The Higher Education Commission (HEC) recently issued a list of "fake, illegal, and unrecognized" educational institutions. These institutions operate across the country and the HEC has instructed students to refrain from taking admission in them.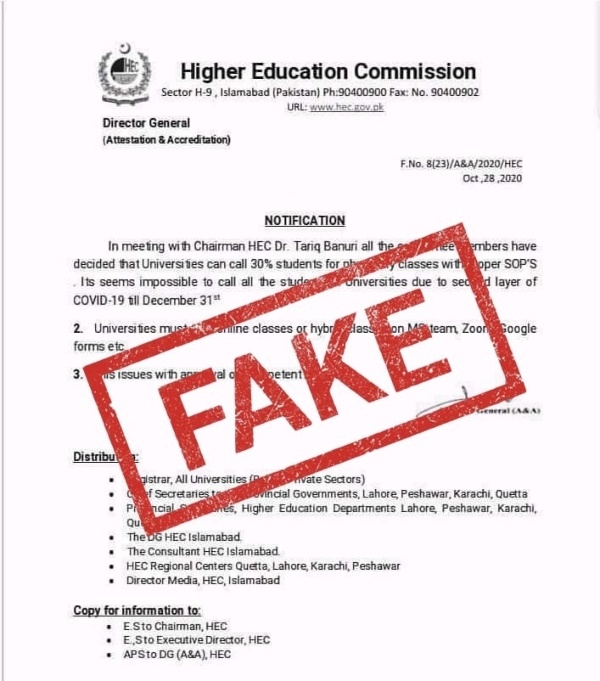 HEC issued a statement on Twitter saying that it only recognizes degrees of chartered universities. In addition to that, it will accept degrees from higher education institutions (HEIs) in public and private sectors and their officially approved campuses.
Read more: HEC's Illegal/Fake Institutions List Released
Where Can We Find The List?
The purpose of spreading this list was so that students confirm the affiliation of a Higher education institute or campus before taking admissions there. Moreover, the HEC also warned students against enrolling in any of the universities and campuses given here:
🛑 STUDENT ALERT 🛑

𝐅𝐚𝐤𝐞, 𝐈𝐥𝐥𝐞𝐠𝐚𝐥, 𝐔𝐧𝐥𝐚𝐰𝐟𝐮𝐥 & 𝐔𝐧𝐫𝐞𝐜𝐨𝐠𝐧𝐢𝐳𝐞𝐝 𝐈𝐧𝐬𝐭𝐢𝐭𝐮𝐭𝐢𝐨𝐧𝐬 𝐢𝐧 𝐏𝐚𝐤𝐢𝐬𝐭𝐚𝐧

List posted here and also available @ https://t.co/p38t45bIMm pic.twitter.com/PZyol1B6ah

— HEC Pakistan (@hecpkofficial) January 10, 2022
The HEC also added that there may be universities who are not in this LIST and are in the list but also are not in the approved list may be fake. The commission stated that the list has also been uploaded to the HEC website for the convenience of students.
PLEASE NOTE that any other institution which is not included here 👆or in the list of recognized institutions on HEC website (https://t.co/dYRPx5zwbe) may also be treated as fake, illegal, unlawful and unrecognized institution.

— HEC Pakistan (@hecpkofficial) January 10, 2022
According to HEC, it is the responsibility of parents and students to check an institution's status before going there. Otherwise, the HEC is not to be held responsible for the money and years being wasted. 
People Are Not Taking This
People are now angry. They are wondering who is responsible for those students who have spent years of their life and their parents' money and now are told their degree is fake? Moreover, people are asking, why is HEC just making people "aware"? Why is the commission not shutting down these institutions and who is allowing them to exist? Provided HEC's recent performance with the single national curriculum and closure of schools repeated, people are not happy. Here's what they're saying:
Is HEC done by sending this alert? Who is responsible to take action against these fake institutions? We are looking for the tweet like "more than 100 fake institutions were shut down in Pakistan"

— Muhammad Tahir Ali (@MTahirAli84) January 10, 2022
Logo ko Bata Rahe pata he sab to phr karwai kyu nai karte😲?

— MISHAL RAJPOOT.LEo (@MishalRajpoot1) January 10, 2022
HEC authorities are responsible for these fake and unregistered institutions. No action for banning and sealing these institutions of education mafia. They are earning whereas students and parents are suffering.

— Engr. Abid Hussain Bukhari (@EngrAbidBukhari) January 11, 2022
Read more: Punjab Educational Institutions Revise Admission Rules
Stay tuned to Brandsynario for the latest news and updates.