The Higher Education Commission (HEC) of Pakistan has announced the HEC Ehsaas Scholarship 2020 for 125 public sector universities across the country.
The total budget HEC has allocated for the Ehsaas Undergraduate Scholarship Programme 2020 is Rs. 24 billion. The scholarship includes 100% tuition fees and Rs. 4,000 stipend.
Who Can Apply?
Every year, the authority gives 50,000 scholarships to needy students who come from a household earning less than Rs. 45,000 a month.
Eligibility Criteria For The Programme 
Ehsaas Scholarships are offered to:
1. Newly admitted students.
2. Admissions secured on merit only.
3. Degree programmes allowed by the HEC.
4. The maximum age of eligibility is the same as the maximum age for applying for admission in undergraduate programs at the HEI.
Ineligibility Conditions:
A student is ineligible for the scholarship if found:
1. Availing any other scholarship or continuous grant.
2. Enrolled in distant learning programmes and affiliated colleges (both public/private).
3. Having secured admission on a self-sustain/ self-support/ self-finance basis, or in evening programmes with higher fee structures.
How To Apply For HEC Ehsaas Scholarship 2020
"200,000 students will benefit from this four-year programme," the HEC officials said when announcing the scholarship. Students can easily apply online to take part by clicking here.
For students living in remote areas who don't have access to the internet, the committee chairman said that an advertisement should also be given in local newspapers.
Moreover, 50,762 scholarships were awarded during the session 2019-20 worth at Rs4.82bn, the HEC officials added.
HEC Ehsaas Undergraduate Scholarship Program 2020 Online Form
There are 7 basic steps you'll have to take to fill in your application for the scholarship. The first thing you need to do is visit the Ehsaas scholarship website www.ehsaas.hec.gov.pk/#/login.
Step 1- Visit The Website
Once on the main page, you'll be asked to enter your CNIC/Passport and Password to sign in. For new students, there is an option to sign up.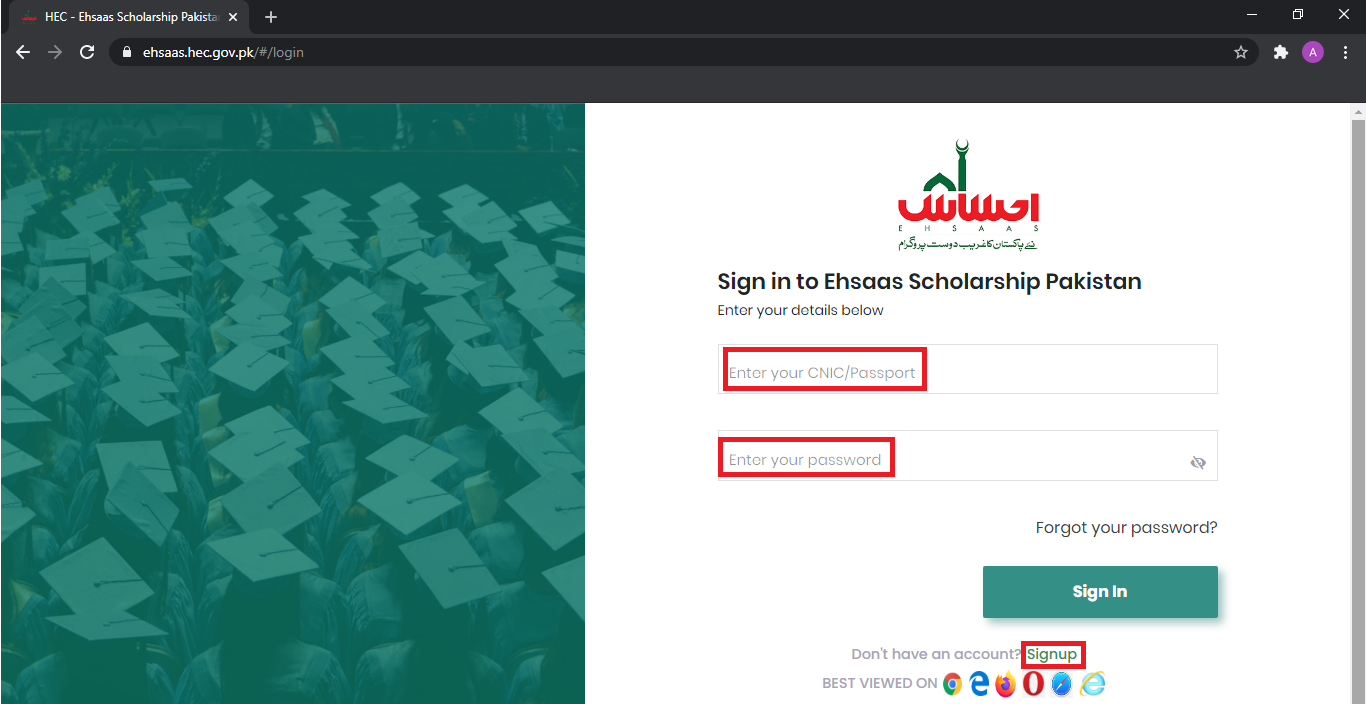 Step 2- Create An Account
The next step is to fill in your information while creating a new account. For this you'll require to give:
First Name
Last Name
Nationality
CNIC Type/ 13 digit NADRA CNIC Number
Password
Cellphone Number
Primary Email Address
Once you've signed up, you can log in to your new account.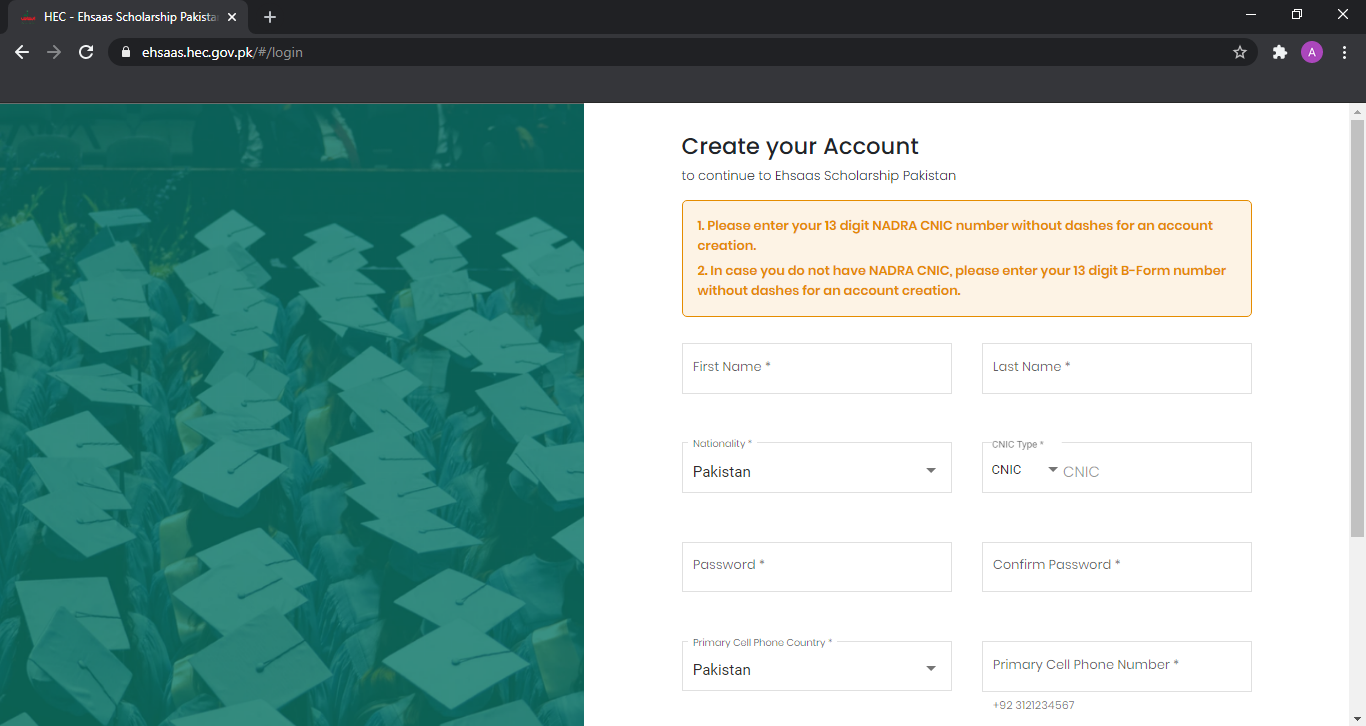 Step 3- Personal Details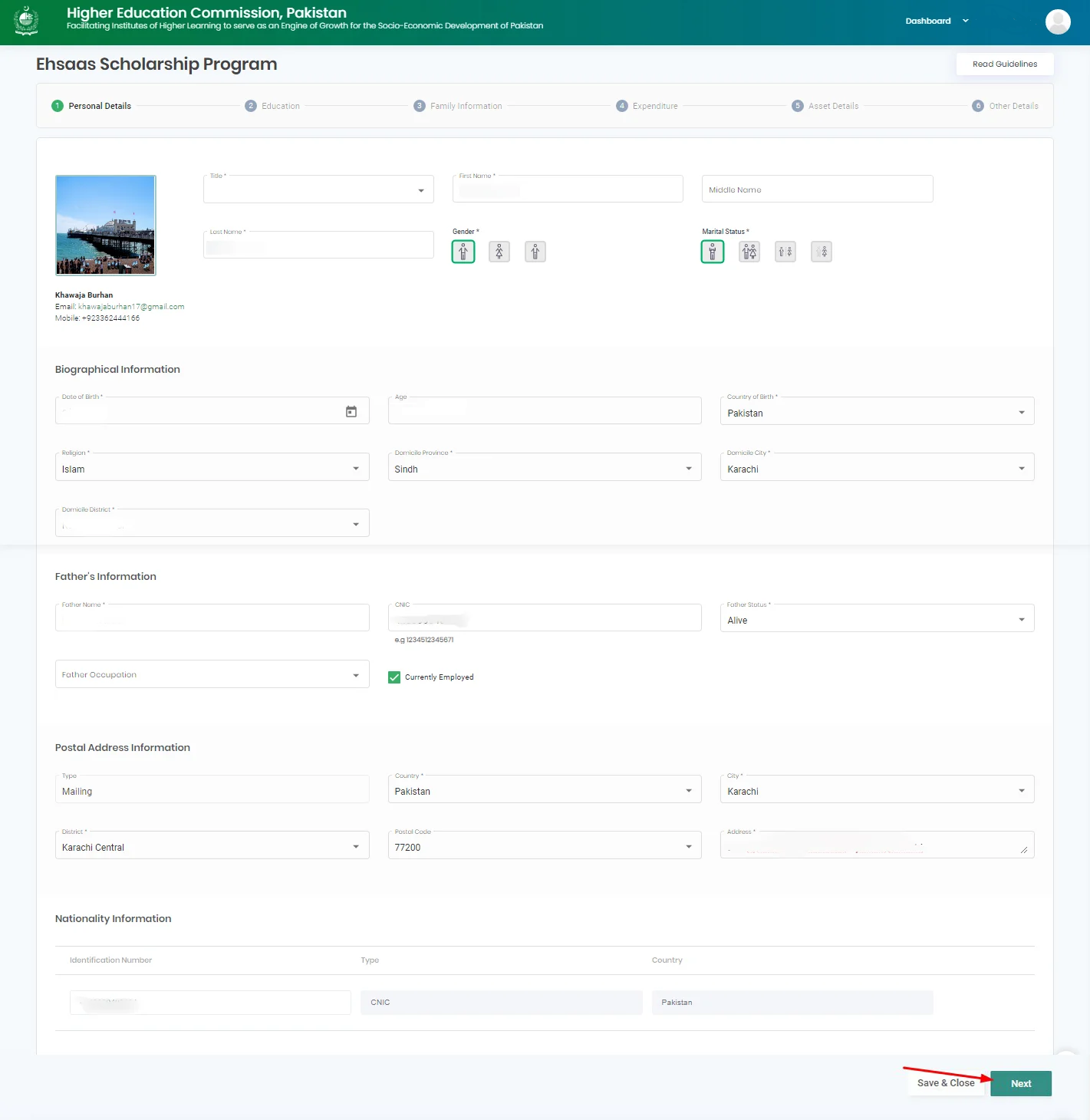 Step 4- Income Details
Once you've filled the basic information about you, you'll be asked about the household income. This will also require you to fill information about your parent's jobs as well as information about any minors (dependants) in your family.
Step 5- Monthly Expenses
You'll also be asked about the monthly expenses of the household, such as how much you pay for water and electricity bills, kitchen expenses, etc.
Step 6- Family Assets
You will be required to name any assets that your family owns.
Step 7- University
Lastly, you'll have to share how your university fees were paid and if you've ever received a scholarship before.
Once everything has been filled with proper and authentic information, you simply need to hit the 'Submit' button to try your luck in being one of the lucky students to be awarded the HEC Ehsaas Scholarship 2020.
Yikes! HEC Just Issued A List Of Fake And Illegal Universities
Stay tuned to Brandsynario for more news and updates.