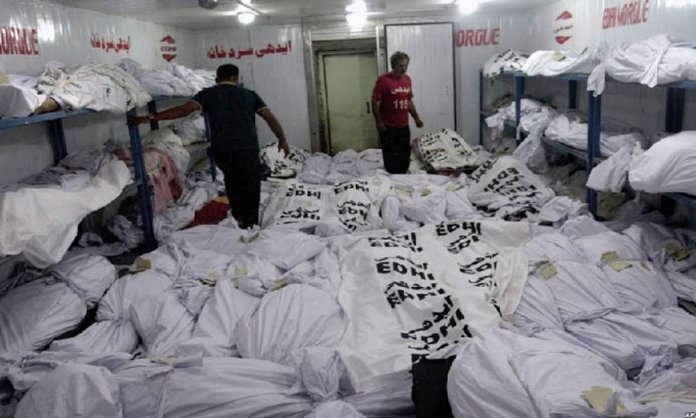 The rising temperature in Karachi has taken a toll on the life of the locals, resulting in the death of 65 people, reports Dawn News.
Faisal Edhi of the Edhi Foundation told Dawn that amongst 114 bodies brought in to the foundation's morgues in Karachi's Korangi and Sohrab Goth area in the past three days, 65 of them had passed away due to the heatstroke.
"Most of the citizens who died from the heatstroke were residents of Landhi and Korangi"

https://www.facebook.com/TheTimesOfKarachi/posts/1664271533687644
He also added that most of these heatstroke victims had died at their homes with ages varying between six to 78 years.
Faisal Edhi added:
"People did not get medical help on time, which resulted in their death"
He further highlighted the magnitude of the crisis by saying that while the morgue in Korangi receives 10-11 bodies per day.  However, since Saturday that count has increased to 34 bodies while the morgue in Sohrab Goth had received 30 bodies. Most of these victims lost their lives while going about doing daily chores".
However, Sindh Health Secretary Dr. Fazlullah Pechuho denied the notion that these deaths had resulted due to the ongoing heat stroke in Karachi.
"Only doctors and hospitals can decide whether the cause of death was heat stroke or not. I categorically reject that people have died due to heat stroke in Karachi"
According to him, Karachi had not received a single heat stroke patient during the last three days.
This news comes at a time when locals are struggling in Ramadan due to the extreme heat. With the temperatures expected to remain high, reaching around 44 degrees Celsius; residents have been advised by the government to take precautions by staying hydrated and remain indoors as much as possible.
Stay tuned to Brandsynario for more news and updates.