It seems that Instagram stories are the modern news breaker. And the celebrities use it to the full extent. This time it was Hania Amir. And so, on 1st April 2021, we witnessed Hania Amir's engagement.
She posted a picture of her hand where she has an oversized ring on her engagement finger and the text in that story was simply the date and a ring.
It was not even left to people's imagination that she is engaged.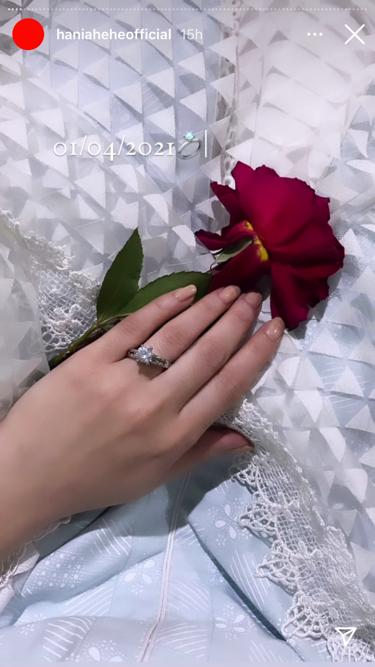 A producer, Umer Mukhtar even shared his story congratulating Hania and Shamoon Ismail for tying the knot.
He said: Congratulations to my two very good friends on getting engaged."
And tagged both parties on it.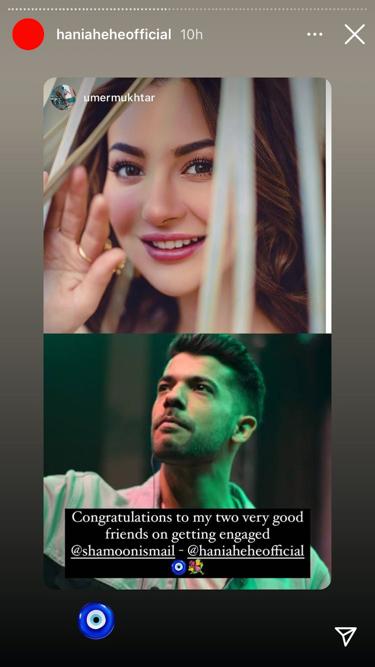 The news was further strengthened when some people who are close to Hania started congratulating her.
As we all know of the recent friendship of hers with Dananeer, it was obvious that she was going to congratulate Hania. But Dananeer's manager, Nafayalll also posted a congratulatory story.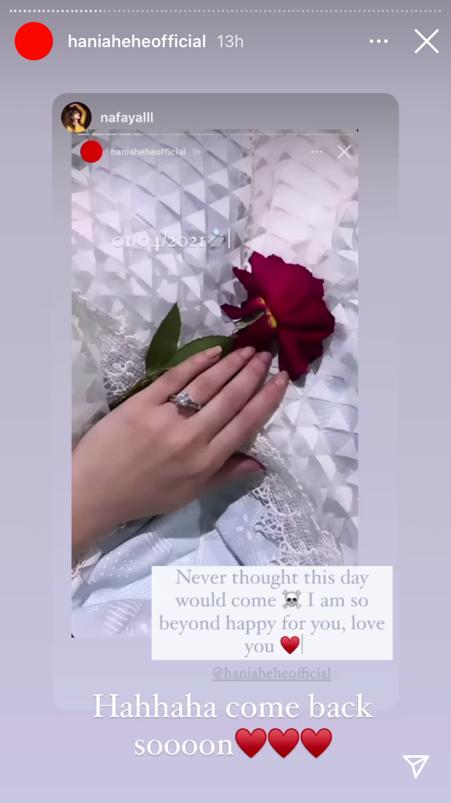 Aside from them, some accredited showbiz personalities also confirmed the news. These included Wajahat Rauf and Ashir Wajahat.
APRIL FOOL!
However, it turns out that this was just an elaborate April Fool prank. Hania posted an Insta story yet again where she told people to chill out and even added a BTS of when they were planning the prank (for evidence).
Hania amir after the prank of her engagement #HaniaAamir pic.twitter.com/cr3Gz4fPab

— Yasir Ahmed ❼ (@Yasir__Says) April 2, 2021
Netizens got angry!
People were not happy with this though. They said that this might have been the worst prank ever.
Damn I have seen some really bad pranks but this Hania Amir one was probably the worst ever

— soha n. (@SohaTazz) April 1, 2021
She was called, 'waili' considering the extent she went to lay out her prank.
Farigh
Bohat farigh
Welay
Welay tareen
Hania Amir

— muffin🧁 (@dactar2b) April 2, 2021
While others brought up her past humorous attempts.
Hania Amir 🤝 another barely funny attempt at humour

— Misbah (@shutupyall) April 1, 2021
It is safe to say, people were not on board with the idea of using engagement as a prank considering they went as far as saying Asim Azhar dodged a bullet.
the fact that asim azhar is better off hania amir . bachgya hai larka jan chotgai time sy

— Assad Bajwa (@oyebajwey) April 1, 2021
I don't see what y'all and Asim Azhar saw in Hania Amir, as a guy I can't tolerate her for more than 15 minutes istg.

— forty ➐ (@OldSukool_) April 2, 2021
The point is Hania Amir's engagement was only a prank and people hated it but maybe that makes it a success. What do you think?
Stay tuned to Brandsynario for the latest news and updates!