We all have seen countless videos, have read many accounts of all kinds of robberies in Pakistan and worldwide.
Usually, the robbers come with an excuse or have information about the household. They find a way inside, loot, and run away.
But, some robbers have a signature trait that makes it impossible to forget them. Similarly, a gang of half-naked men has spread terror in Khushab, Punjab.
The gang looted not one nor two but at least five houses overnight. In a CCTV video, it can be seen that the men are shirtless, which makes it all the more terrifying.
According to reports by the Police, five half-naked dacoits robbed five houses in the city's Azeem Town, Gulshir Town, Shehzad Town, and Canal Rest House areas last night.
That's not all, "The gang applied mustard oil on their bodies to evade police arrest." Moreover, the Police are confident that the robbers will be caught soon.
Here's the video of the half-naked men that is going viral on social media:
Not too long ago, another unusual gang of robbers became the talk of the town. The slick members used the best weapon to prey on the weakness of their targets. The weapon was none other than a hot plate of Biryani!
That's right! The robbers pretended to neighbors and brought their targets a hot plate of Biryani to gain access to their homes!
This incident took place in Karachi's Baloch Colony, where a group of 4 had planned to rob a house.
One of the robbers, who knocked on the door, held a plate of Biryani in his hand. He also impersonated to be one of their neighbors.
The owner took the plate and shut the gate on the robbers. Meanwhile, the knocker signaled his companions.
When the owner opened the gate again to return the plate, the robber tried to enter the house, but the owner closed the door at the right time.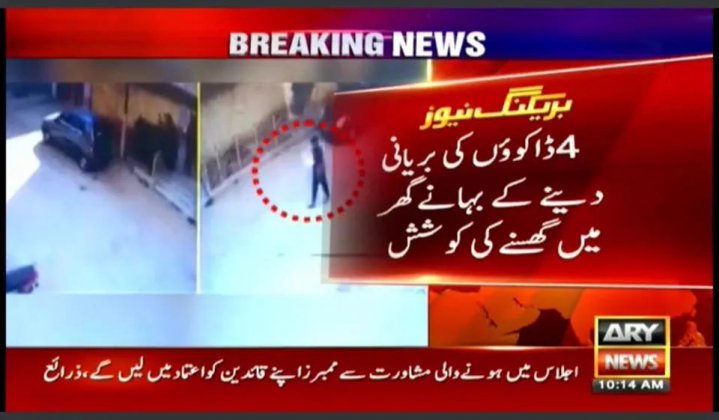 Karachi Robbers Return Stolen Valuables To Delivery Boy! [Watch Video]
We advise our readers to be very careful and stay alert in times like these. Incidents in Pakistan, particularly in Punjab, have risen in recent days.
From robberies to rapes, there has been a massive surge in crime, which is terrifying. However, with proper precautions, citizens can ensure their safety.
This includes making sure all doors and windows are locked, installing working cameras, and keeping active surveillance, also be sure not to give sensitive information to anyone, including friends, about no one being home or away at a particular time.
In many cases, the information of the household is often provided by an inside-man who has first-hand knowledge.
Stay safe, stay alert, and stay tuned to Brandsynario for all the latest news and latest updates.
Karachi Robbers are Using a Hot Plate of Biryani as Their New Weapon!