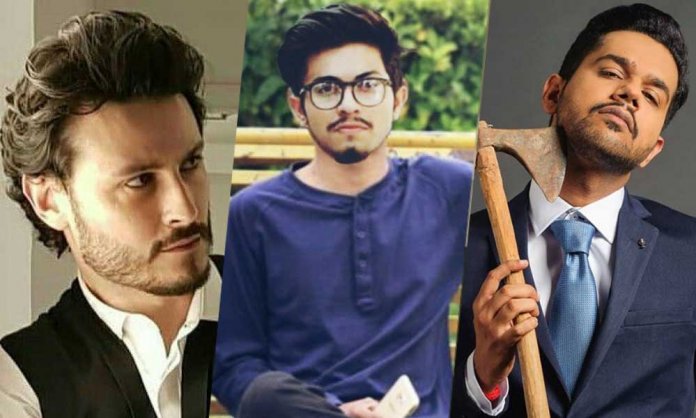 Upcoming Pakistani movie 'Baaji' is one of the most looked-forward to releases of 2019.
It has very recently introduced its first song titled 'Gangster Guriya' and needless to say, it is taking the social media by storm.
Featuring the Load Wedding starlet and Tamgha e Imtiaz achiever, Mehwish Hayat, the hot and sizzling dance number is getting all sorts of criticism from the audience.
Ahad Raza Mir Spills the Beans About His Wedding Day with Sajal Aly!
Yesterday, a 'social media influencer' named Harris used some very disturbing language for Hayat and the song she is featured in.
Just saw the item song "Gangster Guriya" ft @MehwishHayat. Like it was so heartbreaking that in an Islamic state this is what we have come to? Our writers our producers are so shit that now they have direction item no. With 2/3pharses and nudity? Shame on this industry tbvh.💔💔

— Just Harris (@ItsHarriss) June 20, 2019
Not only that, but he also began a whole campaign titled #QoumTabahHai, which attracted individuals of the same mindset as him and they all began tweeting on the said hashtag.
Itna Sab kuch bola gaya but Gaali ko highlight kar kay bhatki Qoum ko tumhary pichy laga dya hy. Khair ignore them, we are with you ! #QoumTabahHai

— Q U E E N 👑 (@QueenAfshan) June 20, 2019
@MehwishHayat kam az kam tamgha e imtiaz ki izzat rk lytin.
Do u really want people to get inspired by your songs or was that just for the sake of money?.#gangsterguriya #qoumtabahhai

— Titli (@titlihoonma) June 20, 2019
@MehwishHayat oooh ye kiya howa😂😂 look at dislike 😂😂
Ye sirf #ChenK (Pakistani rapper) ki power hai
Agar ab kabhi aisa porn contant ayega to aisa hi hoga#QoumTabahHai #MehwishPornGirl pic.twitter.com/9VToqtnkjJ

— Mohammad Hasan Khan محمد حسن خان🇵🇰 (@hasankhan42726) June 20, 2019
It caught the attention of our favorite and charismatic hero, Osman Khalid Butt, and he jumped right in to call out the influencer and defend the actress.
This is the language used by a 'social media influencer' for a contemporary actress while criticizing her performance in a dance number.
He has the nerve to bring religion into the mix. Pehlay apni zabaan saaf karen phir deen ka dars dijiye. https://t.co/vUNkVeW68z

— Osman Khalid Butt (@aClockworkObi) June 20, 2019
Osman expressed disgust on how the 'influencer' had not only employed despicable language, but how he also had the audacity to drag religion into his opinion.
Upon having his shameful opinions met with such a strong stance from Osman, Harris tried deleting one of his tweets, but Osman had come prepared by already having taken screenshots.
Nice try on deleting the tweet. I've got receipts. pic.twitter.com/OFA6acopdg

— Osman Khalid Butt (@aClockworkObi) June 20, 2019
Shortly after, comedian and writer Ali Gul Pir responded to the tweet in support of Osman.
@cybercrimefia @FIA_Pakistan @pid_gov people need to report him. And @Oreo @OreoPakistan u should not hire such vile beings to promote ur brand #SayNoToHate pic.twitter.com/OjB2GB1dqE

— Ali Gul Pir (@Aligulpir) June 20, 2019
Ali took things a notch higher by Cyber Crime and FIA, in attempt to report the obnoxious display of hate by the influencer.
The whole fiasco also caught the attention of Mahwash Ajaz, a psychologist, media person and blogger based in Dubai.
What a disgusting conversation.

— Mahwash Ajaz (@mahwashajaz_) June 20, 2019
Do you think it was okay for the influencer to use such language to express his difference of opinion on the Baaji film item song?
Nadia Hussain & Other Celebrities Laud Pakistani Model for Calling Out Colorism!
Let us know in the comments!
Stay tuned to Brandsynario for more updates and news.