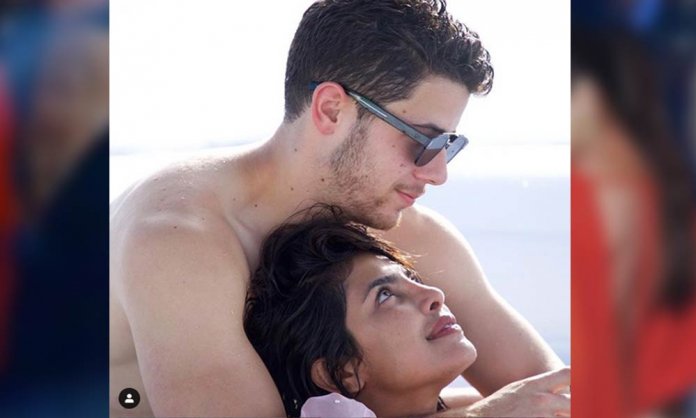 "Are you done venting?" is a phrase we all remember as Priyanka Chopra's condescending statement at BeautyCon.
However, Karma strikes best and it also strikes at the best time, when the metal is hot!
Priyanka Chopra has recently become the laughing stock for social media when she photoshopped herself in an awkward picture of her husband, Nick Jonas at the recent MTV Video Music Awards.
The Jonas Brothers won Best Pop Song for Sucker at the awards night, and all the brothers except Nick received felicitation kisses from their wives. Nick had to attend the Awards Night alone as wife Priyanka was occupied with other professional commitments.
UN Has Finally Responded to the Priyanka Chopra Question, And It Seems They Have No Qualms with Her Behavior!
To make the husband feel better, Priyanka decided to photoshop herself into the photo.
Take a look:
Now take a look at the original photo:
The responses to the edited photo are enjoyable, to say the least. Take a look!
priyanka chopra to pakistani girl: girl don't embarrass yourself

meanwhile priyanka chopra: pic.twitter.com/TubwV8MbKS

— C O C O M O (@momna_tahir) August 29, 2019
Oh no @priyankachopra !!😮 Itni effort, chali jaati mian ke saath you should have kissed him as well , after all he is yours not anyone's#hypocrisy #PriyankaChopra https://t.co/Z7b8y9LdI9

— Muhammad Waheed (@WaheedWrites) August 29, 2019
Whiter than white people: Priyanka Chopra everyone.

Garnier works looks like https://t.co/SVDeraPJ9P

— Anaghaa (@vaatnaansense) August 29, 2019
If "girl don't embarrass yourself" had a face 🤣🤣🤣🤣@priyankachopra #PriyankaChopra https://t.co/FX6KX43dSO

— average human (@ritziqbal) August 29, 2019
"We're all here for love"… which can be photoshopped #PriyankaChopra is embarrassing herself https://t.co/gnAR4DToqt

— Khurram Qureshi (@fatherofyousaf) August 29, 2019
Thanks for the laughs, Priyanka!
Have anything to add to the story? Let us know in the comments!
Pakistani Lawyer, Munawar Sultana's Victory as 1st Female MMA Fighter Encourages Women Fighters!
Stay tuned to Brandsynario for more news and updates.