The perfect balance of chocolate and cream in an oreo cookie is not only satisfying. It can also be used to create a wide variety of mouthwatering desserts. Oreo is one of the most beloved cookie brands globally, and there is no doubt why its popularity is nowhere near its death. So if you love your Oreos and haven't tried oreo desserts yet, then you are missing out.
Try these easy-to-make yet delicious desserts with your favorite cookies this summer.
1. Stuffed Oreo Brownies
A layer of Oreos stuffed in the middle of gooey and fudgy brownies is a treat for your taste buds. This easy-to-make recipe requires the simplest of ingredients with minimal cooking steps.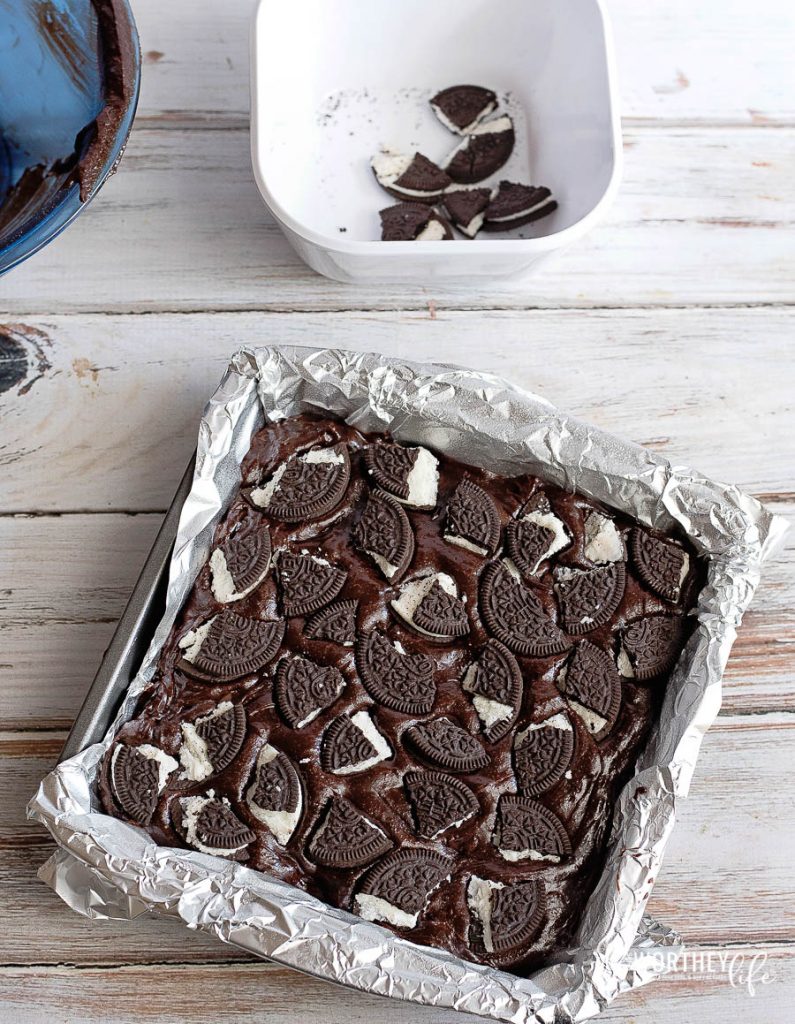 Ingredients:
10 tbsp unsalted butter
1 ½ cups granulated sugar
¾ cup unsweetened cocoa powder
¼ tsp salt
Two eggs
2 tsp vanilla extract
½ cup all-purpose flour
½ cup semi-sweet chocolate chips
20 Oreos
Instructions:
Preheat oven to 350 degrees. Prepare an 8×8 square pan by lining it with foil, leaving the edges to overhang, and spray the foil with a non-stick spray.
In a medium-sized and microwave-safe bowl, add the butter, sugar, cocoa, and salt. Microwave for 30 seconds and mix the contents, keep microwaving for 30 seconds at a time, and mix until all of the butter is melted.
Once melted, add in the eggs and vanilla and mix until well combined. Next, slowly mix in the flour and chocolate chips.
Pour half of the batter into your prepared pan, then layer about 14 of the Oreos all across the top. Pour the remaining batter on top. Crush up the remaining Oreos and place them along the top of your desserts for a pretty appearance.
Bake for 33-35 minutes, do not overbake. The brownies will be gooey, so make sure you allow them to cool completely before cutting (1-2 hours).
2. No-Bake Oreo Cheesecake
This no-bake Oreo cheesecake is best served cold with your morning coffee. This dessert is not only easy to make but does not require an oven to bake.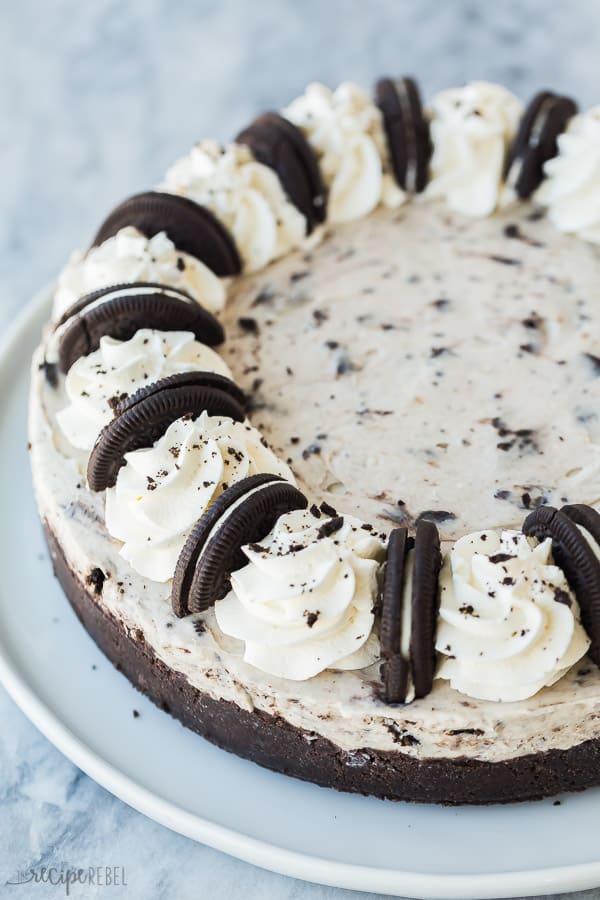 Ingredients:
3. Oreo Cupcakes
The delicious oreo cupcakes are a treat for any dessert lover. Filled with the goodness of oreo and chocolate, this is going to be the highlight for your next tea party.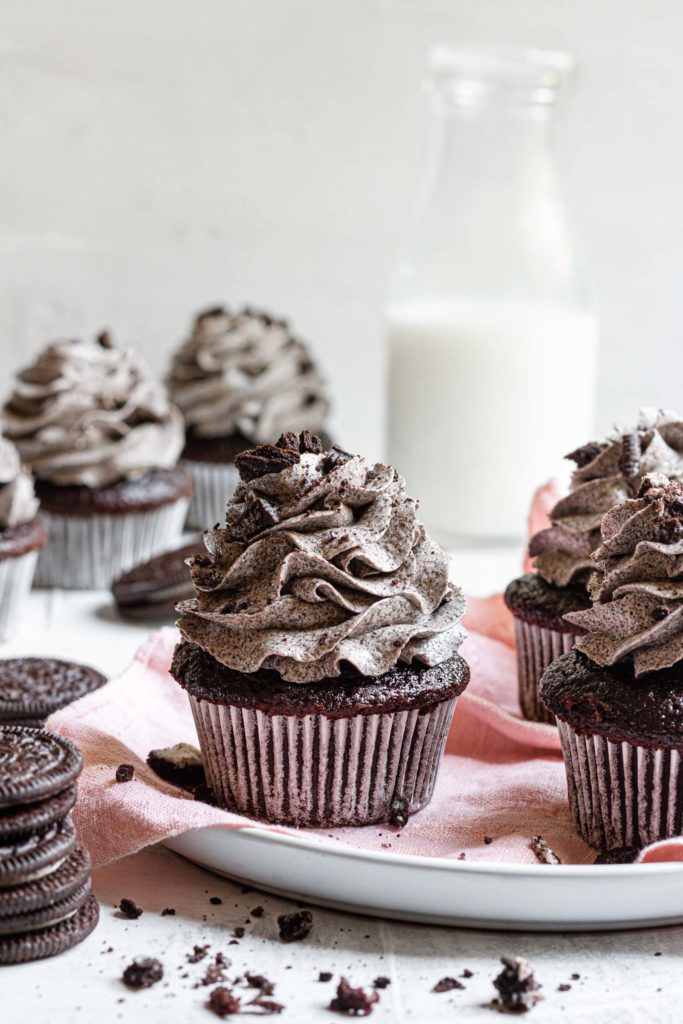 Ingredients:
Swiss Meringue Buttercream
6

 

Large

 

Egg whites

1 1/4

 

Cup

 

Sugar

 

(250 g / 8.5 oz)

1/4

 

tsp

 

Cream of tartar

2

 

Cups

 

Unsalted butter, soft

 

(454 g / 16 oz)

20

 

Oreo Cookies
Chocolate Cupcakes
1 1/2 

Cup

Flour

1/2

 

Cup + 2TBS

 

Cocoa powder

1 1/8

 

tsp

 

Baking Powder

3/4

 

tsp

 

Baking Soda

1/4

 

tsp 

Salt

1

 

Large

 

Egg

1

 

Large

 

Egg yolk

3/4

 

Cup

 

Milk

1/3

 

Cup

 

Canola Oil

2

 

tsp 

Vanilla Extract

1 1/3

 

Cup

 

Sugar

2/3

 

Cup

 

Boiling Water
Instructions:
To Make the Buttercream
In a bowl of a standing mixer, pour the sugar, then add the egg whites and cream of tartar. Finally, use a hand whisk to blend it all.
Place the bowl on top of a pot with simmering water on the stove. Use a hand whisk to stir the mix and cook until it reaches 130 F or when the sugar has dissolved.
Remove bowl from stove and back to the mixer fitted with the whisk attachment.
Mix until a stiff meringue has formed and the bottom of the bowl is cool to the touch of your hand.
Reduce speed to low-medium and add the butter a piece at a time, gradually increase speed to medium-high, and mix until a smooth, creamy buttercream has formed.
Measure 1 cup of buttercream and place in a medium bowl
Separate the Oreos cookies remove them, and place the filling in the bowl with a bit of buttercream.
Use a fork or a hand whisk to blend the filling and buttercream in a piping bag fitted with a round tip.
Place the separated cookies in a food processor and process them into a very fine meal.
Sprinkle the ground Oreos on top of the buttercream and mix until a cohesive buttercream has formed.
Fill a large piping bag fitted with a large tip.
Baking The Cupcakes
In a medium bowl, sift together the flour, cocoa powder, baking soda, baking powder, and salt and mix to blend.
In a bowl of a standing mixer, place the eggs, milk, oil, and vanilla, pour the sugar on top, then add the dry ingredients.
Use the paddle attachment to mix on low until completely smooth, pour the boiling water, and mix carefully until smooth. Let sit for 15 minutes. (do not over mix)
Fill cupcake liners 3/4 full and bake for 15-18 minutes until a toothpick comes out dry from the center of the cupcakes.
Preheat oven to 350F, line 1-12 cup muffin tines with cupcake liners.
Remove from stove and allow to completely cool before filling and decorating.
Filling and piping the cupcakes
Using a sharp knife, cut an inch-sized circle at the center of each cupcake. Make sure you insert the blade 1″ deep, and as you cut around, create a cone-shaped piece you can easily remove.
Use the white buttercream to fill the center of the cupcakes then the dark buttercream to pipe the cupcake.
4. Oreo Truffles
The oreo truffles are an easy dessert that you can make when you are running late. These are the perfect desserts to engage your kids in the kitchen and make the perfect item a giveaway for their kitty party.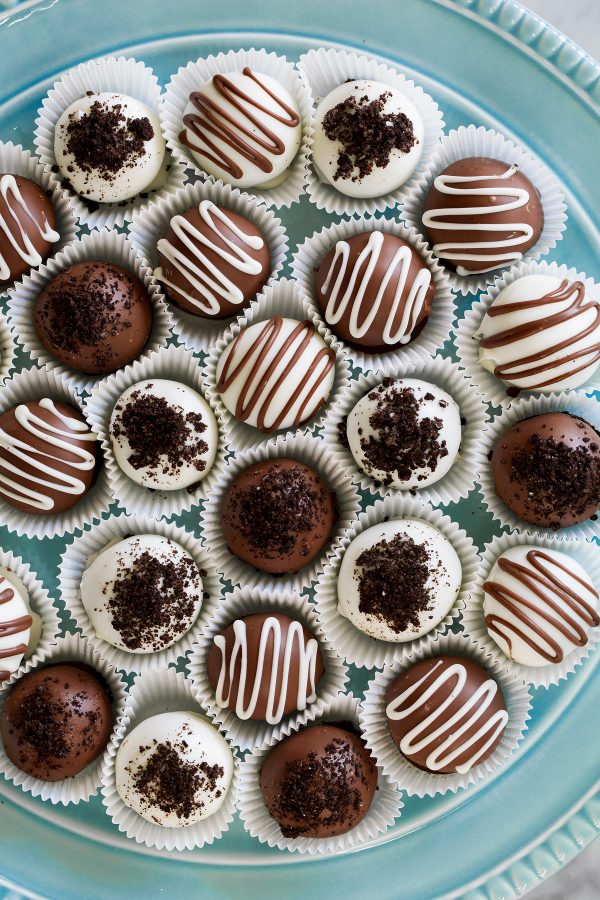 Ingredients:
36

 

Oreos

plus three more

8 oz

cream cheese

 

softened

16

 

oz

 

vanilla or chocolate candy melts

or melted white chocolate, milk chocolate, or dark chocolate
Instructions:
Line an 18 by a 13-inch baking sheet with wax paper or parchment paper.

Place 36 Oreos in a food processor (entire cookie, remove cream filling) and pulse too fine crumbs.*

Add cream cheese and pulse in bursts until well combined**.

Scoop mixture out about 1 Tbsp at a time and form into 1 inch balls, then align on prepared cookie sheet.

Place truffles in the freezer for 15 minutes. Meanwhile, crush the remaining 3 Oreos.

Melt almond bark or chocolate according to directions on the package.

Remove truffles from the freezer and dip in melted chocolate, and use a spoon to pour some chocolate over the top, then lift and allow excess chocolate to run off.

Return to baking sheet, immediately sprinkle tops with crushed Oreos if desired, then allow chocolate to set.

Store in an airtight container in the refrigerator.
5. Oreo Roll Dessert
This roll cake is one of the easiest oreo desserts you can make without an oven at your home. This is best served chilled, and you can freeze it even for a week when you need a quick dessert fix.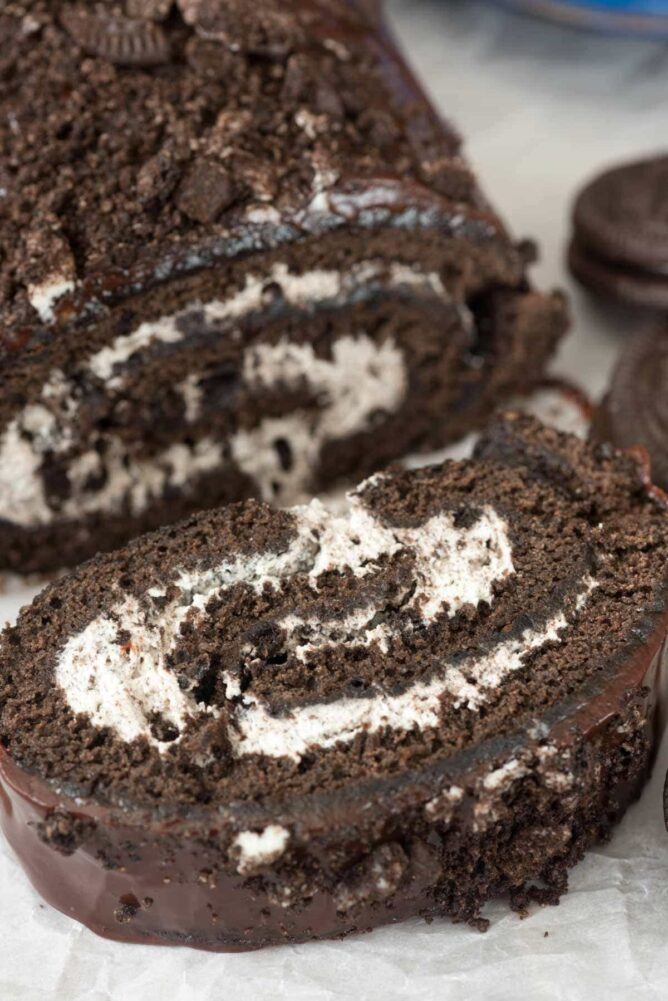 Ingredients
Three packages Double Stuf Oreos
1/2 cup chocolate frosting
Two tablespoons milk
One stick of butter, room temperature
2 cups powdered sugar
Three tablespoons milk
Instructions:
Remove fillings from the Oreos.
Blitz the cookies to a fine crumb and add the chocolate frosting and milk. Blitz again and set aside for later.
Shape the cream fillings into a golf ball-sized shape and wrap them in plastic wrap. Put this into the freezer while you make the rest of the roll cake.
Put the remaining filling into a large mixing bowl with room temperature butter. Use a wooden spoon to cream together until smooth, then add the powdered sugar.
Mix and add three tablespoons of milk to loosen the mixture. Use an electric mixer to beat it until light and fluffy.
Layout a large sheet of plastic wrap on your countertop, and pour the Oreo mixture on top. Shape it into a Swiss roll-sized rectangle, then lay another sheet of plastic wrap on top.
Use a rolling pin to roll it out, roughly eight by 12 inches.
Remove the plastic wrap and neaten the edges up with a palette knife, pressing and shaping so that it is firm along the edges too.
Spoon the cream filling on top and use a palette knife to smooth it over, leaving a gap of 1/2 inch at the thin end farthest from you.
Use the plastic wrap to help you roll the cake up, finishing with the seam of the cake underneath.
Tightly wrap it in the excess plastic wrap and place it in the fridge for at least 2 hours to firm up.
When you're ready to serve, remove the roll cake from the fridge and place it on a serving tray.
Remove the frozen cream filling from the freezer, and use a fine grater to grate shavings on top of the desserts. Slice and serve immediately.
Which of these desserts have you tried yet. Let us know your personal favorite in the comments below.
Stay tuned to Brandsynario for the latest news and updates.