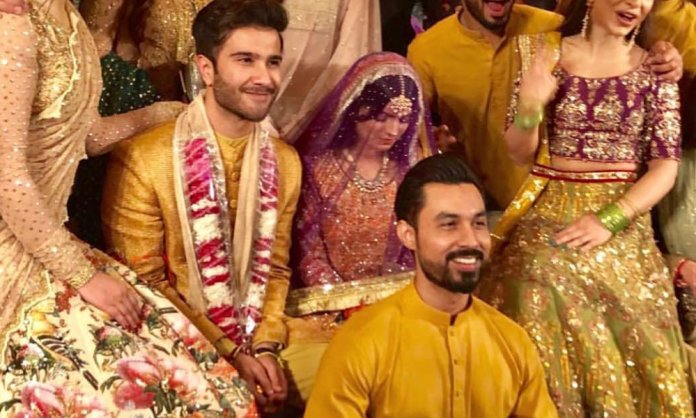 As soon as the Khaani star Feroze Khan and his sister Humaima Malik announced the news of starlet tying the knot in an arranged marriage, the social media erupted with fans and followers going gaga over the news.
The media started to follow the family to get updates on the grand wedding celebrations.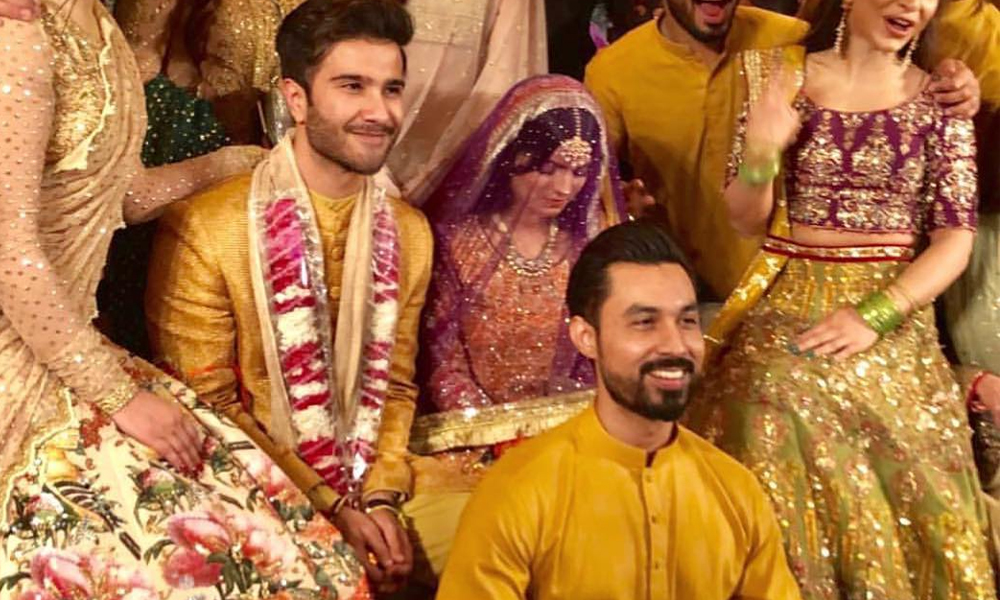 Though the family wanted it to be a private affair, details from Feroze Khan's attire to dance practices at his house, were all out.
Anyway, the festivities of Feroze's wedding have finally kicked off. The star-studded mayun was held on Saturday in which his sisters, along with other celebs, danced the hearts oout and stole the show which eventually become the center of attention of everyone.
The most awaited Mehndi event took place yesterday and the best thing about the event is that now WE CAN SEE THE BRIDE!
The was star-studded affair and celebs including Farhan Saeed, Urwa Hocane, Fawad Khan, Syed Jibran, Sonya Hussain, Humayun Saeed and many others were seen to be a part of Feroze's mehndi celebration.
The new couple in town spotted with the ultimate power duo!
Here are some more pictures and videos of Feroze Khan's grand Mehndi event.
The gorgeous couple with Nomi Ansari.
The bride and groom dancing together and enjoying every bit of it.
The gorgeous sisters of the groom.
We just can't stop looking at the love birds. *Say Mashallah*
People just cannot stop loving the couple.
Humaima Malik and Dua Malik stealing the limelight together.
The star-studded picture of the event.
HSY, Urwa Hocane and Farhan Saeed posing for a picture.
Our very own Meera also appeared in the event.
Gorgeous Sonya Hussain also attended the event.
Here is another picture of the couple.
The gorgeous Sonya Hussain Dancing at #FerozeDaVeyah.
The star-studded picture starring Urwa Hocane, Farhan Saeed, Dua Malik, Humaima Malik, Sonya Hussain, Humayun Saeed and Adnan Malik.
Dua Malik, Farhan Saeed and Urwa Hocane in a single frame.
Humaina Malik setting the teeka of the bride-to-be.
Fawad Khan, his wife and Syed Jibran posing for a selfie.
We are now curious to see more pictures of the other events that will happen at Feroze's place.
Let us know on the comment below what do you think about the event.
The post first appeared on Veryfilmi.com