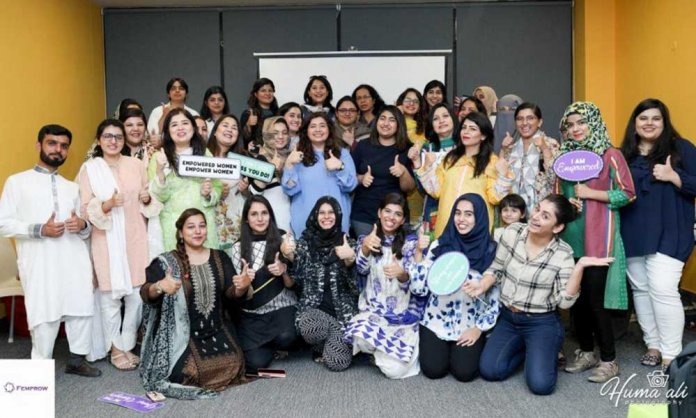 According to a report by World Bank in 2017, Pakistan has the world's lowest rate of women's entrepreneurship with only one percent of female entrepreneurs compared to 21% male entrepreneurs.
The Bank said less than 12% of firms in Pakistan have female participation in ownership compared to more than 18% in South Asia and 34% globally. Only 6% of these firms have a majority of female ownership, which is nearly half the South Asian average of 11%.
A recently-conducted 2-day session by FEMPROW was a notable step to support women entrepreneurs achieve their well-deserved status in society in Pakistan.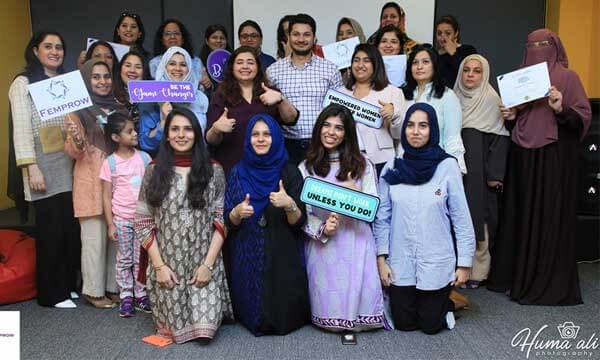 With trainers and industry experts Adeeqa Nazir (Head of Influencer Marketing and PR, Digitz) and Salman Yahya (Head of Digital Media Department, Digitz), the workshop was supported by Facebook Community Leadership Program.
Adeeqa is a digital media enthusiast, with a portfolio expanding with over 8 years of experience in creating digital strategies and plans for well-reputed and elite companies like Coca-Cola, Unilever, P&G National Foods, Dalda Foods, HBL, UBL, L'Oreal and more.
Salman is that person who you'd approach for knowledge about how to get digital media outreach and how to formulate a strategy. Salman also has worked with a number of brands including national and international market leaders such as GSK, Toyota, National Foods, Tetra Pak, Dalda Foods, Pizza Hut R&B. Moreover, he has won the award for Global Marketing Excellence (Best implementation of Portfolio management for Coca-Cola).
Digital Tools to Help Females Grow their Business
FEMPROW is an initiative designed to strengthen women's prowess as entrepreneurs. The 2-day session included consultation on the content building, content marketing, and Facebook Ad Tools.
Industry experts Adeeqa and Salman helped participants understand how they can notch their home-based businesses up by organizing their content roll-out, media strategy, and execution. 
The main focus of the initiative was to promote the culture of entrepreneurship and ownership of businesses amongst women so that golden ideas can find a platform to be nurtured at.
FEMPROW has a number of services to offer in the 1-year program duration, including:
Online Training
Offline Training and Workshops
Support Circles
Promotions for Women-Owned Businesses
FEMPROW: Supported By Facebook Community Leadership Program
Supported by Facebook Community Leadership Program, FEMPROW was supported by the famous Nadia Patel Gangjee (also popular for being the founder of Sheops, Pakistan's first online marketplace for women in 2015).
Nadia was also a speaker at UN Women and EU Commission's high-level conference 'Closing the Digital Gap for Women and Girls in Developing Countries' at EU Headquarters in Brussels, alongside UN Women Executive Director Phumzile Mlambo-Ngcuka.
She is also an Alumna of FBStart 2.0, 2018, FB's invite-only accelerator program for 14 high-potential startups from the world. She is also a Fellow, Facebook Community Leadership Program, Lead Trainer for Facebook in Pakistan and a Global Community Lead for Facebook.
The FEMPROW leadership program aims to bring together 115 community leaders worldwide at Facebook headquarters for leadership training, support and financing to further their social cause.
Collaboration with Deaf Tawk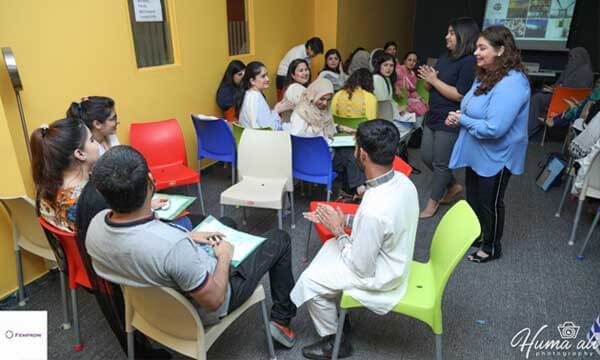 One of the most important things to note about the session was that it included 8 deaf participants.
There were two interpreters to help the participants understand the presentations.
Deaf Tawk is an initiative aimed to break the communication barrier between deaf and non-deaf individuals.
The initiative promotes the idea of inclusivity in workplaces and businesses, helping disabled individuals to play an equally important role at workplaces.
Have a Business Idea up your Sleeve?
It is high time that, instead of focusing on getting girls married-off soon, we focus on educating and empowering them.
FEMPROW looks like a promising initiative that will enable women to acquire and harness leadership tools to achieve their well-deserved place in the society.
Do you have a business idea in mind and plan to run it independently? Learn more about FEMPROW here and equip yourself with the tools you need to succeed: