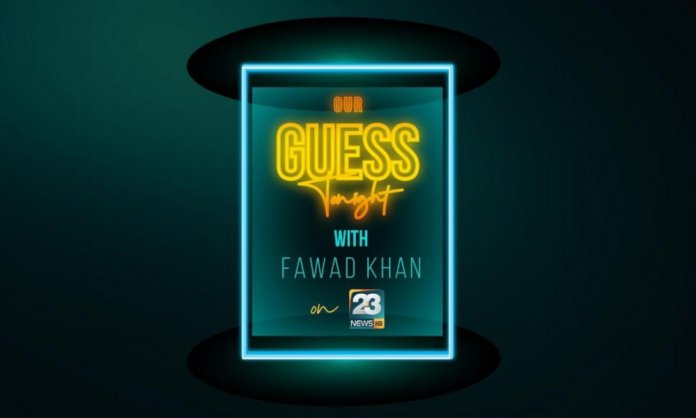 23 News' recently launched the game show, "Our Guess Tonight," has taken social platforms by storm. People watching this show are enjoying & praising the fun concept of the show while many are ecstatic to see Fawad Khan back on the screen!
"Our Guess Tonight" released last week on 23 News with the first episode of the show featured  Sanam Saeed and Fahad Mustafa in a heated guessing competition moderated by Fawad Khan. The rules of the game were simple: The two celebrities faced off in a guessing competition, each guest got a 4-minute round to guess as many words as possible, and the guest with the most guesses won! Well, guess who won in the first episode? Sanam Saeed with 14 correct guesses!
Here's the episode in case you missed it:
A few fellow artists decided to share their thoughts about this new game show, and here's what they had to say:
"It was a brilliant and refreshing experience with Fawad Khan on the show," said Fahad Mustafa. Many viewers had similar views about the show as well. Director, Bilal Lashari, said, "It's good to see Fawad back in action. It was a fun episode, and he is a great host. I'm looking forward to seeing more of this show". Actor and Director, Faisal Qureshi, also said, "F for fun and F for Fawad! What's not to love about this show? I'm glad to see such an entertaining segment of 23 News. Looking forward to the next episodes."
Not only celebrities but Twitter and YouTube are also abuzz with discussions about the show. Some fans can not get enough of Fawad Khan's hosting, while others enjoyed seeing Fahad and Sanam battle it out. Many were also excited about Fawad and Sanam Saeed's on-screen reunion.
Check out what the viewers have to say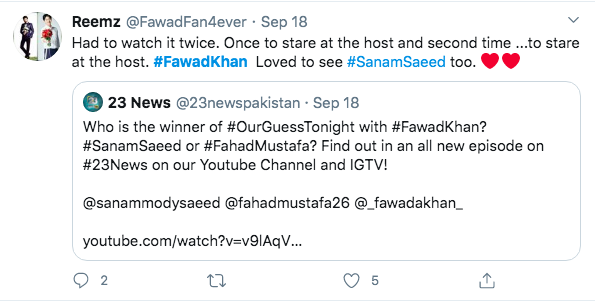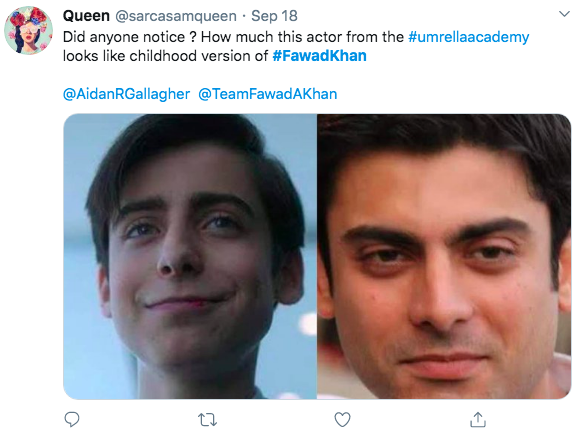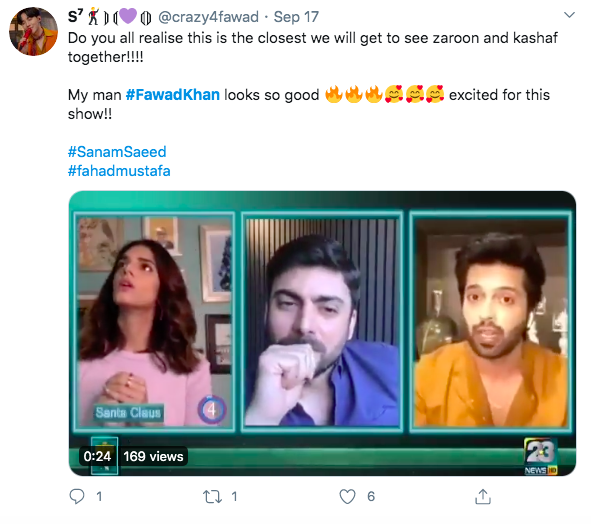 This week's episode will be super exciting because Wasim Akram faces off his wife, Shaniera Akram, in another entertaining session of "Our Guess Tonight," which will be releasing on all 23 News Social Platforms. For further information, stay tuned to 23 News social pages and Youtube Channel.
About 23 News:
23 News is a broadcast license holder of an International scale satellite News
Channel by PEMRA Pakistan and OFCOM UK, to be launched in December 2020
on satellite locally and internationally. The channel produces and delivers
compelling and unique national news, infotainment, and entertainment
programming to viewers in Pakistan and across the globe digitally, with a goal of
creating original and trusted content with an outlook found nowhere else in the
country.