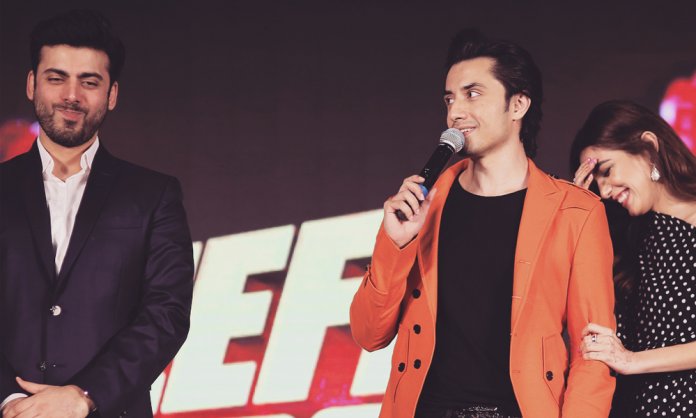 Fawad Khan is that one Pakistani celebrity who remains mum on most controversies. Distant from social media and away from the unnecessary spotlight, the superstar makes sure that he never lands himself in hot water.
He is that one celebrity recluse who avoids gossip and grapevine like a plague. However, a heartthrob like him so famous can never stay away from the public eye.
While mostly, Fawad is always a favorite of his fans and an apple of social media's eye, this time he is facing major backlash for a reason we bet he did not see coming!
We all know how rarely Khan graces press events and media functions. His devotees crave to see him and go crazy whenever he is spotted at any occasion.
Consequently, it was a surprise for many when the Humsafar heartthrob showed up for the music launch of Ali Zafar's debut movie 'Teefa in Trouble'.
Ali Zafar-Meesha Shafi Jamming Session Video Leaked on Social Media
While Ali and Fawad's camaraderie goes a long time back, Maula Jatts' fans were shocked that he came out in support for Ali Zafar- an alleged harasser.
Social media has clearly lost its chill ever since!
The Universe of Fawad Khan FC is mad at Fawad tonight.

— M. Sarosh Ebrahim (@msarosh) June 22, 2018
Angry fans took to Twitter to voice out their displeasure over the situation.
Can't believe #FawadKhan showed up for La-teefa 😒 I have quite a lot to say but just shook for now.. excuse me while I gather my thoughts. Utterly, utterly disappointed tho 😒

— Natz (@AntiGhazal) June 22, 2018
People are outraged over how Khan has dismissed the whole Meesha-Ali controversy!
Make no mistake, this isn't about Meesha. At least not for me. The man is guilty af cause I'm yet to see anything on the other half a dozen complaints. #FawadKhan who doesn't ever associate with 'controversy' showing up for this just trivialises the whole issue. #TeefaInTrouble

— Natz (@AntiGhazal) June 22, 2018
His fandom is no mood to forgive him!
Disappointed to see Fawad Khan turning up to support his pal Ali Zafar at Teefa in Trouble's music launch. Are there any famous male allies who aren't worried about pleasing the patriarchy?I only have hopes from @aClockworkObi now. He's the only one who came out to support Meesha

— Manal Faheem Khan (@ManalFaheemKhan) June 23, 2018
Things have gotten out hands now that Twitterverse is claiming to boycott not only Teefa but Fawad as well.
Boycott Fawad Khan?

— Aqeel Maqbool (@aqeel_maqbool) June 23, 2018
It is extremely disheartening to see #FawadKhan/@_fawadakhan_ happily taking pictures with &, thereby, condoning @AliZafarsays despite knowing that the latter is accused of #sexualharassment. Any respect I had for Fawad has gone ⬇. We need to boycott #TeefainTrouble 🚫 pic.twitter.com/scGO5veSBE

— Haseem 🌈 (@haseemuzzaman) June 22, 2018
There is heavy rainfall of hate against Fawad and its show signs of slowing down.
Time to cancel #FawadKhan, and others, who attended the alleged harasser's music launch! #TimesUp #BoycottTeefaInTrouble

— Fatima Ali (@fatimaali202) June 22, 2018
Manal is entitled to her opinion. And in this case I completely agree with her. So disappointed by #FawadKhan showing up at the premier of the Teefa shit. Like wtf. I'm sure there are at least a handful of FK fans that r disappointed. Sad. #hopeTeefafucksup

— Sumera Rashid (@SumeraSum) June 23, 2018
#FawadKhan – why? https://t.co/mIMVzde8gh

— Ammara Ahmad (@ammarawrites) June 24, 2018
I for one will hold everyone to the same standards. The people you've mentioned, are non entities as far as I'm concerned. Why did I single out #FawadKhan? I AM A HUGE FAN (and stg that's putting it mildly). So I'm utterly, utterly disappointed cause I expected better from him 😒

— Natz (@AntiGhazal) June 23, 2018
However, some loyal fans are rooting for FK like always!
Like seriously people are cancelling on Fawad Khan just because he attended teefa in trouble music launch?! Like seriously? That film doesn't just belong to Ali Zafar it belongs to loads of other people too!

— Jiya 🇵🇰 | Suno…Chanda! 💞 (@_Jaweria_) June 24, 2018
Someone highlighted that artists should NOT divide over a controversy in the industry!
Can we let artists away of these GroupBandi ? Why we should mock FawadKhan.

— Asim Mughal (@mughalism) June 24, 2018
Some are lauding FK for remaining neutral! 
Let the court decide… If you blame someone for something wrong then only a court can decide who is guilty and who is innocent.. Good that Fawad Khan is neutral on Ali Zafar and Meesha Shafi case & @sanabucha fully supports Fawad Khan on it.

— Tariq Ahmed (@tariqahmeed) June 23, 2018
The rest rightly stated that the matter should be resolved in court and no judgment should be made beforehand.
Who are you to judge fawad khan? how do you know he is 'pleasing the patriarchy'? Many honest people believe in innocent until proven guilty. Many women came out to support ali zafar too.

— Banaarsi Thug (@zakariyyasdad) June 23, 2018
Back in April, Meesha Shafi shocked the nation to express how she was sexually exploited and physically abused by a close colleague, Ali Zafar!
Big-wigs of the entertainment world like Urwa Hocane, Iffat Omer and Osman Khalid Butt supported Meesha for breaking her silence.
Meanwhile, Ali Zafar's Teefa in Trouble co-star Maya Ali, Mehreen Raheel and Resham stood up for the Coke Studio singer.
The rest of celebrities like Mahira Khan, Armeena Khan and Hamza Ali Abbasi remained unbiased on the whole matter.
While Fawad Khan remained silent on the whole hullabaloo, his sudden rendezvous with Ali Zafar has irked many of his followers.
Will Khan addresses his fans this time and clears the whole chaos? Let's wait and watch.
Stay tuned to Brandsynario for more updates.