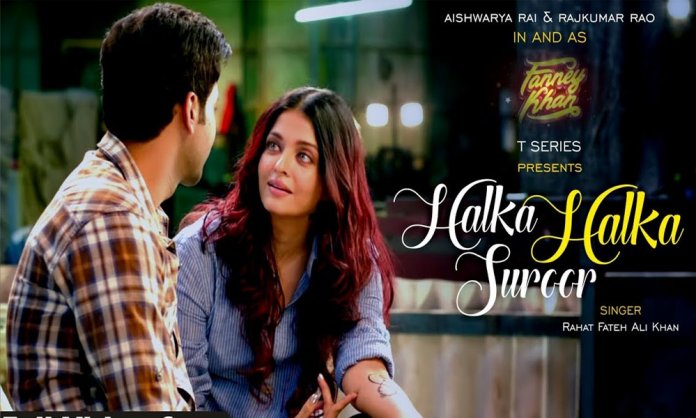 The much awaited trailer for the Bollywood movie, 'Fanney Khan' is out and people cannot stop talking about.
However, it's not for reasons one might think!
One of the songs from the movie, a remix of the Pakistani legend, Nusrat Fateh Ali Khan's 'Halka Halka Suroor', has led to people talking.
https://youtu.be/p8RomtEM5w8
Faysal Quraishi's Daughter is Getting Bullied for the Most Absurd Reason!
And people are not happy – especially Pakistani music fans!
Apparently the makers of the movie have used this legendary qawali without giving any special mention or credits to Nusrat.
But that's not all they are irked about!
The 2018 Bollywood version of 'Halka Halka Suroor' has not managed to live up to the expectations of the eager fans. Nor were they expecting the sub-par beats to this otherwise, popular qawali of the singing maestro.
People cannot stop bashing T-Series for openly stealing the song and ruining it for all Nusrat fans out there!
Venting their frustration with the makers on social media, here's what they had to say:

#fannykhan's new track #HalkaHalka just ruin my day man! ache khasey ganey ki bajadi!

— Hira Ahmed (@HiraAhmed20) July 17, 2018
Please leave our classical songs alone. #copyrights #HalkaHalka pic.twitter.com/OuvRi1IlIw

— Romaisa Inam (@Romaisa_Inam) July 15, 2018
#HalkaHalka Out.
WTF BC.
No Credit IS Given To Original Music/Singer/Lyricist.
Even #ChanKittan Was Also Stole And Didn't Give Credit To #AliSethi.#ChorTSeries#ThiefTSeries.

— DJMaza.Fun – Music Site (@DJMazaLink) July 14, 2018
On the other hand, fans of Aishwarya Rai cannot stop gushing over the song or the gorgeous actress.
Praising the Bollywood beauty, check out what they are saying:
WOW! #AishwaryaRaiBachchan
you looking absolutely stunning in this song…💯%🔥😍 liked your chemistry with @RajkummarRao
n I just loved this song..💞@SunidhiChauhan5 n @aslidivyakumar you both sing it very beautifully.👌👌#HalkaHalka #FanneyKhanhttps://t.co/Dc0nxuC52n pic.twitter.com/dR886xTMSL

— Shiv Dutta🌠 (@imshiva17) July 14, 2018
I'm playing the video song on loop to see the extremely gorgeous ARB 😍
I'm in love with her new look and her beautiful chemistry with @RajkummarRao ❤
A completely different role for the actress!
Keep ROCKING!!!@SunidhiChauhan5 and @aslidivyakumar nailed it!!!#HalkaHalka pic.twitter.com/MqEK0OxHGV

— Iyan Amjad (@IyanAmjad) July 14, 2018
#HalkaHalka
The best song of 2018 so far!! And Thanks to Queen Aishwarya Rai Bachchan to make it Look even Hotter 🔥🔥🔥

— ILovemyIndia (@ILuvIndia9) July 15, 2018
I never knew how much everybody needed this and even after 2 decades in showbiz, she can make people get excited about her looks. DIVA!#HalkaHalka pic.twitter.com/jHSP3i60nq

— Srivatsa (@vatsanarayan) July 14, 2018
Have you heard the new version? Love it – hate it? Tell us in the comments!
Pepsi Battle of the Bands EPISODE 1 Wows with Khamaaj's Comeback and a new 'Tamasha'
Stay tuned to Brandsynario for more news and updates.