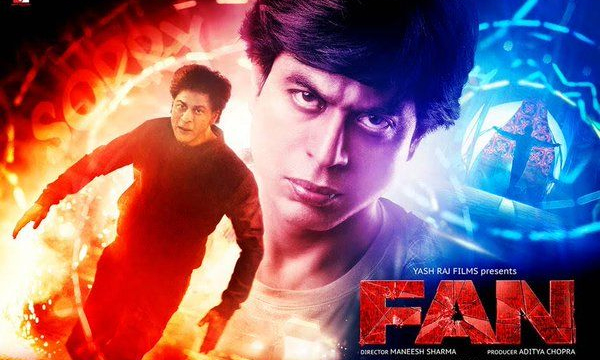 Shahrukh Khan starrer Fan depicts him in a double role yet again. One of them is a beloved popular movie star Aryan Khanna and the other one is Guarav, a delusional obsessive fan who, later in the film, goes to extreme lengths to exact his revenge.
The story begins with Guarav's obsession with Aryan Khanna. His character is almost garish with the over prominent false teeth and CGI-like makeup already do the job well of showcasing him as a stalking creep.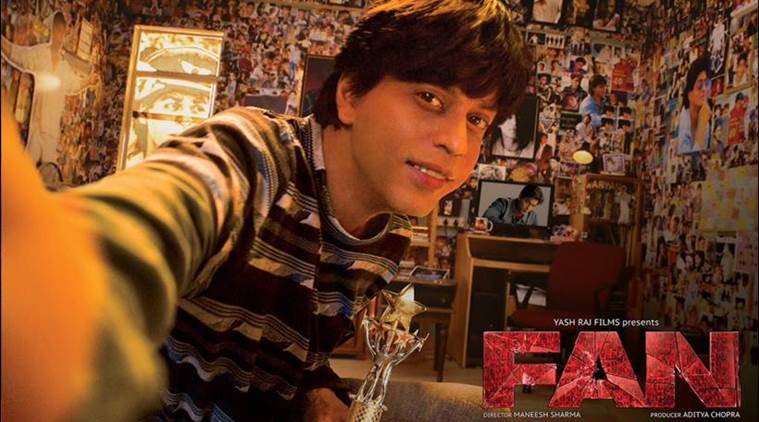 As Guarav's dream comes true of meeting his favourite star whose persona is loosely based around Sharukh Khan himself (duh!) , he heads to Mumbai with sky-high expectations. However, when he gets to meet the star things don't go as great and Guarav's obsession takes a turn for the worse. Later, in the entire film, he makes sure that situation becomes worse for the star as he chases him and uses crimes to frame him.
5 Reasons FAN Movie Could Be SRK's Best Performance Till Date
The Good & The Bad
The film incorporates the moody restless persona of the film star Aryan pretty decently as well as Guarav's increasing obsession with him. It seems to be engaging in the first half  but the storyline winds down and becomes a stretch in the second half.
The climax is somewhat tiresome and the ending is not so memorable.  It is a thriller and is not so big on the music aspect but on a relatively bright side, the film does not make use of item songs or other filler tracks.
The fans have so far given a thumbs up and a few of the critics have also given a positive review for Fan. Let's see how the film performs at the box office over the weekend.
Critics' Review
Taran Adarsh of Bollywood Hungama said: " FAN has a brilliant first half, but loses track in the second hour, only to pick up again towards the pre-climax. The writing should've been tighter while the absence of music [it's a songless film!] may also prove a stumbling block, but what works, and works big time, is the terrific act by SRK as the fan. And that's enough reason for you to watch this thriller!"
Lokesh Dharmani of Masala.com said: "Fan is implausible, unreasonable and unconvincing. And RJs don't EVER speak the way they do in Hindi films, even if they are presenters in London. Argh."
Gulf News critic Manjusha Radhakrishnan said: "Watch this if you are a die-hard fan of Khan, but don't expect an unpredictable thriller. The key here is to manage your expectations and you will walk home smiling at having seen an engaging drama about a stupid fan and a faultless superstar."
Sneha May Francis of Emirates 24/7 said: "The tale, written by Habib Faisal, is intriguing even if appears heavily inspired by a certain Hollywood movie of the same title, but it's stretched out to clock 150-minutes of screen time. It's an intriguing journey that Manish Sharma weaves, but one that, unfortunately, doesn't end well."
RJ and actor Tarana Raja tweeted: Just saw #Fan. Take a bow @iamsrk. Actually, take 2!! Nailed it. Swades & Chak de fans rejoice. Our Shahrukh is back!
Divya Pal of IBNLive said: "Fans erupt into joy with the very first shot of @iamsrk. We are expecting the cheer to be unstoppable throughout the film. Fan offers several moments that will make it tough for you to take your eyes off the screen. Chase sequence of Gaurav, Aryan will have you on the edge of your seat. Tension builds up, you wait to know what will happen next #Fan."
Bollywood Celebrities' Review
This is how the Bollywood industry reacted on Twitter after watching Fan:
Saw #Fan!Absolutely thrilling!@iamsrk at his very best,playing both roles with extraordinary uniqueness!Top notch Direction, CameraWork &Vfx

— Avinash Gowariker (@avigowariker) April 14, 2016
Super super super amazing. didnt even notice time. What a performance man @iamsrk take bow 100times this time #FAN #Fanreview

— Srishti Singh (@Filmy_Ladki) April 15, 2016
The film deserves to be lauded for its technical achievements and for @iamsrk showing what he s capable of when in full form @FanTheFilm !!!

— Arjun Kapoor (@arjunk26) April 15, 2016
Saw #Fan!Absolutely thrilling!@iamsrk at his very best,playing both roles with extraordinary uniqueness!Top notch Direction, CameraWork &Vfx

— Avinash Gowariker (@avigowariker) April 14, 2016
#FAN is Jabradast, @iamsrk is too good #ManeeshSharma main toh na fan ho gaya. Big shout to @Harry0073 @iamkeitan #redchillies.VFX #stunning

— Gaurav Verma (@_GauravVerma) April 15, 2016
Can't wait to watch @iamsrk s #FAN . heard such fab. Things about it. Sir, you have always been an inspiration :))) Chalo Chalo #FAN Dekhne

— Neetu N Chandra (@Neetu_Chandra) April 14, 2016
Adrenaline-charged,edge-of-ur-seat,thrilling emotional journey unlike nething uv evr seen!
Maneesh freakin Sharma!Uff!!🔥
🎥 #FAN #gamechanger

— Ranveer Singh (@RanveerOfficial) April 14, 2016
"Maneesh a genius" is an understatement. Hes not made a film, its an experience. Go watch it guys!!! #fan

— Parineeti Chopra (@ParineetiChopra) April 14, 2016