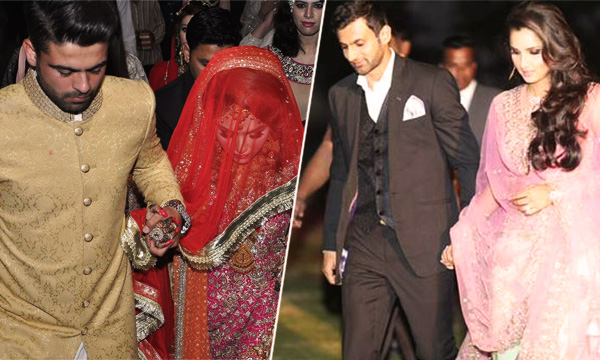 Pakistan and Cricket are two entities that can never be separated from one another. Not only is cricket the most played sport in Pakistan, but the players are no less than superheroes for us Pakistanis. It is only fitting that we love the families of these cricketers as much as we love these players.
Here are pictures of families of some of Pakistan's cricketing heroes:
Read: Pakistani Cricketers Before They Were Famous
Shahid Afridi
The Lala of Pakistan Cricket has four daughters – Aqsa, Ajwa, Asmara, and Ansha.
Shoaib Malik
Married to famous Indian tennis sensation, Sania Mirza, Shoaib Malik is a complete family man.
Ahmad Shahzad
The Selfie King of Pakistan Cricket, Ahmad Shahzad was recently married in a much-publicized event.
Misbah ul Haq
Former captain and a legend for his unwavering efforts, Misbah ul Haq is the father of two beautiful children, Noriza and Faham ul Haq. His wife Uzma Khan has never been too far away from his accomplishments, either.
Muhammad Hafeez
Pakistan cricket team's Professor, Muhammad Hafeez and his wife, Nazia, are parents to two adorable children, Eman and Roshan.
Umar Akmal
Umar Akmal recently married Noor Amna, the daughter of legendary leg-spinner, Abdul Qadir.
Muhammad Irfan
The seven-foot, fast bowler is as gentle as a human being as fiery he is as a bowler. He is married to Sadia Irfan (who is pretty tall herself).
Inzamam ul Haq
Arguably Pakistan's greatest batsman, Inzi, is married to Kashifa ul Haq, and is father to Ibtasam-ul-Haq.
Wasim Akram
The Sultan of Swing and arguably the most handsome cricketer to have played for Pakistan, Wasim Akram recently married an Aussie beauty, Shaniera Thompson, after the tragic passing away of his previous wife, Huma Wasim. He has two sons, Taimur and Akbar, and a newly-born daughter, Ayla. There's a pretty strong royal feeling about this entire lot.
Read: Pakistani Cricketers & Their Estimated Salaries