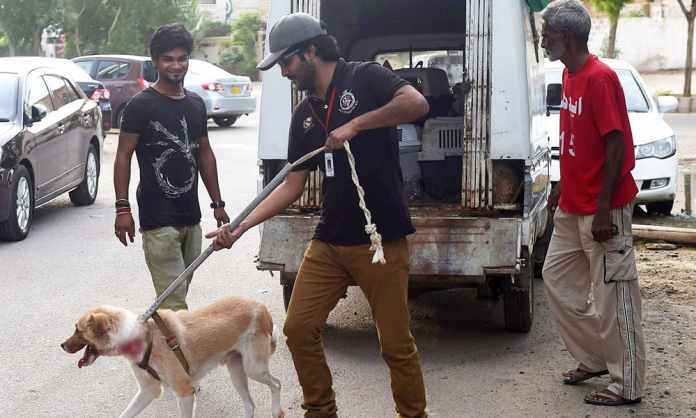 Edhi Foundation initiates a cost-free drive to catch stray dogs. There has been an alarming increase in the number of strays and bite cases reported in Karachi.
According to a report by Executive Director Jinnah Hospital Karachi, 130 incidents were reported at Jinnah Hospital in the last 24 hours and approximately 7 people have lost their lives due to dog bite this year at Jinnah Hospital.
Edhi Welfare Foundation took notice of the situation and have launched a cost-free drive to catch these stray dogs.
Edhi launches campaign to get rid of stray dogs in Karachi. pic.twitter.com/CWxUluZ4x7

— محمد فیضان 🇵🇰 (@Fai_Zan92) August 6, 2019
Chief of the foundation, Faisal Edhi stated that children and the elderly were the usual victims. The majority of dog bite cases were reported from the slum areas of Ibrahim Hyderi, Surjani Town, North Karachi, New Karachi, Baldia, Orangi, Keamari, Mehmoodabad, Liaquatabad, Federal B Area and Golimar.
Edhi foundation is doing what Govt of Sindh was supposed to do.
Our children are attacked by stray dogs everyday.

It's time to wake up and do the least, #ReportStrayDogs to #EdhiFoundation on 115 and #SaveYourChildren https://t.co/dr6AFPIdSe

— Jimmy (@A_Rizvi110) August 6, 2019
Around 80 to 120 people, including women&children, were bitten by dogs&brought to Civil Hospital #Karachi each day for vaccination but Anti-Rabies Vaccine (ARV) is not available at the hospital since last 10 days due to poor supply of the vaccine. pic.twitter.com/YkVdOqvr0n

— Saqeena Quasim (@saqeena_quasim) August 3, 2019
Increase in number of stray dogs and dog bite cases in Karachi. 130 incidents were reported at Jinnah Hospital in last 24 hours and almost 7 people lost their lives!

بے بی @BBhuttoZardari Any Comments?

— Arsalan Siddiqy (@ArsalanISF) August 4, 2019
I know you all love dogs but this is getting out of hands
Recently a female resident doctor from Jinnah hospital #Karachi lost her hand because a mad dog decided to bite her, in the hostel premise and kept chewing because she couldn't fight it off and no one came to her rescue pic.twitter.com/jPLQI3H2LN

— Burhan Muzaffar (@burhanmz) August 4, 2019
Many animal lovers wondered what would happen to these stray dogs once they were caught.
"Please don't kill them. The government needs to take better care of these stray dogs or provide them a safe space," wrote a social media user.
"If there was a center where these dogs are taken and they are trained and neutered it would be wonderful," wrote another.
Speaking to Brandsynario, an Edhi representative said that these stray dogs will be taken to the animal shelter where they shall be provided with the required aid.
You can dial Edhi Foundation Helpline number 115 to report.
Stay tuned to Brandsynario for more news and updates.
Pakistani Writer Achieves Journalism Award in India for Social Media Project 'Everyday Pakistan'