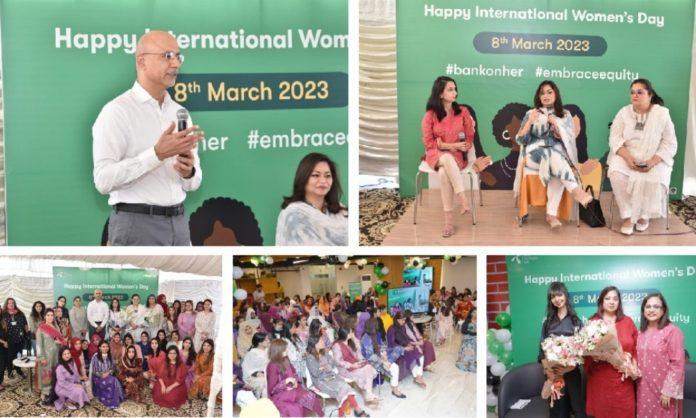 easypaisa, Pakistan's premier digital payments platform, marked International Women's Day by renewing its commitment to women's financial empowerment. Being a pioneer of digital payments in Pakistan, easypaisa has been at the forefront of promoting financial awareness and inclusion among women so that they can have better control over their money and be economically independent.
Special ceremonies were arranged in the Karachi, Lahore, and Islamabad offices to honor the strong and resilient women of TMB and easypaisa.
A panel discussion on "Advancing financial empowerment for women in Pakistan" was also held. The conversation included panelists from a variety of businesses, including finance, HR, advocacy, and entertainment. TMB and easypaisa women leaders were also on the panel, where they discussed their personal journeys to new heights in their jobs and how they achieved financial empowerment in the process.
Commenting on the occasion, M. Mudassar Aqil, CEO easypaisa & Telenor Microfinance Bank said: "On this International Women's Day, we at TMB & easypaisa are honored to celebrate remarkable women. As we endeavor to create a more inclusive Pakistan, we acknowledge that financial inclusion and women empowerment are a moral imperative. With more than half of our population being women, it's our utmost responsibility to equip them with the necessary tools, resources, and support to seize control of their destinies and realize their ambitions.
"As an organization, we pledge to take concrete steps to support and promote women in leadership roles and make TMB/ easypaisa an employer of choice through effective implementation of favorable policies and practices.
He also emphasized that as a business, TMB/ easypaisa will continue to play it's role for greater financial empowerment of women and further its mission of a financially inclusive Pakistan where everyone has equal opportunities to thrive.
Sharing her thoughts, Pouruchisty Sidhwa, CHRO easypaisa & Telenor Microfinance Bank said: "In Pakistan less than 12% women are in leadership positions, this is one of the lowest in the region. To financially empower women, it is imperative to open new opportunities for them so they can break the glass ceiling and make a mark. At TMB/ easypaisa we are committed to champion this cause and ensure equity for women at all levels.
The commitment of easypaisa to empowering women is demonstrated in its initiatives to boost financial inclusion ratios. Easypaisa has made it easier for women to receive financial services tailored to their unique requirements by leveraging the power of technology and teamwork.