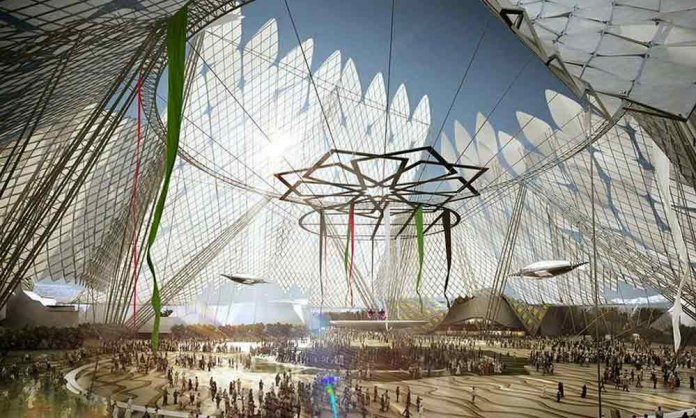 The largest spectacle ever seen in the Arab world, the much-awaited Dubai Expo 2020 is all set to attract visitors and companies from across the globe.
With preparations of the avant-garde event in full swing, a massive hunt for more than 30,000 volunteers is underway.
The volunteers, hailing from various nationalities and backgrounds, will be playing an important role in the Expo.
Their task will include welcoming about 25 million visitors over the six-month-long event. 70% of visitors are to come from outside the UAE which is the largest proportion ever in the history of the expo.
According to Gulf News, more than 15,000 people have already registered for the Expo 2020 Volunteer Programme.
Pakistanis Can Also Work for Dubai Expo 2020 
People from all walks of life over the age of 18 including students, employees, retirees, housewives of all nationalities can apply as volunteers.
There are more than 45 roles available for volunteers which include welcoming guests to managing events. People who decide to volunteer will gain hands-on experience and exposure to such a ground-breaking event.
Check out some of these job opportunities open right now on Dubai Expo's website:
Manager – Partnerships
Career Level: Mid Senior level
Ref. JB3849650
Details
Senior Manager – Partnerships
Career Level: Mid Senior level
Ref. JB3849631
Details
Senior Associate – Food and Beverage
Career Level: Associate
Ref. JB3849629
Details
Manager – Hospitality
Career Level: Mid Senior level
Ref. JB3849628
Details
Director – Music
Career Level: Director
Ref. JB3849626
Details
Manager – Social Media Content
Career Level: Mid Senior level
Ref. JB3835673
Details
Marketing and Brand Manager – District 2020
Career Level: Mid Senior level
Ref. JB3828948
Details
Senior Manager – Customer Relationship Management
Career Level: Mid Senior level
Ref. JB3832093
Details
Those who are interested to join the team as volunteers can register on: www.expo2020dubai.com/volunteers.
Pakistan Signs Participation Contract in Dubai Expo 2020
Pakistan has officially signed a contract with Dubai Expo 2020 to formally began the construction of Pakistan Pavilion at the event. A large plot measuring 3,449.9 square meters has been opted to build the structure.
As many as 131 Pakistani companies have registered for the Expo.
Stay tuned to Brandsynario for more updates