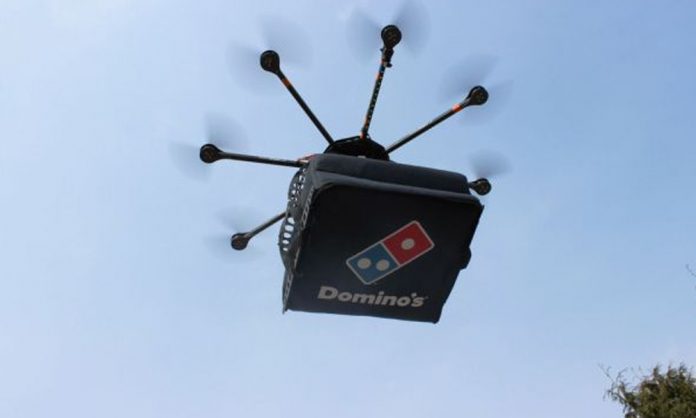 Imagine ordering a pizza and instead of your meal arriving on a bike, it arrives in no time from the sky!
Well, Flying Food is now a reality!
Domino's Pizza has just raised the bar by declaring an innovative way of delivering pizzas.  Surpassing vehicles of all sorts, the brand has begun its Drone Delivery Service in a bid to ensure faster delivery.
It all started when the Domini's Pizza started teasing that they are all set to roll out something new for their customers.
Not even in their wildest dreams, anybody could have thought that Domino's Pizza will be introducing drones.
Finally, the big reveal was made by that brand and became the first in Pakistan to introduce the idea to the nation.
Pakistanis have the most hilarious reaction to this new innovation!
However, is this actually more efficient than the traditional method of delivery?
With foodies and their growing demand for speedy delivery, the eatery aimed to make it all the easier with an instant collection of food.
Drone service will surely defeat the challenges of long-mile deliveries, logistics costs, and traffic delays. Research reveals that it is also environmentally friendly and efficient.
However, while a delivery bike or a truck can carry hundreds of pizzas, Domino's drone service will surely fail in transporting meals ordered in large quantity. Also, since the element of a delivery guy will be minimized, so would the Cash on Delivery option.
What's more, they are an expensive mode of transportation with a low battery life. Operating drones is a tricky task as they require deep technical familiarity. Harsh weather will also come into play while using the device.
Domino's Pizza first introduced the service in New Zealand with the world's ultimate pizza drone delivery.
"The use of drones is the next stage of the company's expansion into the artificial intelligence space and gives us the ability to learn and adopt new technologies in the business," stated Domino's Group CEO Don Meij.
The pursuit of technological innovation is happening all over the world. There is a growing interest from global players to invest in this revolution. Uber is already experimenting with Drone technology while Amazon Prime is already delivering goods with a drone.
Mercedes-Benz has also announced a partnership with Silicon Valley Drone Startup Matternet to develop an integrated Van/Drone delivery system.
Will the concept work in Pakistan? Let us know in the comments below.