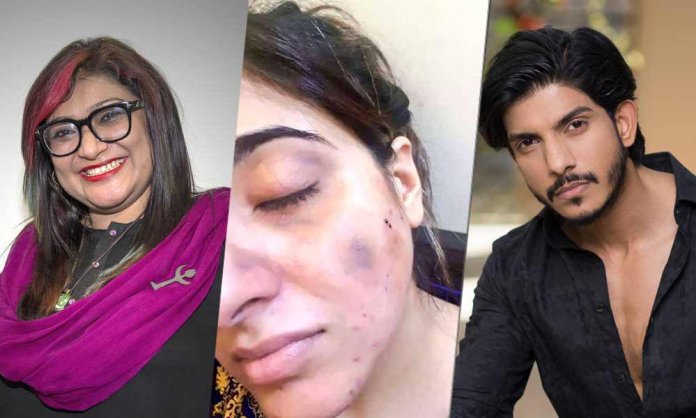 Mohsin Abbas Haider's wife, Fatema Sohail has recently come out with domestic abuse and cheating allegations and the story has taken the internet with storm.
With photos of her bruised face and limbs, and an (FIR) that she registered against Mohsin, here is what Fatema had to say:
I am Fatema, wife of Mohsin Abbas Haider and here is my story. On 26th Nov 2018, I caught my husband cheating. When I confronted him, instead of being embarrassed he started Beating me. I was pregnant at that time!
She further added the following dreadful details:
"He pulled me from hair, dragged me on floor, kicked me several times, punched me on face & threw me on the wall. I was brutally beaten by my husband."
Mohsin has finally broken silence over the matter, and so has Nazish Jahangir, the woman who Mohsin has been accused for cheating on his wife with.
https://www.brandsynario.com/mohsin-abbas-haiders-wife-accuses-him-of-domestic-violence/
While everyone has something or the other to say on the matter, it is important we take a close look at what the Human Rights laws in Pakistan say about domestic violence.
According to a survey by the Human Rights Watch and according to Thomson Reuters Foundation, 70 to 90% of women (a probable figure of 5000 per year) in Pakistan have suffered some sort of abuse in their life.
While some are killed from domestic violence, thousands end up becoming permanently disabled, out of which most victims have no awareness or access to legal assistance and aid.
But the question is, what does the state say about domestic violence and what has been done to counter this increasingly serious issue?
The Constitution of Pakistan gives equal rights and opportunities to all citizens, however, issues of domestic violence are not categorically covered in the Pakistan Penal Code.
There is also the Convention on Elimination of All forms of Discrimination Against Women (CEDAW) (an international treaty adopted in 1979 by the United Nations General Assembly), which requires the law to treat domestic violence against women as a violation of fundamental human rights. Many states have consented to following CEDAW, and Pakistan had ratified to it in 1996.
The Protection of Women (Criminal Laws Amendment) Act was passed in December 2006, incorporating and modifying several clauses in the Pakistan Penal Code (PPC) and Criminal Procedure Code (CrPC) with regards to sexual assault on women.
There is also the Domestic Violence Bill 2009, which set down requirements for the safeguard and monetary aid for victims as well as penalty in the shape of fines or imprisonment for those who infringed the protection orders.
The most prominent and distinguished part of the Bill was, Section 9, which offered compensatory provisions for the victims of domestic violence. However, the Bill eventually lapsed due to massive opposition from stakeholders.
The Punjab Protection of Women against Violence Act 2016 is also mention worthy, which was created by Punjab Women Protection Authority with the aim to protect women from domestic, sexual, psychological and economic abuse, stalking and cyber crimes, perpetrated by their husband(s), sibling(s), adopted children, relatives and/or domestic employers.
Under the same Violence Act mentioned above and as a more practical step, Violence Against Women Centres were initiated by the Strategic Reforms Unit, but only the Multan centre currently exists.
Moreover, the government and KP Commission on the Status of Women had also drafted a KP Domestic Violence Bill in 2016. However, the Council of Islamic Ideological (CII) rejected the bill in April 2016, calling most of the clauses unislamic.
Therefore, in spite of all these laws and regulations to protect women from domestic violence being in place, breaches continue in to happen in Pakistan and prosecutors manage to escape the law.
No wonder, the Thomson Reuters Foundation had ranked Pakistan third on the list of most dangerous countries for women in the world. The bottom line is that, every legal facility that exists with the aim to protect women requires proofs and evidence.
Considering that majority of Pakistani women are under all kinds of limitations owing to the patriarchal system we live in, it is next to impossible for women to record and accumulate proof against the perpetrators.
However, the good news is that lawyers and Human Rights activists have now started standing up for suffering women and are openly offering help in the same regard.
For example, in Mohsin Abbas Haider's case, Nighat Dad and Shireen Mazari have publicly offered help to Fatema.
Fatima don't be discouraged if any of this happens in next few days
1. Leaking any private video (can be a fake one)
2. Defamation suit
3. Mohsin Abbas's statement (rotay huway)
4. Trolls defaming and discrediting you online while setting false narrative #MohsinAbbasHaider

— Nighat Dad (@nighatdad) July 21, 2019
Fatima like so many others,needs help. Am available in Islamabad at any point to meet and take this up. Many legislators feel very strongly about abuse and domestic violence. We worked for years on the lawmaking against it. Please feel free to DM me to coordinate any response https://t.co/RboiOwaxiX

— SenatorSherryRehman (@sherryrehman) July 21, 2019
Surely, this should act as a stepping stone to help women not only raise their voice against violence, but also take proper legal action and make sure justice is served.
What do you think about the story? Let us know in the comments.
Stay tuned to Brandsynario for more updates.