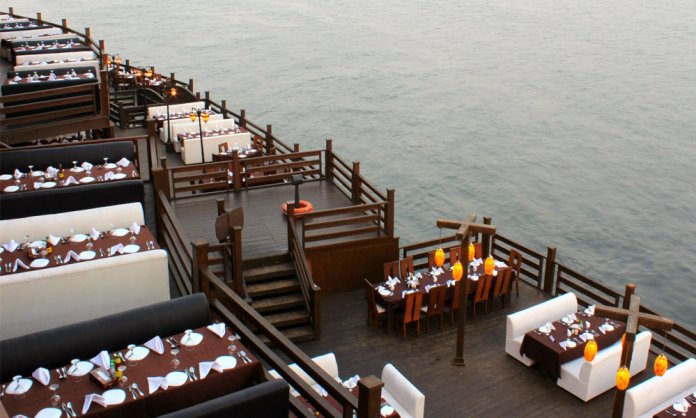 One of the biggest shocks that Karachiites woke up to over the weekend was the news of Do Darya closing down after Ramadan.
The city's famous tourist and dining spot, Do Darya has been a forever favorite amongst the locals to enjoy fine cuisine and enjoy the stunning view of the sea.
One of the busiest areas for delicious food and relaxing environment, the news has caused an uproar over social media with locals voicing their thoughts on this decision.
But why has DHA decided To Shut down Do Darya?
Check out the rubble and wreck caused at #DoDarya as Karachi's pride is flattened to the ground

Do you want this? #SaveDoDarya pic.twitter.com/Ut1k1q9Z6b

— Amber Zulfiqar (@Cheese_Pakora) April 21, 2018
This is a question that has baffled many over the weekend.
If you remember, back in 2015, DHA had issued a similar warning to the restaurant owners to wind up their business; however, the issue had been resolved.
But this time, the decision seems to be final and according to reports, the reasoning behind this decision seems to vary.
While there are some that report that a new sports complex and entertainment center is being planned; other reports cite that the land has been taken by a foreign investment group to construct underwater restaurants and high rise buildings.
While the official reason behind this shocking decision has not yet come forward, there are plenty of people who have decided to step up and voice their thoughts on the matter.
Twitterverse is clearly heartbroken over the news.
Just got to know this terrible news. #DoDarya is being demolished by #dhakarachi to construct a "no civilian" sports complex and entertainment center.
Dude what about the thousands of employees who work there? Or the fact that Do Darya is the pride of Karachi that entails tourism

— Amber Zulfiqar (@Cheese_Pakora) April 20, 2018
It's one of the most amazing places of Karachi. I just felt so sad to hear this news. Stop this please. We need dodaryaa !!#DoDarya #stopthis pic.twitter.com/cGY1G4CbFF

— Bushra Khan (@Bushraaay) April 21, 2018
How can they just demolish Karachi's most striking feature that is #DoDarya? Plus, what about all the employees and all of investment?

— ms keisha (@meemelif) April 21, 2018
First they demolished the famouse DHA sunday bazar now this, I strongly wish this news is wrong 😢😢😢 will Chief Justice take notice as it's among other only few places karachittes can go and enjoy good food and ambience. #DoDarya #Karachi #DHA https://t.co/0KAiTaYzuk

— Sadaf Jabbar (@sadafaj) April 21, 2018
Thats really sad….I have visited #DoDarya and its so beautiful place….Sad news https://t.co/8XsnsbUy2p

— Faryab 🇵🇰 (@Faryab2) April 22, 2018
Never cared much for the food at #DoDarya but no doubt it was one of the very few social attractions of Karachi. And now it's being taken away for the sake of bureaucratic privileges.

— Aaliya Javed (@Aaliyajaved) April 22, 2018
Karachi is soon going to loose the beautiful #DoDarya food strip, this is one place where we take our guests with pride for a breathtaking experience of our beautiful city. This place has revived city's reputation and hosted lot of foreigners too. Please dont shut them #DHA #

— Zohaib/ذوهیب 👔 (@syedzohaib_ali) April 22, 2018
One of the most Interesting, Favourite & Relaxing Place of Karachi, Pakistan.#DoDarya is shutting down after the month of Ramadan. According to resources, the land has been purchased by foreign investment group and is planning to construct high risers and underwater restaurants. pic.twitter.com/Z9RXfcGcpK

— UnKnown (@iamSyedAtifAli) April 22, 2018
Pindi boyses taking over one after the other beach points in Karachi, dude STOP that's the only thing Karachiites have other than our pocket money. #DoDarya

— Ahad Abbasi. (@ahadabbasii) April 20, 2018
Are you as heartbroken by this news as we are?
Stay tuned to Brandsynario for more news and updates.