The automotive industry in Pakistan and all around the world has taken a HUGE hit. Yet, despite what is going on, auto giants want their customers and their families to indulge themselves at home.
With these uncertain times upon us, and given that social-distancing has become extremely crucial, and not to forget that we are now confined in between 4 walls, driving has become unnecessary.
But just because you can't discover the great outdoors, that doesn't mean you can't explore the great indoors as well! At least that's what Land Rover wants you to know with its latest campaign #StayInStayAdventurous.
Land Rover gives the message that 'until it's safer for us to go into the future, let's explore the great indoors.'
As the ad starts, we see a couple of toys on the windowpane with a soft melody in the back. We then see a child looking out the window. Without any dialogues or any action, we can already feel how much that little girl wants to go outside and play.
She then picks up a toy car and decides to take it for a spin. The little girl then starts her adventure as she moves the rover from in between the exotic animals waiting for her on the safari.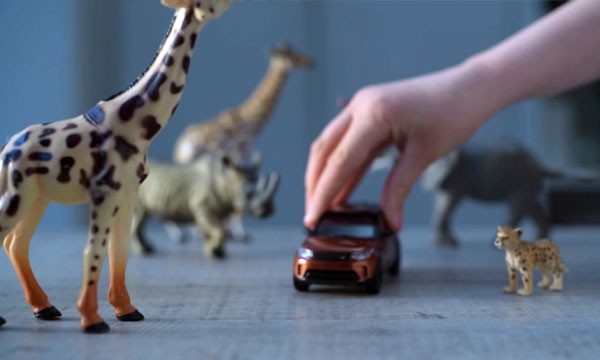 She then strolls through the wet and rigid surface with ease and blasts past the high mountains of flour in the kitchen, making her way to her destination by crossing the harsh terrain of the comforter!
Last but not least, her journey comes to an end! Take a look at this creative ad below!
Even though we're staying at home, it doesn't mean we can't explore the great indoors. We're celebrating creators who have embraced the spirit of #StayInStayAdventurous with their mini-adventures, including this indoor Discovery expedition. pic.twitter.com/BwMPAVeTFw

— Land Rover UK (@LandRover_UK) May 7, 2020
The credit behind the creation of this ad goes to Trevor Hart and Eleanor Harpur of Hart Studio. With the novel coronavirus waiting for us outside our doors, many individuals are staying indoors, and brands are encouraging them to do so with their latest campaigns.
Earlier, Honda became the first automotive brand to roll out a similar ad, making it the first-ever commercial that was shot entirely indoors during the pandemic under their campaign #StayHome.
Honda Civic's Latest Ad Has Been Shot Entirely At Home Amidst COVID-19
Playing a vital role in society and know their corporate responsibility towards their customers, brands are doing whatever it takes to spread positivity around the world to lift spirits.
So how have you explored the great indoors? Share your thoughts with us in the comments below.
Stay tuned to Brandsynario for more news and updates.