8th June 2020:
The craze for the Turkish drama serial Dirilis Ertugrul is sky-high in Pakistan! Pakistani people have become fans of the actors. That the actors have a bigger fan following in Pakistan than Turkey itself!
Time and time again, lead actors Engin Altan and Esra Bilgic have shown their Love towards their Pakistani fans and have dedicated small tokens to them.
On Eid, Altan posted a video of himself wishing everyone a blessed holiday, and now Altan has once again won hundreds of thousands of hearts by paying tribute to Junaid Jamshed by singing 'Dil Dil Pakistan.'
Never imagined that one day #Ertugral would be saying ❤️❤️🇵🇰 . The song remains the same🎸 https://t.co/VMvvBBD3fR

— salman ahmad (@sufisal) June 6, 2020
This beautiful gesture has left many Pakistanis in awe and has them star-struck!
Social Media Reactions to Engin Altan Singing 'Dil Dil Pakistan'
Ertugrul sbko salm keh rha hai❤️ #ErtugrulGhazi #Ertugral #Pakistan pic.twitter.com/c2iDONWiOz

— @mi_umer (@umer_mi) June 8, 2020
Awwww so cute..😍❣#ErtugrulGazi #DilDilPakistan https://t.co/3VK1Sqz8Zs

— 𝙎𝙮𝙚𝙙 𝙁𝙖𝙧𝙖𝙯 𝙃𝙖𝙞𝙙𝙚𝙧 𝙍𝙞𝙯𝙫𝙞 (@im_farazhaider8) June 6, 2020
Dil Dil Pakistan By Ertughrul #ertughrul#PrimeNewsPakistan#PrimeEntertainmentPakistan
#DilDilPakistan #JunaidJamshed pic.twitter.com/0EKyYmqiTE

— Prime News Pakistan (@PrimeNewsPak) June 7, 2020
---
---
21st May 2020:
We all have heard heart-warming stories of how individuals and couples have decided to accept Islam because of its simplicity and beauty.
This time around, a Mexican couple accepted their new religion because of the viral and top-rated Turkish drama series,  Dirilis: Ertugrul.
The couple decided that Islam was the religion for them after they met Abdur Rahman Alp, aka Celal Al from Dirilis:  Ertugrul in 2019.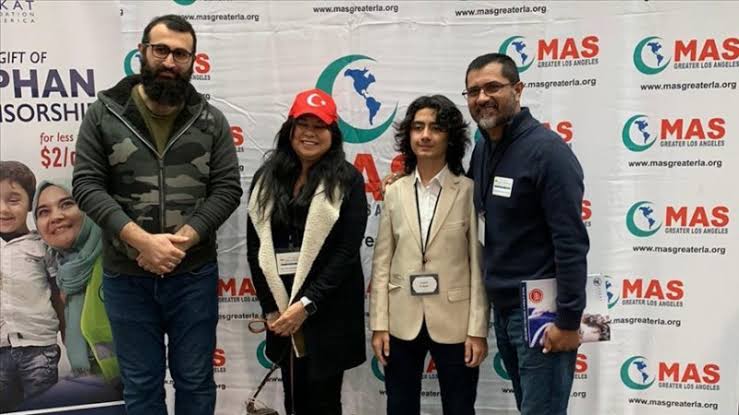 Alp met the couple during the 22nd annual meeting of the Muslim American Society. Towards the end of the event,  the couple converted by reciting the Islamic proclamation of faith with the help of the famous actor.
The couple said, "we were affected by Turkish TV series (Dirilis: Ertuğrul) Resurrection: Ertuğrul and Turkey's humanitarian activities around the world, and then decided to become Muslim."
Rosie Gabrielle – Canadian Solo Biker who Converted to Islam 
Another soul-touching story about conversion to Islam is of Rosie Gabrielle. She was fighting depression, among many other health problems.
The influencer then soon announced that she had embraced the religion of Islam on her social media.
When questioned about how she made the big decision, she shared that it was because of her trip to Pakistan!
She added that she paid accolades to Pakistan and its people, who helped her get rid of the pain she has been going through for years and fulfill her desire to be free.
Why Did Rosie Gabrielle  Choose Islam?
She wrote an Instagram post with the following message:
"What lead me to this Big decision?
As I mentioned previously, this last year was one of the hardest in my life, and all life's challenges have led me to this point here and now.
From a young child, I've always had a unique connection with the creation and a special relationship with God.
My path was far from easy, and I carried a lot of anger in my heart from a lifetime of pain, always begging God, why me?
Until ultimately coming to the conclusion that all is meant to be, and even my suffering is a gift.
Never resonating with what I was brought up with, I denounced my religion four years ago, going down a dark path of spiritual discovery.
Exploration of self, and the great Divine. I never let go of the sight of the Creator; in fact, my curiosity and connection only grew stronger.
Now no longer dictated by fear, I was able to explore this righteous path fully.
As time passed, the more I experienced, the more I witnessed the true nature and calling for my life. I wanted to be free. Free of the pain and shackles, that was hell.
Liberation from the anger, hurt, and misalignment. I wanted Peace in my heart, forgiveness, and the most profound connection with all. And thus started my journey.
The universe brought me to Pakistan, not only to challenge myself to let go of the last remaining traces of pain and ego but also to show me the way.
Through kindness and humbled grace of the people I met along my pilgrimage, it inspired my heart to seek further.
Living in a Muslim country for 10 + years and traveling extensively through these regions, I observed one thing; Peace.
A kind of peace that one can only dream of having in their hearts.
Unfortunately, Islam is one of the most misinterpreted and criticized religions worldwide. And like all religions, there are many interpretations.
But, the core of it, the true meaning of Islam, is PEACE, LOVE & ONENESS. It's not a religion, but a way of life—the life of humanity, humility, and Love.
For me, I was already technically a 'Muslim.' My Shahada was a re-dedication of my life to the path of Oneness, connection, and Peace through the devotion of God."
Stay tuned to Brandsynario for more news and updates.