Since the past few days, there have been videos and pictures being posted on the internet claiming that the a Saudi Businesswomen, Sahoo Bint Abdullah married her Pakistani driver who apparently had a humble and simple background.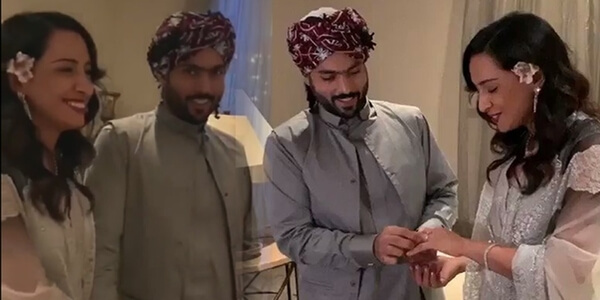 The news came as a surprise for many Pakistanis who poked fun at the driver's luck, many hailing the news similar to a lottery for the Pakistani driver who is now set for life as his wife has an estimated wealth of $8 Billion and multiple properties and businesses all around the world as per the posts that are currently viral on social media.
There are multiple pictures and videos in which the happy couple can be seen been in their wedding outfits being affectionate to each other.
Sahoo Bint Abdullah Al-Mahboub, Businesswoman whose wealth is estimated at 8 billion$. She owns residential properties and hotels a lot in Mecca and Medina, as well as towers in France and others. She marries her Pakistani driver. pic.twitter.com/tQ9PFzHXN3

— Imran (@hassanjutt25) January 1, 2021
Twitter Reacts To The News Of Pakistani Driver Getting Married To A Saudi Businesswoman
As expected, Pakistani Twitter went into a frenzy and reacted to this news. Pakistanis that generally go to the Middle Eastern countries on work permits often face problems and have to do immense hard work to make ends meet.
However, many considered this news as a lottery for the alleged Pakistani driver appearing on the videos and pictures floating on the internet.
Damn !!

I should become taxi driver !

— Usman Nasir (@usmanjn13) January 2, 2021
All Pakistani Engineers (Berozgaar) should apply Saudi visa.

— ہانی۔🥀 (@ZeyadaFreeNaHo) January 1, 2021
So the driver position is now vacant, right? Can I get this feller old job🙏

— Khan (@KKhattakk) January 1, 2021
How True Is This News?
As much as we would like this news to be accurate, unfortunately, none of the well-reputed sources have verified this story. There are no whereabouts about a Saudi Billionaire Businesswoman Sahoo Bint Abdullah on the internet.
Sahoo Bint Abdullah Al-Mahboub, A Billioner Girl Who Married to Her Pakistani Driver Clearly Showing All Girls are Not Materialistic But Some are Fools Too

But Leave it! This is a Fake News.. 🤐 pic.twitter.com/N5CdQyRXdV

— Mizrah 🌞 (@smjq_officials) January 2, 2021
This viral message is fake. There is no Arab "wealthiest" businesswoman with the name  Sahoo Bint Abdullah Al-Mahboub. In fact, a Google search of this name only returns the webpages where this viral message has been posted.

— Gazette (@PakGazette) January 2, 2021
Even though the news with no sources is spreading on the internet like wild-fire, there is no single source that could confirm this news other than a few pictures with the same caption being reposted by multiple people all across the Pakistani social media.
Saudi Arabia is home for many Pakistanis who go to the country to gain a livelihood for their families while living in challenging circumstances but working hard so the lives of their family could turn around.
There have been several success stories about Pakistanis in Saudi Arabia in the past that were true though
Last year, there was news about a Pakistani carpenter who went to Saudi Arabia approximately four years back at the age of 24 to work as a carpenter but soon got offers for modeling. He now works as a fashion model full-time in the country, which had been his dream.
Waqas's story proves that one does not need marriage to a billionaire to bail out of his or her circumstances, but hard work, consistency, and being fair in your dealings will assist you in reaching your goals one day.
Follow Brandsynario for more news & updates