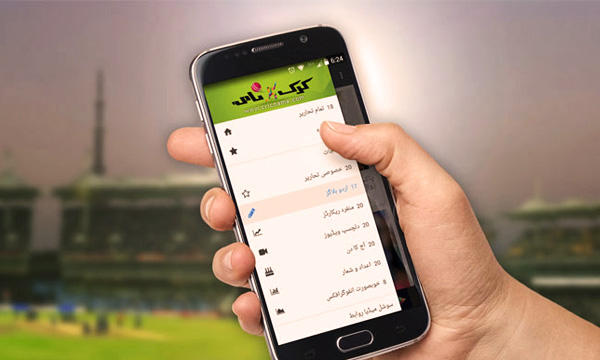 The famous Urdu cricket news & updates website cricnama.com has just launched its app for Android. The app is aimed towards seamless cricket news and updates in Urdu language for cricket fans. The app will cover all the latest happenings in the cricketing world.
The launch has been cleverly positioned with the very first season of Pakistan Super League (PSL) revving up the cricket mania in the nation. Also the upcoming major cricketing events such as ICC World T20 & Asia Cup just months away.
No cricket app was available that could cater for the growing information needs of fans and readers about their favorite sport. The lack of any true cricket app specifically catered to Pakistani fans and readers had left a gap now being filled by CricNama App.
After the introduction of 3G and 4G mobile technologies along with easy market availability and general acceptability of smartphones in Pakistan, there was a dire need for quality content in Urdu for the masses.
Introducing the website and the mobile app, CricNama's Founder and Editor Fahad Kehar said: "Pakistan is a richly multicultural and multilingual country. Language, accent, culture, tradition, lifestyle, dress, food — everything changes every hundred kilometres."
Currently, the app is in alpha testing phase. It's compatible with Android-powered smartphones and tablets. However, the app will also be launched for Apple iPhone and Windows-enabled smartphones in the near future.
News, analyses, debates, reports, records, videos, photos, statistics, infographics are covered by the CricNama app.
This cricket-oriented app in Urdu can be downloaded for free from Google Play Store here.
Mr. Fahad Kehar, CricNama's Founder stated: "Two things that stay the same throughout the country are Urdu, which is spoken and understood in every nook and cranny, and cricket, loved by everyone no matter what their age, class, caste or color is. What CricNama does is it blends the two values together."
Stay tuned to Brandsynario for more updates.