As the coronavirus pandemic is nowhere close to ending, the cases in Pakistan and globally are increasing. Doctors in Pakistan are now struggling to treat patients as they're now short of PPE (Personal Protective Equipment).
Earlier, doctors and medical staff at the Abbasi Shaheed Hospital in Karachi were spotted wearing black trash bags in order to protect themselves. Moreover, they also staged a protest and chanted slogans on the non-payment of salaries.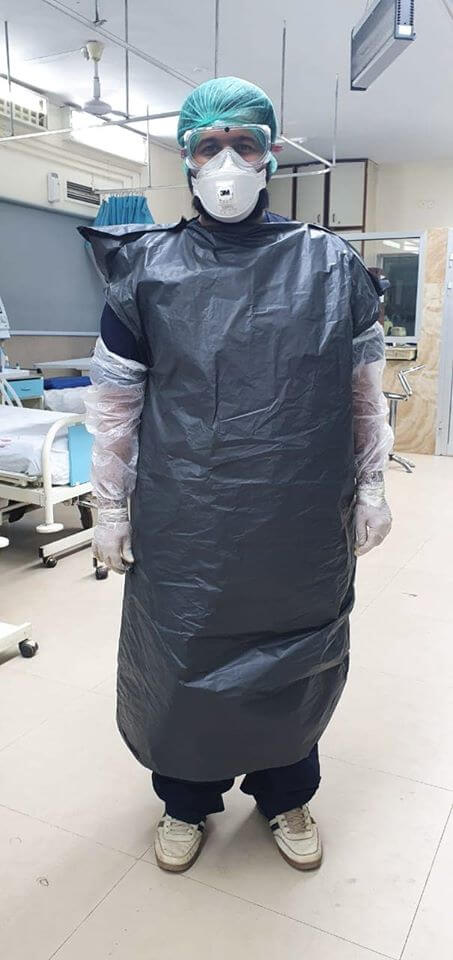 However, the situation in Pakistan is getting out of hand. Doctors treating coronavirus patients at the government hospitals in Sindh will be boycotting their duties from Tuesday (tomorrow) if the government fails to provide them PPE warned the Sindh chapters of the Pakistan Medical Association (PMA) and Young Doctors Association (YDA).
Addressing a meeting called regarding this situation, PMA Sindh secretary Dr. Pir Manzoor Ali said,
"The doctors and paramedics in the province continued their silent protest for the sixth day, wearing black armbands at work, but the government hasn't budged."
Co-chairing the meeting with YDA Sindh president Dr. Omer Sultan, he said the doctors who are working in isolation wards and other wards were exposed to the virus without PPE.
He said,
We have repeatedly demanded the provision of PPE to doctors earlier but now more than a month has passed since the first case was reported in the province and doctors and paramedics haven't been given safety kits,
Moreover, he cleared that the doctors would still carry out duties but would not be allowed to visit wards where confirmed and suspected cases of the virus were admitted if they are not provided PPE.
The government needs to find a solution
The boycotting of the doctors would only make the current situation worse but at this point, there is no better option. In either case, the patients and doctors, both will suffer. If the doctors aren't protected, statistically, they are at a higher risk of getting infected. Which means, they won't be able to treat the patients. If they boycott their duties, the patients will be left untreated.
In this situation, the government needs to think and act quickly to protect its civilians and provide  them
Do you think the doctors are making the right decision? Let us know in the comments below.
Stay tuned to Brandsynario for the latest news and updates.