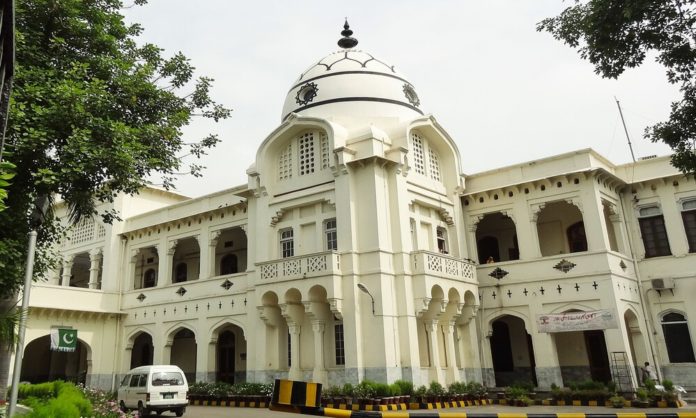 A prestigious University in Lahore turned into a photo shoot location for the newlywed couple and the internet isn't happy about it. The photoshoot fiasco blew up on social media after the pictures from the photographer based in Lahore surfaced on Twitter. Many including those part of the university are not so amused and have taken to Twitter to share their disregard for the situation.
University Photoshoot 
While thinking about a location for a wedding photo shoot, a university doesn't often come to mind. However, a couple in Lahore allegedly took their love for studies to the next level by getting their pictures taken in the vicinity of Kind Edward Medical University Lahore.
The University which is known for creating some of the top-notch doctors over the decades is one of the most renowned and reputable medical institutions in Pakistan. Soon after the news broke out, alumni from the University took to Twitter to share their views. He called out the couple and the photographer for being insensitive in a series of tweets about the historical landmark.
Sorry, my college isn't your wedding hall.

Not a single student of King Edward Medical college is allowed in these grounds, or the library adjacent to it past 5pm but I guess the same restriction doesn't extend to a photographer trying to reduce this college to a backdrop. 1/n pic.twitter.com/8BYhrFRNkp

— Jamal Awan (@jamalawan42) December 26, 2022
Read More: Generation's Recent Campaign 'Consent On Nikkah' Is Setting The Bar Too High
These Wedding photographers are the ugliest face of capitalism. They mock every possible site by reducing it to a pompous background. I'm pretty sure that if they will ever find a scenic graveyard, they'll start taking couples there. Without an inch of shame. 2/n pic.twitter.com/gfCxo8tcTJ

— Jamal Awan (@jamalawan42) December 26, 2022
Calling out photographers as a breed of capitalism, he shared how such an incident mustn't be taken lightly since the college's legacy is being tarnished just for a mere amount of money. He also shared his views about the failing education system and how these incidents can have a detrimental impact on the prestigious educational and monumental location.
As if years of forgetting this college's legacy wasn't enough that they had to tarnish the remaining little respect and admiration reserved for it. I demand, unhesitatingly, an inquiry into who allowed it and what justification they had to do so. This needs to be protested. 5/n

— Jamal Awan (@jamalawan42) December 26, 2022
Meanwhile, in recent news, the administration of the University has taken notice of the incident. A notification was issued regarding the inquiry committee which has been set up and comprises three individuals.
An update: pic.twitter.com/ypeOG0ITGa

— Jamal Awan (@jamalawan42) December 27, 2022
Is The Backlash Relevant?
While some had their reasons for calling out the couple, the majority didn't agree with the narrative. The argument was questioned since some of the best IVY league universities including Oxford and Harvard has already seen the same. Previously couples have gotten their wedding shoots done on the university premises and the concept is certainly not alien.
harvard hmm and oxford hmm?? oops? pic.twitter.com/jSQr75PdTq

— Irtaza Asif Azad (@thoughts_irtaza) December 26, 2022
Read More: Lahoris Throng To Zameen.com's Family Gala At Beach Resort By Icon
Dude Just chill,Here is Australias number 1 ranked university pic.twitter.com/sGpDPrqZJb

— Adnan Maan (@MaanJutt007) December 27, 2022
Another argument raised includes that there is no harm if the couple is an Edward College alumni. However, if that's not the case then nothing can be said about it.
Now that the committee is set to take action on the breach of university policies, we will find out the proceedings in due time. Till then share your views in the comments below.
Stay tuned to Brandsynario for the latest news and updates.