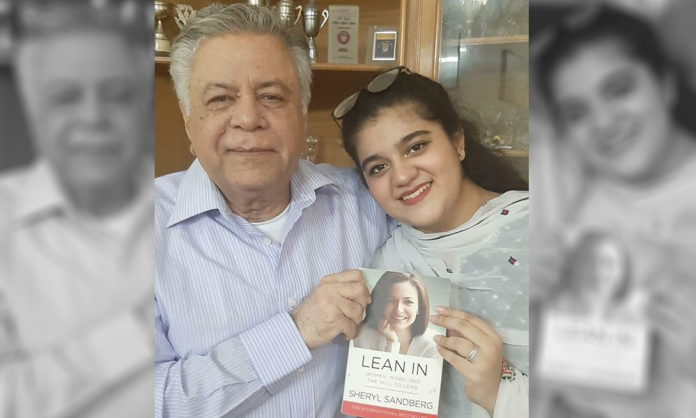 Social media can be a potent tool, depending on how you wish to use it. It is a vital resource that has taken people to heights of fame overnight and has dropped some from their thrones.
Nonetheless, you have to admit, it is an integral part of our lives now, and we can't function without it anymore. One such powerful resource that comes under social media is Facebook.
COO Facebook Sheryl Sandberg took it to her official social media accounts to share a story of an inspirational girl from Pakistan, Eesha Afridi. Sandberg interviewed the young lady, and her story goes as follows:
Three weeks after Eesha started medical school in Karachi, Pakistan, her city went on lockdown due to Covid-19.
First year students from my medical university were given the opportunity to volunteer in the isolation ward,

It was considered a great opportunity. However, only boys were selected. –Eesha recalls.
Unfortunately for Eesha and many other girls in Pakistan, this was not the first time they had been confronted with a situation that cost them opportunities because of gender biases.
When Eesha was in grade 9, one of her teachers told her parents that she was;
always bossy, especially around boys
Because she'd taken the lead on a group project, later on, when she has expressed her wish to pursue law, she was told that there is no place for women lawyers in a country like Pakistan.
A lot of points spoke to me. I realized a lot of stereotypes and gender roles that I thought only existed in my society were actually a global problem. I was encouraged to do something about it.
Eesha Afridi's Response To Gender Biasness
To break stereotyping against women because of their gender, Eesha decided to start a 'Lean In Youth Circle'. This circle is for boys and girls who share the same vision as she does.
I think we can only strive for change by engaging the youth of both genders. During the lockdown, people are having to deal with gender roles at home more often.

Boys need to understand that they have to help their mother and sisters out, just as girls need to understand that they can say no and ask for help from men.
As of now, the youth circle has had five meetings, with both boys and girls sharing personal stories. Eesha further shares that there was a particular conversation that had stood out.
When I talked about aunties asking me to lose weight, someone else said they were criticized for being too skinny. We realized a lot of our normal talk was bullying. Since all of us had been bullied in different situations irrespective of our gender, we committed to learn and do better in the future.
Eesha shared that she has been delighted that individuals have stepped forwards to share their stories.
I know I won't be able to single-handedly stop gender inequality. However, I want to at least let those around me become aware of these problems and recognize them as barriers that stop girls and women from leaning in toward their goals.
Hats-off to young women and men like Eesha, who have decided not to compromise, but to take ahold of disheartening situations and do something about it. Yes, it may take some time, a couple of years maybe, or maybe a decade, but the more important lesson here is the importance of starting the conversation.
Kudos to you, Eesha!
Stay tuned to Brandsynario for more updates.
Pakistani Woman To Head A Dept At Germany's Biggest Research Institute