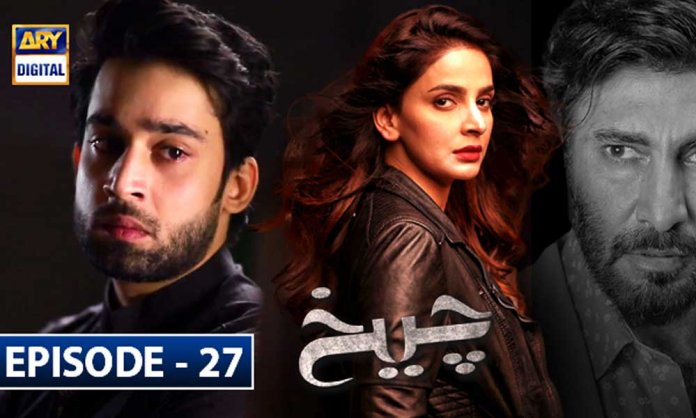 Episode 26 of Cheekh ARY received a lot of criticism for sending out the dreadful message that anyone – especially any woman – who decides to stand up against the wrong will face nothing but loss.
However, Episode 27 tells a different story: The most fearless people are those who have nothing to lose, it seems.
Pakistani Drama 'Cheekh' is Currently on a Mission to Kill its Fan Following!
In the previous few episodes, Mannat (Saba Qamar) lost her unborn baby, her mother and husband. She lost the case and ended up at a mental hospital.  Nothing worked in her favour and miseries only kept increasing.
Episode 27 turned tables for Wajih (Bilal Abbas Khan) when he finally loses someone he cares about. He gets in a fight with his older brother (Emmad Irfani) and ends up pushing him to his death.
When the police come for an investigation, Mannat lies about the death, calls it an accident and saves Wajih, intending only to destroy him in the end. While Wajih is left confused, this only proves that Mannat after facing a series of tragedies has lost faith in the law and taken control of her destiny.
For the first time, Wahij feels the guilt and pain of his sins. He is burdened by his actions when even his eldest brother Yawar (Aijaz Aslam), who until now was saving him, shows disappointment and displeasure
While Bilal aces the role and succeeds at showcasing Wajih's weaker side, Saba Qamar remains the highlight of the episode.
She shows strength and determination as she threatens Wajih and promises to make him confess his sins by the time her iddat ends. Looks like Mannat's shift in approach will be interesting to witness.
The episode also featured Ramzan's (Noorul Hasan) daughter get harassed by a man the age of her father, upon which Shamsa (Saima Qureshi) understands her mistake and seeks forgiveness for being insensitive towards Nayab (Ushna Shah).
Karma seems to be on a roll, however, it's disappointing to see that a woman had to lose everything to get justice.
While performance by all the actors remains the winner, the development could have been a little less traumatic for Mannat, we feel.
Here's what Twitter has to say about the drama so far:
So #Cheekh is not an uplifting courtroom drama to establish confidence and respect in rule of law but a rendition of 'karma will get you' instead?

I apologize for ever comparing it to #Damini. Damini was an exemplary project while Cheekh is easily another run-of-the-mill crap.

— Humeira Ajaz Kazmi (@humeirakazmi) July 23, 2019
Hate how the ending of #Cheekh was basically 'if you stand for justice you will lose literally everyone and everything' like how's that fair? Itna depressing sheesh

— Glitch (@Rabz94) July 21, 2019
The revenge time starts now #Cheekh #NoMoreSilence

— Women Defender (@QasimAshraf01) July 22, 2019
@bilalabbas_khan I think Shayan is not dead. Hes off hiding somewhere and he and Mannat made this plan just to punish you and your brother😂 #Cheekh #wajih

— Steves Scoops (@maveysmare) July 22, 2019
What do you think episode 28 of Cheekh will reveal today? Comment and let us know!
#MeToo: Shamoon Abbasi Rubbishes Humaima Malick's Allegations Of Domestic Abuse
Stay tuned to Brandsynario for more updates.