Pokemon Go seems to be the game of the decade! It is making everyone go crazy and people are already quite addicted to it as well. It comes as no surprise that celebrities worldwide are also having a go at it and are trying really hard to find the evasive little creatures!
Celebrities from Hollywood and B-Town have been witnessed playing the crazy game. Let's take a look at these famous superstars who have been gripped with Pokemon Go fever!
BOLLYWOOD CELEBRITIES 
The Bollywood celebrities are not far behind when it comes to catching some Pokemon monsters.
Shahrukh Khan is also experiencing the craze firsthand when he's about to capture the little monsters sneaking up behind him.
This is quite close to how I would feel and then of course capture it!!! https://t.co/qChUbesc4Z

— Shah Rukh Khan (@iamsrk) July 21, 2016
The gorgeous Priyanka Chopra is also hooked to the game as she announced starting out the game recently. Good luck capturing the little creatures, Pee Cee!
Anushka Sharma has also been playing Pokemon Go with quite the dedication and she also implored everyone to be safe while playing it. She is completely absorbed while playing Pokemon Go.
Jumping onto the bandwagon is the Dishoom hero, Varun Dhawan who also revealed that he is obsessed with the latest sensation in the gaming world!
"It's too addictive man! I mean, every time I'm in the car and I've to reach somewhere and I see a Pokemon and I'm like 'Arrey yaar left lena idhar' ," told Varun to Indian website, DNA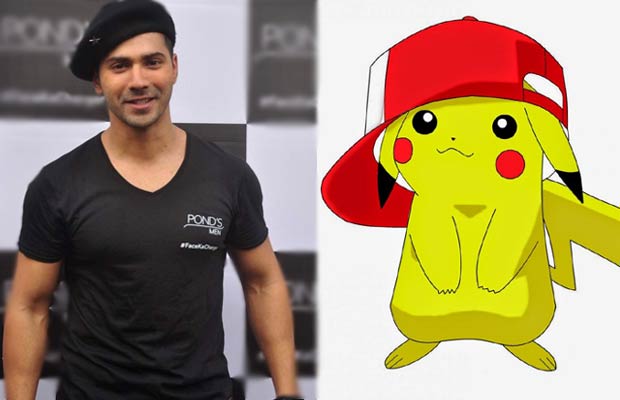 HOLLYWOOD CELEBRITIES
In Hollywood as well, many famous faces made waves when they were seen in public trying to catch the mini monsters.
Justin Bieber was recently spotted going around the Central Park trying to catch Pokemon.
Near Central Park: 300+ people rush to catch a Gyarados. Justin Beiber experiences what it's like to not be the thing a crowd is chasing after. from pokemongo
Rapper Soulja Boy also shared an image of Pikachu on his arm, demonstrating his immense love for the game.
Even Kevin Jonas posted about the utter grief when you seek certain Pokemon monsters and there are not to be found. Tsk, tsk!
— kevin jonas (@kevinjonas) July 11, 2016
The singer-songwriter John Mayer is also quite big on the game and shared his in-app purchase to progress quickly in the game.
The wrestling's royal personality, Vince McMahon has not quite taken a shine to the presence of these little beasts lurking around his training room!
I don't care who you are … Get OUT of my weight room! #PokemonGO pic.twitter.com/JLaB71nSKV

— Vince McMahon (@VinceMcMahon) July 13, 2016
The Pokemon Go craze is very recent and is only going to rise once it is officially rolled out in the remaining markets across the world. Can't wait for it to come to Pakistan!