The sustainable change that Burger King is bringing in its Whoppers is something you'd have never imagined. Cows from which the beef for the Whooper will be sourced will now fart and burpless. Yes, that is correct, and it was revealed through a song. Keep reading to find out more about this seemingly absurd news.
What's Changing About The Whopper
Burger King has been introducing new and improved Whoppers left, right, and center.
Firstly, the flagship sandwich of the chain first underwent a vegetarian makeover. The Whopper was named "Impossible Whopper," and it was for those who wanted a better diet. The plant-based patty was made to mimic the look and texture of meat. So you can fool yourself into eating healthy!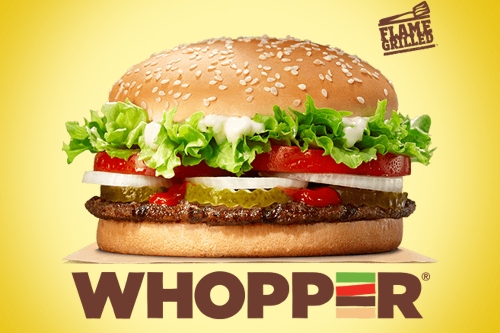 Secondly, Burger King announced that Whopper was being reinvented to remove all artificial preservatives from the recipe. This was to ensure that your so-called junk food is now made better. You can have more burgers (only from Burger King) now without worrying about your health.
Now, the mega fast-food chain has a new touch to add to the Whopper. The beef for the patties will be sourced from less gassy cows. They mean cows that burp and fart less. In other terms, this means that Burger King is shifting its supply to less methane-producing one.
How Is That Important?
You must have heard the backlash beef burger eaters get for being responsible for damaging the environment. That's because cow farms are significant contributors to greenhouse gases.
According to Business Insider, cattle contribute 14.5% of the world's global greenhouse gas emissions. Moreover, methane (produced by cow's burps and farts) warms the planet 86 times more than CO2 over 10-20 years.
The step Burger King is taking can largely influence how beef burgers can be made. The methane gas production in the environment could be reduced by 33%.
How Burger King is going to do it is also an interesting question. The chain has partnered with scientists to plan a new diet for their cows, which will reduce their emissions.
However, kudos to the team for introducing the change in such a hilarious manner. People are going crazy over Burger King's newly found humor, and so are we!
breathe the farts of change

— Burger King (@BurgerKing) July 14, 2020
A Change To Follow
Professors of environmental management are applauding the fast-food chain for their initiative. According to them, this will "initiate mitigation of enteric fermentation methane emissions originating from the beef cattle industry."
All in all, it's hopeful to see leading brands use their money and resources responsibly. Just recently, Adidas made a massive announcement regarding sustainability, and today it's Burger King. Moreover, this narrative of sustainability is also being furthered across all sectors and industries. It's becoming prevalent in the fashion industry, the corporate world, and the food industry as well.
Additionally, it's also time huge Pakistani brands get on board too.
Stay tuned to Brandsynario for the latest news and updates.