A.S Rind makes poetry out of canvas through vivid colours and fascinating images. Growing up in Rahimyar Khan [South Punjab, Pakistan] he studied Fine Art at the Central Institute of Art and Craft (Arts Council), Karachi, Pakistan. His early years were spent in his native town after which he moved to Karachi where he currently resides. Rind's recent and on-going work is striking, and our team at brandsynario was eager to have him answer a few questions about his work so far.
Brandsynario : Where & how did you grow up?
Rind: I was born and raised in Rahimyar Khan where there was no art scene. My uncle was a poet and I started getting inspiration from him and took interest in interplay of words and drawings. But that was too trivial.
Brandsynario: Were you always interested in art?
Rind: During my schooling years, I was very fond of drawing, painting and even calligraphy. Unfortunately there was no drawing teacher in our school; so we did not enjoy any such activity. Even at high school level, art education was not available in my native town. I believe the environment does contribute positively towards growing or raising great creative kids. I was not satisfied with any subject other than art. I felt myself fortunate enough to find people who were there to guide, encourage and nurture my talent. They helped pave the way to follow the right path and I opted for a proper education and training in art.To pursue this, I came to Karachi in 1981 and enrolled in the Central Institute of Art and Craft [CIAC], Karachi.
Brandsynario: What makes your work unique and truly your own?
Rind: I love to paint. I cannot do anything else. I express myself in bold colors. Line and form just echo with me, it feels good and right. I am a graphic designer too, but painting allows me to release my artistic energy , to be brave and bold; it is just fun and gives me a sense of freedom. It is not under compulsion that an artist projects viewpoints of others, artists think and love the rush that moves through him when he is moving the brush and things begin to happen.
Brandsynario: What is your preferred medium of work and why?
Rind: Since 1986 I have worked with different mediums ; in realism since 1990, in impressionism since 1992 and then did some works in cubism, which was exhibited in Alliance Franchise, Karachi, Pakistan. I also painted using different techniques and mediums since 1998.I also started calligraphic paintings with my self developed typography since 2002. I then moved on to figurative work, in which I included my homeland heritage.
I paint in acrylic and ink in wash technique with local motifs. My color palette contains the rich colors of Rajasthan, Thar and Cholistan. I use Urdu alphabets as motifs as well as Urdu poetry as a script in my paintings. I am currently painting in oil color on the subject of inequality and oppression in our society that has been exhibited locally as well as internationally.
Brandsynario: We normally see parrots, roses, fish, woman and a verse as elements used in your paintings? What is their significance?
Rind: Various ideas come to my mind. As an artist, I am not bound to express or agree with somebody else's ideas and thoughts. I think and paint whatever I want to. It happens on canvas. Birds, animals and countless objects have different meanings, interpretation and significance in different cultures and religions even different ethnic identities of the same religion. Similarly, different colors, hues, shades stand for different connotations in different cultures, religions and regions.
Brandsynario: What's your creative process like, from an idea to a finished piece?
Rind: First, I get an idea or it comes to mind without preplanning. I think of the composition. Then I decide what kind of painting it will be. I do a lot of limited palette. I like contrast against the subject. I do many dark backgrounds. When the painting is semi-finished, I keep it in my studio at a prominent place to look at time and again while leaving and entering until I think it is finished. Usually, there are several adjustments. Then it is ready to sign and have framed.
[youtube id="8T-xMEOZI-U"]
Brandsynario: What do you think makes for a successful painting?
Rind: when I really enjoy the process I think it makes for a successful painting.
Brandsynario: What/Who are some of the inspirations for you and your art? Did this help guide you to where you are today?
Rind: As a child I was always coloring, drawing and doing calligraphy. I have been inspired by number of national and international artists, poets and writers. I love action painting and expressive work that builds texture as well as figurative and narrative work. I incorporate these forms into my style as I disconnect the painted image from the common experience and perception of the viewer to enable the creation of new figurations and experiences.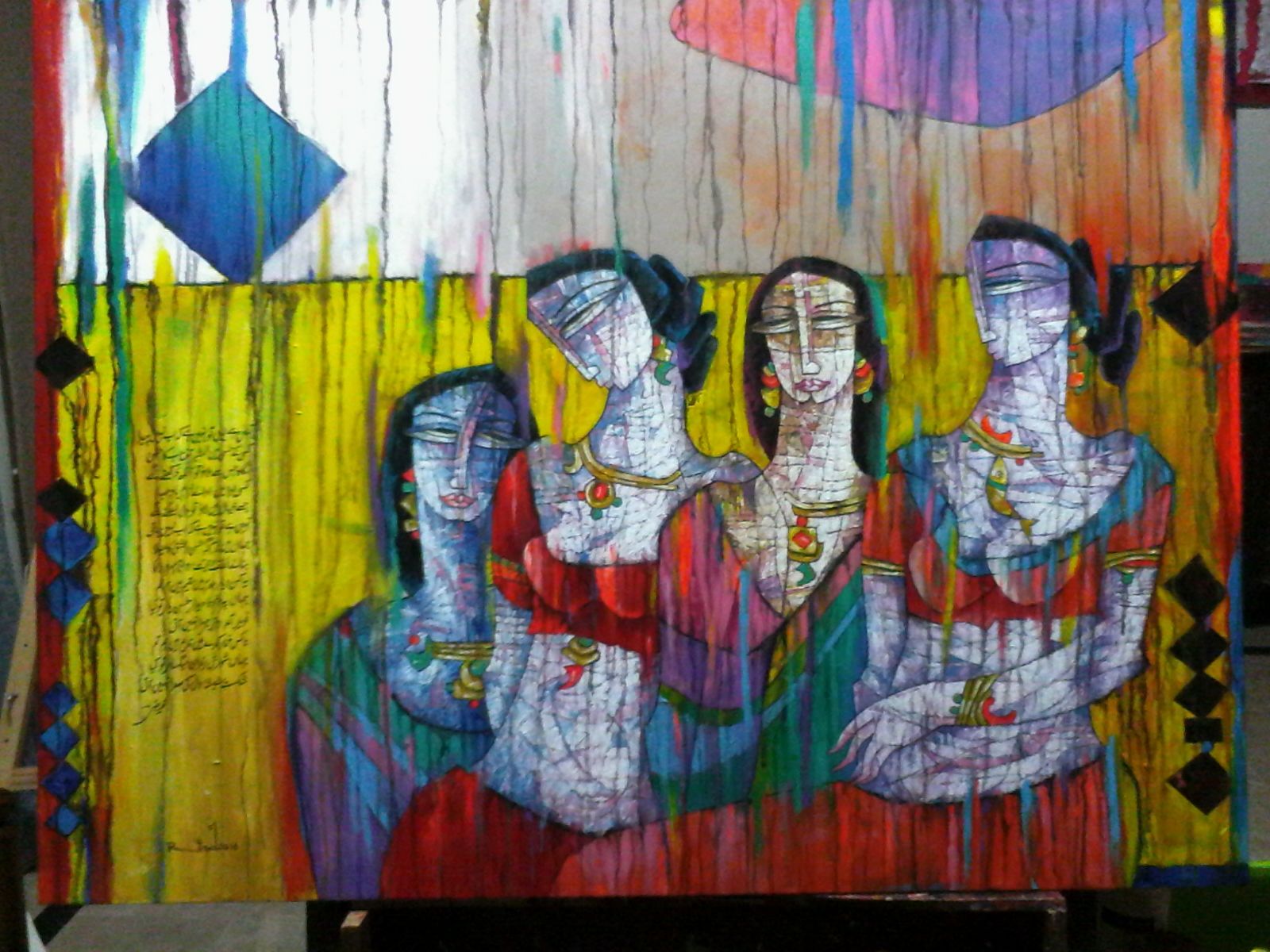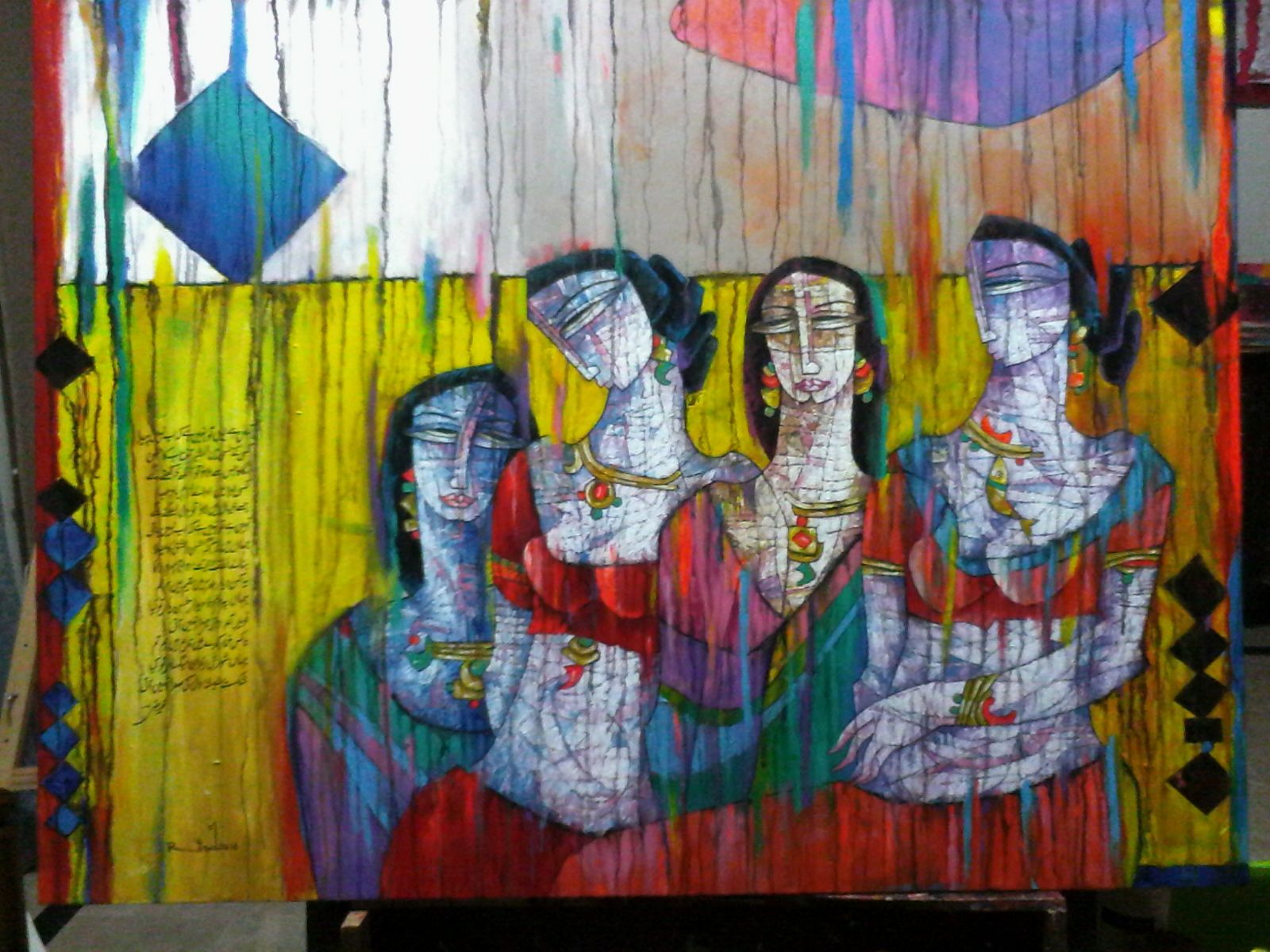 Brandsynario: What are your specialty skills in the field(s) of work you are in? Why do you enjoy them the most?
Rind: As a painter I can paint in every medium and I like mixing mediums when creating my work. I like to paint collages that explore longstanding lies, the emotional response, new forms of slavery, the tortured soul and the language of corrupted thought.
Brandsynario: What do you hope to achieve through your art work?
Rind: I want to leave a legacy through my work as someone who provoked conversation and thought.
Brandsynario: Any advice to other aspiring/young artists/creative students?
Rind:  Love your work. If you don't love it, you won't work hard at it, and you would not make much of it. If possible, find what you love to do more than anything, and do it as much as you can. It may not always feel like work, but it is work.