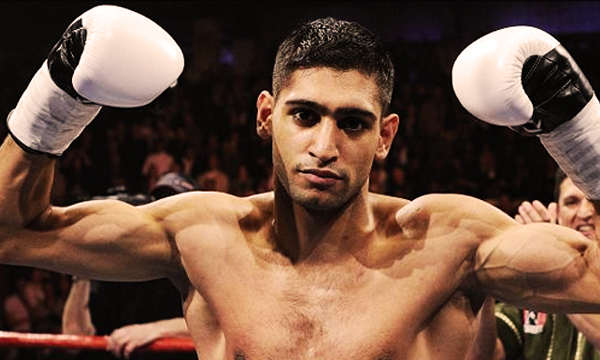 The British boxer Amir Khan, who has recently been in the limelight for deciding on supporting Pakistan in the upcoming Rio Olympics 2016 has now decided that he will not pursue representing Pakistan anymore, as reported by The Guardian on Wednesday.
The talented boxer who had previously said that he would love to represent Pakistan, was forced to change his decision and he risked a two-year ban by the World Boxing Council.
The boxer who previously won a silver medal at the 2004 Olympics held in Athens became part of a huge controversy recently and was also labelled as a traitor by the British.
Amir has now acknowledged that he will not look for a spot in Rio through a final qualification tournament that is to be held in Venezuela next month.
---
World famous boxer, Amir Khan recently involved himself in a huge controversy when he expressed his desire to represent Pakistan in Rio Olympics. This decision raised many eyebrows and some even called him a traitor, blaming him for betraying his British upbringing.
The boxer certainly did not appreciate all the criticism and responded by stating:
"I'm not doing it because I'm not happy being British. I'm a proud British fighter, but it's the way people took it out of context and calling me a traitor — I meant it in a way that I'd rather give someone else an opportunity instead because Pakistan has no boxers."
Khan expressed his desire to represent Pakistan with an intention to boost sports specifically boxing in his parents' birth country. He actively remains involved in charity work in Pakistan and promotes boxing in the country.
During his recent trip to Pakistan, the Bolton based boxer raised funds to build wells for the residents of Thar, which is a drought-ridden area in the country. During his previous visit, he also visited Liyari, the most controversial area in metropolitan city of Karachi.
Though people appreciate boxer's active engagement in philanthropy, they are having issues accepting him representing Pakistan in Rio Olympics.
This decision may even cause Khan a two-year ban by World Boxing Council, something he would not want in the prime of his ever growing boxing career.
Aamir Khan to Launch 10 Boxing Academies & Produce Boxing Champions In Pakistan
Stay tuned to Brandsynario for more updates.