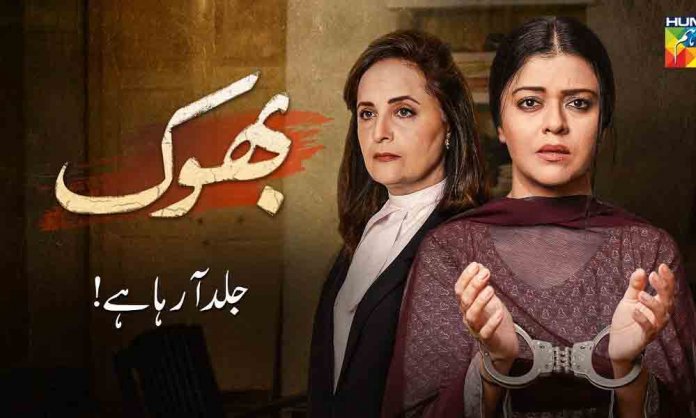 Veteran Pakistani actress and morning show host, Maira Wasti took to Instagram to announce the arrival of her upcoming project, Bhook drama on HUM TV.
Bhook will be aired on HUM TV in Ramzan 2019.
The heart-rending drama is produced by Moomal Entertainment and is directed by Mohsin Ali.
Its story revolves around the sheer suffering of a mother who, driven by poverty and subsequent dismay, ends up killing her own children.
The popular Humsafar actress, Hina Khawaja Bayat is also featured on the poster alongside Maria. It seems she, too, is a major part of the plot.
Reinvigorate your Ramzan Spirit a Few Days Early with a Recap of Surf's Ramzan Campaigns
The drama is based on mature, harsh, and a very real plot which will make it an eye opener for the audience.
Promos
https://www.youtube.com/watch?v=NPQC1CmdBA8
HUM Network is making this drama specifically for Ramzan, hence it will be a short series consisting of five episodes only. Repeat telecast will also be available on the channel.
https://www.youtube.com/watch?v=-FBZMVCiR70
The third teaser is as intense as the other two. It shows children imploring their mother for food, while the mother's eyes are overflowing with resignation and despair.
How poor does one have to be that their situation forces them to kill their own offspring?
How does a mother feel when she has to choose between eating herself and feeding her children?
What action does the judiciary take when a mother is presented in court for doing the only thing she could do?
Who do we hold responsible for such barbarity?
Among other exciting shows part of the Ramzan transmission 2019, Bhook is definitely one we're looking forward to!
Cast
Maria Wasti,
Kamran Jillani,
Nazar ul Hassan,
Naeema Butt and others
Timings
Timings of Bhook drama are yet to be announced.