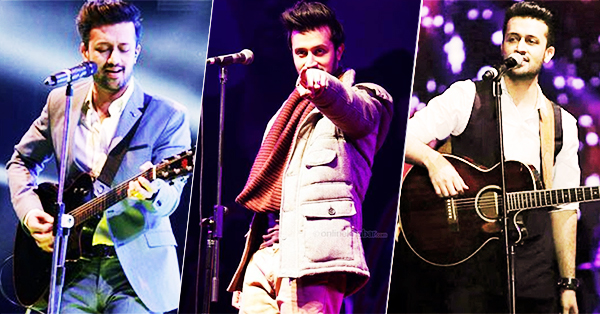 Long before Coke Studio made Atif Aslam a solo name for himself or even Bollywood and Hollywood made him a household name in the music industry, Atif Aslam was a talented young singer who started off his musical career like every other unknown musician does, 'creating a college band with your classmates.'
Atif Aslam first came into the limelight when he released the hit track Aadat, along with the band Jal, later featured on his solo debut album 'Jal Pari.'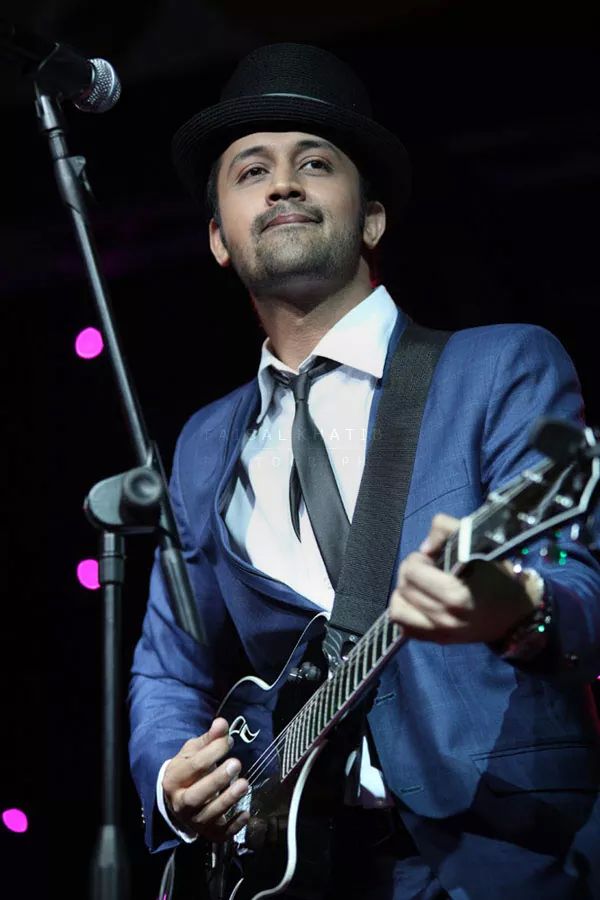 His claim to fame did not just stop with his debut album and his consequent sophomore album, Doorie released in 2006 and 2008 hit album, Meri Kahani. Adding to that was his appearances in Coke Studio, his various songs that have featured in not only Pakistani films but also on Bollywood films, have all added to his very glorious singing career.
Here is a look at some of Atif Aslam's hit singles over the years. Listen and enjoy!
1. Song – Aadat
    Album – Jal Pari
Released – 2005
When Aadat was released and  Atif Aslam was still a part of Jal, it was all anyone could talk about. Even after his departure from the band and the subsequent re-release of the song, this track to date, remains one of the tracks that is still reminisced by all!
2. Song – Woh Lamhe
Movie – Zeher
Released – 2005
https://www.youtube.com/watch?v=q4qfncEjG5g
Back when Atif Aslam was establishing himself as a solo name in the music industry, his  song Woh Lamhe, took the Pakistani and Indian music industry by storm when this song was released as part of the soundtrack of the film Zeher.
So much was the hype of the song that it went on to be nominated for four awards at the Filmfare and IIFA and the Zee Cine Awards.
3. Song – Bheegi Yaadein
Album – Jal Pari
Released – 2004
To this day, Jal Pari remains one of Atif Aslam's most successful albums. Bheegi Yaadien despite not being featured in any movie, still remains one of his most popular songs along with Aadat and Woh Lamhe.
4. Song – Kuch Is Tarah
Album – Doorie
Released – 2006
With a hit debut album under his belt, there was no stopping the power singer. Atif Aslam's second record, Doorie, established him more of a hit with songs such as Kuch Is Tarah that went on to be featured in a Bollywood film after its release.  
5. Song – Doorie
Album – Doorie
Released – 2006
The title track from Atif Aslam's sophomore album, Doorie after years of being released, still remains one of his more lyrically strong songs out there.
6. Song – Hum Kis Gali
Album – Doorie
Released – 2005
Hum Kis Gali, further cemented Atif Aslam's credibility in the music industry- with catchy lyrics and a fun video, the song turned out to be another hit from the Aadat and Woh Lamhey powerhouse vocalist.
7. Song – Hona Tha Pyar
Movie – Bol
Released – 2011
Shoaib Mansoor's Bol became a hit for all the right reasons! With a stellar cast and a story that defined the odds, it had all the ingredients for an amazing flick.
What was even better was the collaboration of Atif Aslam and Hadiqa Kiani for 'Hona Tha Pyar' that went on to win and get nominated for several awards at the LUX Style Awards and the Pakistan Media Awards.
8. Dil Kare
Movie – Ho Mann Jahan
Released – 2015
Despite having a clichéd story, Ho Mann Jahan's soundtracks can be credited as some of the best tracks ever.
Atif Aslam's Dil Kare became an instant hit, adding to the film's already star-powered cast and catchy tunes.
9. Song – Mori Araj Suno
Movie – The Reluctant Fundamentalist
Released – 2013
Based on Mohsin Hamid's book of the same name, The Reluctant Fundamentalist's soundtrack struck right in the feels, comprising of both Eastern and Western artists.
Atif Aslam's Mori Araj Suno, combined with a powerful montage during the movie, set the tone for one of the most impressive tracks.
Atif Aslam & Ali Zafar Defence Day 2016 Song "Yariaan"- Watch Video
10. Song – Tajdar-e-Haram
Album: Coke Studio Season 8, Episode 1
Released: 2015
Originally performed by the Sabri brothers, Atif Aslam's soulful rendition of Tajdar-e-Haram in Coke Studio 8 made waves as soon as it was aired, becoming one of the most viewed songs of Coke Studio, with 40,151,168 views, till date.
11. Tera Honay Laga Hun
Movie: Ajab Prem Ki Ghazab Kahani
Released: 2009
Sung in collaboration with the popular India singer Alisha Chinai, Atif Aslam's song 'Tera Hone Laga Hoon' became on of the most popular tracks from Ranbir & Katrina's romantic comedy, Ajab Prem Ki Ghazab Kahaani.
12. Tu Jane Na
Movie: Ajab Prem Ki Ghazab Kahani
Released: 2009
Pertaining to the same romantic flick, Tu Jaane Na was one of Atif Aslam's most soulful renditions- the tragic song will sure make you long for your 'lost love'. The song was nominated in the
IIFA Award for Best Male Playback Singer.
13. Jeena Jeena
Movie: Badlapur
Released: 2015
https://www.youtube.com/watch?v=2grzqFvRNt8
Starring Varun Dhawan and Yami Gautam, the hit flick, Badlapur was a tragic love story about murder and revenge. The romantic track, Jeena Jeena by Atif Aslam sure set the temperatures soaring with his melodious voice! 
The song was nominated as the 
BIG Star Most Entertaining Singer (Male) & Filmfare Award for Best Male Playback Singer.
14. Piya O re Piya
Movie: Tere Naal Love Ho Gaya
Released: 2012
The 2012 romantic comedy flick Tere Naal Love Hogaya, starring the beloved duo, Genelia & Ritesh featured Atif Aslam's amorous track, 'Piya O Re Piya' and was on everyone's lips in no time! It's a must listen, guys.
15. Main Rang Sharbaton Ka
Movie: Phata Poster Nikhla Hero
Released: 2013
It'll be accurate to call Atif Aslam the 'King of Romantic' tracks! Sung in collaboration with
Chinmayi Sripaada, the melodious track was nominated at the 
World Music Awards for World's Best Song! Even though the film was not a major hit, the song garnered quite a lot of praise and attention owed to the 'Atif Aslam' magic!
Which one of these are your favorite?
Stay tuned to Brandsynario for more updates.