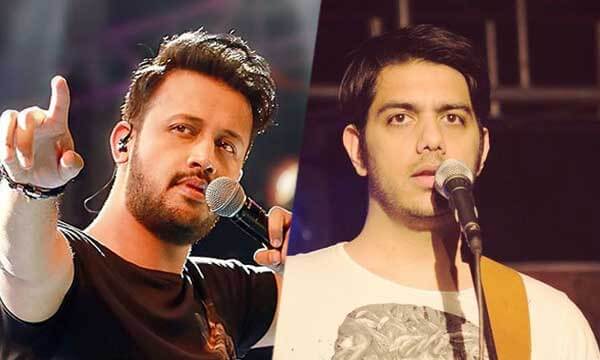 Atif Aslam has earned himself a huge name in the subcontinent. His husky voice dazzles music enthusiasts all over the world, earning him a plethora of accolades and making him the most sought-after singer.
Undoubtedly 2018 has been one of the most successful years for the pop-icon. As many as nine songs by Atif made it in Indian movies, despite the ban on Pakistani stars in Bollywood.
Atif Aslam's Concert in Dubai: Crowd Goes Crazy Over the Singer! [Watch Video]
Last week, the crooner sat down with a heart-to-heart interview with Samina Peerzada and reflected upon his rise to fame and days of glory.
The singer recollected how he broke up with Jal-the band and kickstarted a stellar musical career of his own.
However, Atif Aslam revealed some shocking details about the split while naming and shaming the leading Jal member, Gohar Rasheed.
The band made as many as six to seven songs together in a span of 3 years. But an ugly incident became the reason for Jal's downfall.
Atif revealed the whole story to his fans that began from the time his elder brother started managing the group.
My brother was managing us because he was working for a marketing company at that point in time.

He left his work as it was a full-time job. A monetary discussion never happened between us.
However, after a couple of months, Gohar Rasheed told Atif Aslam that they can not continue to perform in the band together.
When probed by Atif about the reason, Gohar demanded that his brother should manage the band as well if Aslam's brother will continue to be in charge.
Atif stated in the interview:
I got to know that the reason for gohar's demand was that you'll be getting more money than I will and that really annoyed me
Later, another feud between the band became the ultimate reason for the split!
The band was supposed to perform at a concert. After days of rehearsing and agreeing to perform together, Gohar demanded money from Atif prior to the concert.
When Atif Aslam denied receiving money before the performance, Gohar ditched him at the last moment to perform for another concert in Karachi.
Atif told Samina Peerzada:
"I understood then that it was sort of blackmailing, and I didn't have the money. Of course, if I had something then I would have definitely given it to him"
What was worse, Gohar lied to the concert management about Atif absence.
So basically he went there for [the band's] representation and he lied to them when they asked him where the lead singer is. He told them there's been a death in his family and he can't come
After the breakup, Aslam went solo. However, he revealed that he has no grudges against Gohar and has forgiven him for all that happened in the past.
 "I have met him a couple of times. He told me he regretted it, and I felt a little awkward"
Watch Atif Aslam's complete interview with Samina Peerzada here!
https://youtu.be/alMowTBixZg
What do you think about Atif Aslam's story about Jal's breakup? Let us know in the comments below.