May 13, 2020: Actor and model, Amna Ilyas, might be getting married. She revealed that she intends on getting married soon on a popular game show called Jeeway Pakistan that airs on Express Tv. 
The baji star revealed details upon the host's insistence that her husband is going to be someone with whom she has a working relationship, previously or in the present. However, she emphasized that it is not someone she is currently collaborating in a drama with.
Watch the full episode of Jeeway Pakistan with Dr. Aamir Liaquat Here: 
The person in question seems to be an actor as they share great chemistry, and both of their families are well aware of the relationship.
Illyas's upcoming venture, a Pakistani rom-com, Mastani, is all set to roll with co-star Affan Waheed. The film is written and directed by a US-based filmmaker, Usman Rizvi. The film will be released in Pakistan.
Ilyas had revealed in a different interview earlier that, "I play Aliya while Affan is Shakeel. More than romance, their chemistry is expressed through their deeply-bonded friendship. Shakeel works in an NGO, and he is more like the listener, the helper, and a generous man, while Mastani focuses on Aliya's non-conformist attitude that takes the story forward."
Have something to add? Let us know in the comment section below.
For more news and updates, stay tuned to Brandsynario.
---
November 14, 2019: The supermodel Amna Ilyas recently interviewed with BBC Urdu, where she open-heartedly talked about the discrimination she has faced due to her skin color.
Ilyas spoke blatantly about the double standards the entertainment industry has over color and how dark tones are always look down upon.
Colorism is a kind of racism in which people are distinguished due to their skin shade. Especially in the Sub-Continent or individually in our country, we worship lighter tones.
Amna Ilyas is All Geared Up to Rock Silver Screen After the Success of Baaji
Amna Ilyas is one of the maestro of the modeling industry who has established a profound image after going through a difficult time. While sharing her struggles throughout her journey, Ilyas highlighted the fact that her complexion did come in the way of success.
She also revealed how at the beginning of the career, she used to receive quite degrading comments on her color. Even in the early days of her teenage, she was forced to use whitening masks and all the remedies for complexion brightening.
"People don't realize how sensitive this is and what kind of impact it can leave on someone's mind, " –By Amna Ilyas 
After this heartbreaking revelation from Ilyas, many of her fans came forward in support. All of them could relate to Amna in one way or another. Not just fans, fellow stars also supported Amna's journey to fight dark-skin phobia.
Amna Ilyas is beautiful just the way she is. Dark skinned! https://t.co/9iJiFszQQ1

— Aamna Taseer (@AamnaTaseer) November 10, 2019
Amna's Instagram post was filled with such positive comments that it warms our hearts.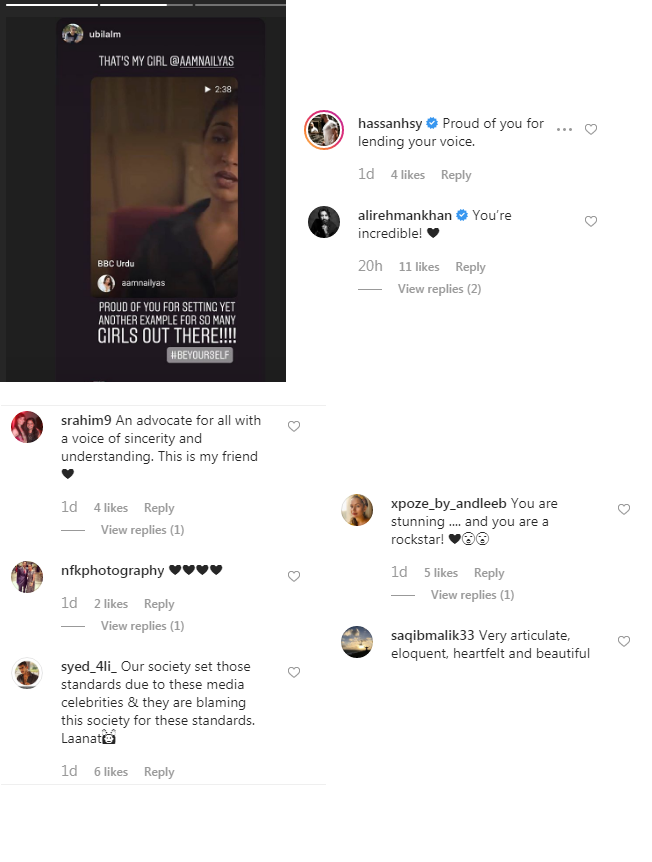 Probably Amna is not the only one who has faced all the discrimination in her life, and there are many more like us who face such demeaning behavior because of the color, height, or even weight. In our society, physical appearance is taken so highly that we also tend to ignore intelligence, kindness, or humanity over outer appearance.
Do you think we are becoming a little more accepting as a society after the response Ilyas got on her interview? Share your views in the comments below.
Stay tuned to Brandsynario to know more.