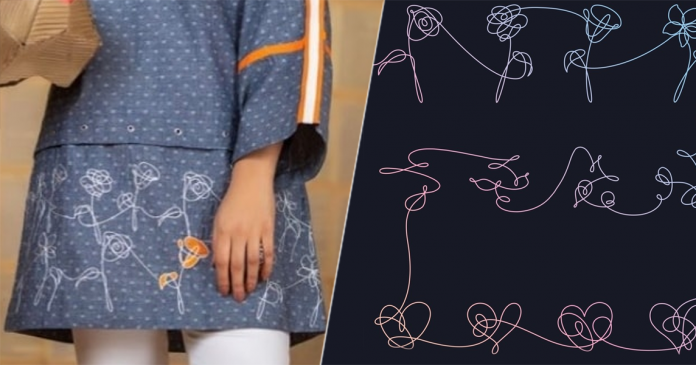 This is not the first time that someone has accused Pakistani designers, even the most renowned ones for plagiarizing works of art.
It's upsetting when you find out the lawn suit you JUST purchased for which you probably fought for and then stood in a two-hour-long checkout queue was in fact not an original creation.
Social media has pointed out that renowned brand AlKaram has also fallen under a similar accusation.
Reportedly, one of their prints is heavily-inspired ( or copied ) from the Korean Band, BTS's 2017 album's cover. The printed kurti (with a very peculiar bunny prop) was updated on their website.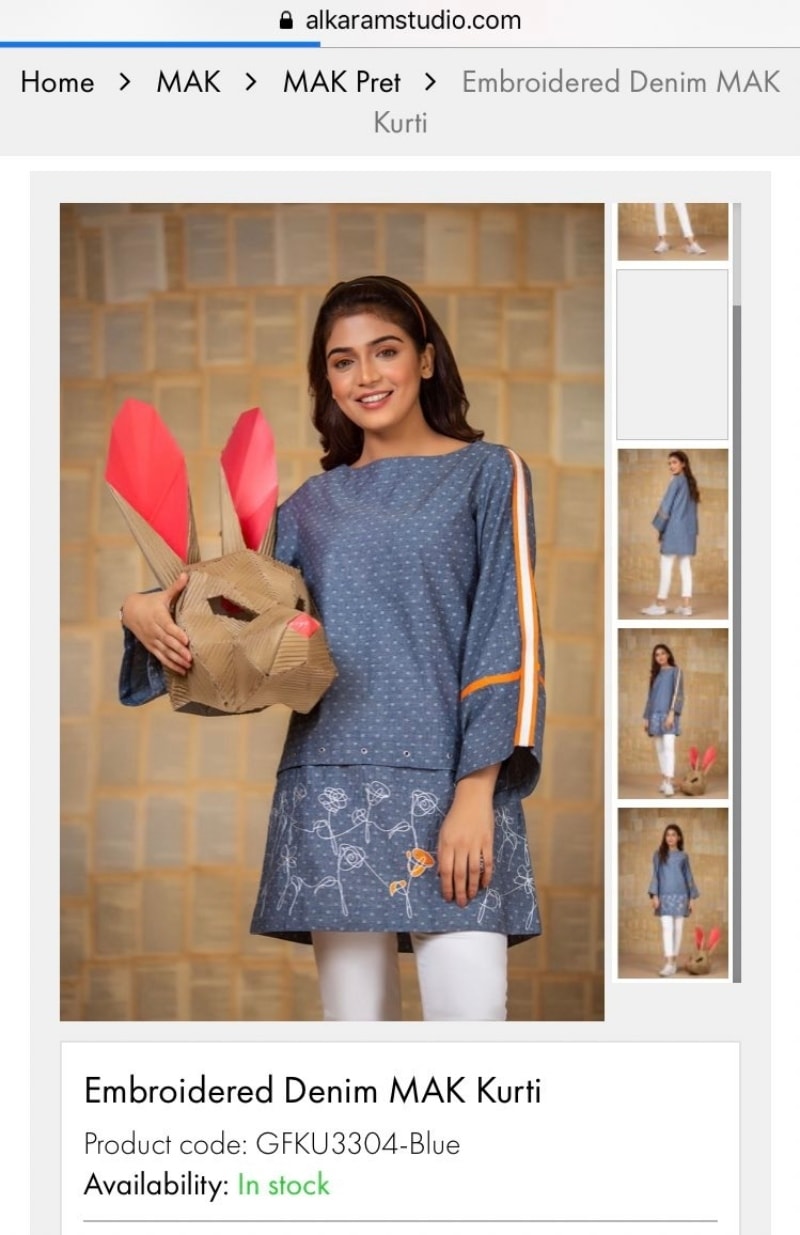 The Korean band BTS is a seven-member South Korean boy band with a huge fan following in Pakistan. It is also popularly known as the Bangtan Boys,
A fan pointed out at the copy via a tweet
Apparently @alkaramstudio lacks the ability to hire designers that can make original designs. They literally COPIED bts's LY:Her album art and embroidered it on a shirt CLAIMING it to be their own. This isn't just a shop selling merch. Its AN ACTUAL CLOTHING BRAND. pic.twitter.com/cLUjbvQCPK

— meganeatisto (@meganeatisto) November 21, 2019
However, the brand claims it to be an original design. 
They claim it to be an "original design" pic.twitter.com/ZIJflmoUS2

— meganeatisto (@meganeatisto) November 22, 2019
This has outraged many fans who now seek an apology from the brand. 
@alkaramstudio y'all better issue an apology and..
Well you know what, y'all getting sued by @BigHitEnt 🙂

— ChimChan has exams [ REST ] (@Oumaya_Chan) November 22, 2019
Another user contacted AlKaram regarding the concerned issue
I contacted Alkaram via Insta. They are working on it.@bts_pk_official @pakpromo_league pic.twitter.com/aNBZ5T3A0i

— 🇵🇰 l رومیسہ (@PakBangtan) November 22, 2019
Alkaram has taken down the kurti from the store and will be removing it from all outlets. Their gesture is appreciated but the question is why should such a situation occur, to begin with?
UPDATE!!!
The "sold out" sign shown on site was not because it was actually sold out.
The shirts will be removed from stores in the next few days too! pic.twitter.com/iwuNEIOQop

— meganeatisto (@meganeatisto) November 22, 2019
In the era of social media and globalization – when everyone knows everything and the public isn't as naive as they are believed to be, brands ought to be cautious.
Brands like Sapphire, Sana Safinaz and Cross Stitch have also fallen under the fire for plagiarism.
Alkaram Studio has officially shared:
Thank you for pointing this out. We have removed the outfit in question from our ecommerce portal and are in process of withdrawing from stores.

Moreover, the designer responsible is no longer associated with Alkaram Studio.

Alkaram remains committed to respecting designs, authenticity, and originality, and will continue to do so to the best of our abilities.
What do you all think about this?  Share your thoughts with us below.
Stay tuned to Brandsynario for more news and updates.