It has not even been a month since 2021 arrived, and the year has already been eventful for the smartphone and technology world. With the Samsung S21 range being revealed to the public yesterday and several gadgets being introduced at the event, the smartphone industry has already started to release the latest smartphones and accessories for the customers to purchase. At Samsung's eventful "Unpacked" event, Galaxy Buds Pro was also introduced to the public.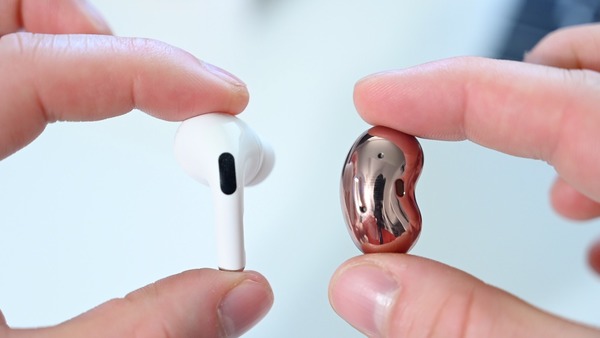 A Detailed Comparison Of Samsung's Galaxy Buds Pro To Apple's Airpods Pro:
It is impossible to talk about a smartphone, a smartwatch, or wireless earphones and not compare a company with Apple. With smartphone companies and their fans clowning Apple every year to make a bold decision, they are disappointed when their favorite company ends up taking the same route, whether it's a screen-notch, charger-less boxes, or an enormous price-tag for their gadgets.
The Samsung Galaxy Buds Pro features an 11-millimeter woofer for deeper bass and a 6.5- millimeter tweeter for richer treble, along with a reduction of background noise to up to 99%. It is also to be noted that Samsung did not mention anything about sweat proofing the earbuds, which we are yet to find out once we get the experts' hands-on reviews.
Apple Airpods Pro
Whereas the Apple Airpods Pro features a noise-isolating design, with a high-quality sound and more bass. The earphones are sweat-proof, which is a relief for those who are into fitness and workout often while wearing them.
The Galaxy Ear Buds have a 5-hour playback from each earbud, and the box has a charging of over 13 hours. On the other hand, according to Apple, the Airpods Pro has 4.5 hours of listening time with the charging case capable of charging the earphones for up to 24 hours.
When it comes to pricing, Samsung has priced the Galaxy Buds Pro at $199, whereas Apple prices its Airpods Pro at $250, making it more expensive than Samsung's Galaxy Buds Pro.
Since the Galaxy Buds Pro has just been released, there is no definite conclusion that can be drawn as of yet. Once more people get to use them, after a while, it would be better to decide which wireless earbuds one should opt for. However, since the AirPods Pro was released back in October 2019, they received a lot of praise from tech enthusiasts.
Also, check out a detailed comparison of Apple Airpods Pro's features with Samsung's Galaxy Buds here.
Follow Brandsynario for more news & updates.