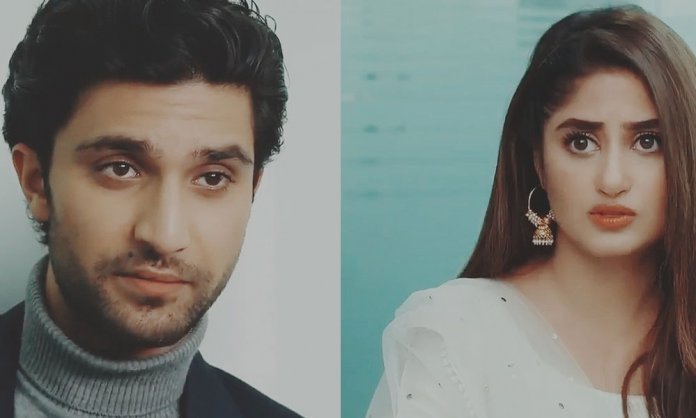 After smashing hits like Yaqeen ka Safar and Aangan, the reel-life and now the real-life couple is all set to wow the audience one more time in upcoming drama Yeh Dil Mera.
This will be their first project after they announced their engagement and fans cannot wait or contain their excitement.
Hum TV released a teaser and that was enough to make everyone impatient.
Sajal too shared a promo giving us a glimpse of their chemistry in the drama.
#YehDilMera pic.twitter.com/UoXFOyRVY9

— Sajal Ali (@Iamsajalali) October 19, 2019
The clips suggest the two will meet and eventually fall in love. What's even better is that this time around, they seem to be doing a cute romantic performance, unlike their previous projects which were heavy on grief and were much more serious.
However, the plot also portrays workplace harassment, which is pretty cringeworthy. Only further promos or teasers can prove if the play actually promotes it or not.
For now, die-hard fans cannot stop admiring Ahad Raza Mir and Sajal Aly's chemistry in upcoming drama Yeh Dil Mera.
"Toh abhi tak mai tumhe interview mai pasand aya hun?"😭😭😭😭😍😍❤❤❤❤

Gimme this show right now.I can't wait till next Wednesdayy😭💔💔#Sahad #YehDilMera pic.twitter.com/HoXxgo562j

— Javs. (@javeria_16) October 19, 2019
Still swooning over these two & some of these shots 😍😍 #YehDilMera #SaHad pic.twitter.com/7kJwub0dnd

— 🤓 | 🇬🇧🇧🇩 (@shamsia_b10) October 20, 2019
Oh my God people got no chill😂😂 y r they forgetting its from the same makers who made excellent shows to create awareness abt sensitive issues such as rape, domestic violence, child abuse etc. There is much more than wat is being shown in the teaser. #YehDilMera https://t.co/2kvzOIU4bR

— Norah Bing (@BingNorah) October 20, 2019
Sometimes just take a step back, look at the writer involved, the director involved, and the actors involved. Let the story play out and if it's problematic, THEN talk. It hasn't even started yet. 🤦🏽‍♀️🤦🏽‍♀️ #YehDilMera

— SophiaQ (@SophiaAQ) October 20, 2019
An aesthetically pleasing couple with an aesthetically pleasing backdrop. #YehDilMera pic.twitter.com/nQRqh0ukKo

— the feminist types (@adambeyzaar) October 19, 2019
While others think it's inappropriate to romanticise harassment.
No offence but if anyone conducted an interview like that in real life it would be creepy af and qualify as sexual harassment. Our TV writers need to stop framing male creepiness as romance.

— Lovely Lapparr (@KacchweKiJawani) October 20, 2019
What the hell? Stop romanticising harassment. Some of us have been actually harassed by our bosses and there's nothing cool or romantic about it. Jesus.

— Sindhu (@Sindhu_Abasi) October 20, 2019
THIS IS WORKPLACE HARASSMENT!!!!!!!

— Fizza (@fizza_qureshi24) October 20, 2019
If somebody dared to ask me such questions in an interview, I'd have walked out. It is so cringy.

— Regina Phalange (@farwakanwal) October 20, 2019
@Iamsajalali – You're promoting a heinous offence and nothing else.
Giving validation to something that should be condemned in the strongest possible terms.

— M. Adam Anees (@adamanees) October 20, 2019
Only time will unfold the plot and we're equally impatient to find out more regarding the Sahad chemistry.
What do you think about the play, so far? Comment and let us know.
Stay tuned to Brandsynario for more news and updates.