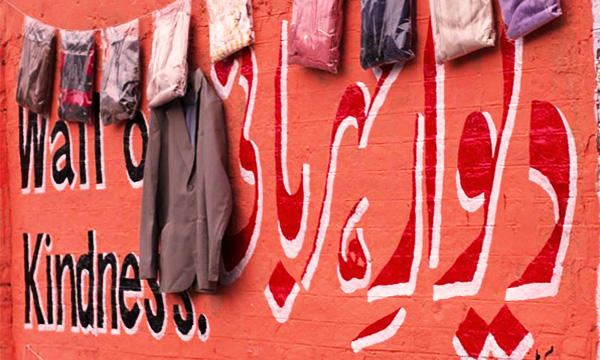 Deewar-e-Meherbani or the Wall of Kindness is making it's way from Iran to Pakistan. Last year, some anonymous Irani citizens across the country initiated a social betterment project by only painting a wall and erecting hooks on them.
The project started from Mashhad and quickly spread to other cities as well. People would hang warm clothes, boots or anything they chose to donate or could spare to help get the underprivileged through the harsh winters.
Wall of Kindness in Karachi:
[fb_embed_post href="https://www.facebook.com/Ahsan.Khan34/posts/10153529350498031/" width="550″/]
Wall of Kindness in Sahiwal:
The charity corner, set up by the activists of social organisation 'Pursadaran-i-Husain' at Tainkiwala Chowk on Feb 14, invites the passersby with a slogan: "Leave what you do not need" and "take it if you need".
Abbas Zaidi, the man behind the wall idea, told Dawn the wall was like a place where people would leave their surplus clothes, food items and other usable items for the needy people who pick what they need.
Wall of Kindness in Islamabad:
Deewar-e-Meherbani in Islamabad set up by Asad Chaudhry at 6th Road Siddique Chowk Satellite Town:
Wall of Kindness in Peshawar:
The best part being that anyone who needed anything could take anything they needed without feeling awkward or undignified. This project soon picked up momentum and also went viral on social networks for the simplicity and success it garnered.
Replicating and implementing the same idea, instructors at Bahria College including Ismat Ali and Maria Waqas as well as their student, have successfully placed the Wall of Kindness in Karachi on Friday, 15th January.
They are not only providing clothing and other wearable but also packaged edibles and milk as well.
Pakistan is considered one of the most charitable countries across the globe. At a larger scale, NGO's and other welfare programs, citizens individually and in groups also donate to charity and work towards poverty alleviation.