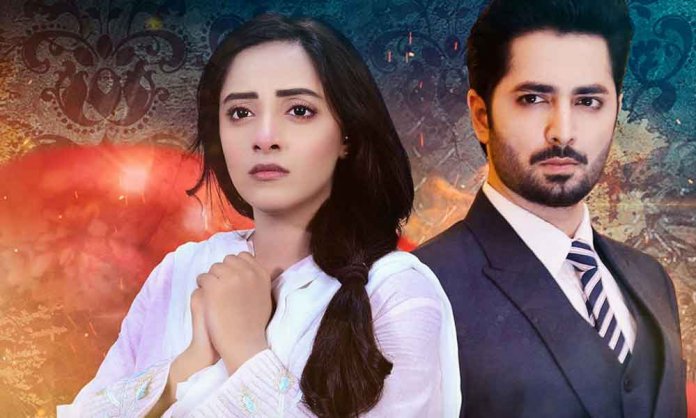 Ab Dekh Khuda Kia Karta Hai is an ongoing drama on Geo Entertainment. It is gaining huge popularity for its gripping story that highlights some of the social evils that prevail in our society.
Directed by Syed Ali Raza Osama of 'Khuda Aur Mohabbat' fame, it stars the Ru Baru Ishq Tha duo, Danish Taimoor and Sanam Chaudhry, in the lead.
Plot of Ab Dekh Khuda Kia Karta Hai
Danish Taimoor as Jan-e-Alam is playing an antagonist in the story who is a wealthy businessman. He uses his position to manipulate young girls for his own benefits by offering them jobs and ironically, is super protective for the women of his own family.
Maryam, played by Sanam Chaudhry belongs to a lower-class background. She unknowingly becomes Jan-e-Alam's yet another victim. When she refuses to be a part of any inappropriate stuff, he traps her in a business scam.
This story of abuse, fraud, and revenge unfolds as Maryam decides to get justice for herself while everything in her life falls apart.
But will she be able to do that and will Jan-e-Alam get to taste his own medicine? Watch Ab Dekh Khuda Kia Karta Hai every Tuesday at 8:00 p.m. on Geo Entertainment.
Cast
Danish Taimoor
Sanam Chaudhry
Humayun Ashraf
Yashma Gill
Qavi Khan
Sajida Syed
Rashid Farooqui
Parveen Akbar
Salah Uddin Tunio
Faizan Shaikh
Maryam Noor
Ali Rizvi
Talat Iqbal
Farzana Thaeem
Written by
Ameer Shah
Directed by
Syed Ali Raza Osama
Produced by
Babar Javed
Schedule
Every Tuesday (Started from 7th August)
Timings
8:00 p.m.
Promo
https://www.youtube.com/watch?v=U-9obD6LklI
Stay tuned to Brandsynario for more updates and news!