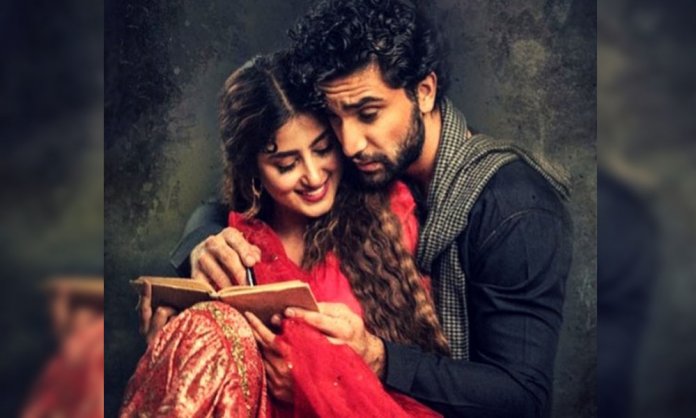 Finally, Aangan's followers can peacefully enjoy the show now that the favourites of fans, Jameel and Chammi have made their first appearance in the latest episode!
The internet is surely loving it!
The first 3 episodes of Aangan focused on the development of each character and made us relate to each of them in their own special way.
However, things moved pretty fast in the fourth episode, where the sudden demise of Maalik (Abid Ali) lead to the separation of the whole family.
As unfortunate as it sounds but the best part of yesterday's episode was that our favorite characters Jameel and Chammi are all grown up now and we got a few glimpses of the oh-so-amazing chemistry of our favorite onscreen couple, Ahad Raza Mir and Sajal Aly.
Where Jameel is an aspiring poet and seems quite rough and tough, the gorgeous Chammi is a jolly outspoken girl – they make a perfect couple!
Have a look!
Ahad and Sajal only shared the screens for a few scenes, but, it was enough to calm the cravings of their die-hard fans who have been impatiently waiting to see them.
And the social media feeds are filled with their pictures because Aangan is trending everywhere!
It felt so good to see them back onscreen! Chammi is like a breath of fresh air and Jameel character seems a bit more decent really looking forward to seeing these character evolve ❤️ #Aangan #JameelAurChammi pic.twitter.com/biH6byqqBz

— Gia Khan 🇵🇰🇨🇦 (@Miss_Khan990) January 11, 2019
"Toh kya karoon.. yahan FA ka dakla sar par hai aur apke sabzaade ke pass dakla fees ke paise nahi hai. Apne miyaan se kahe ke inqilab pe lanat bhej kar meri is azaab se jaan churaye"@ahadrazamir your dialogue delivery 👌🏼so good to see you back onscreen🙌🏼#Aangan #Jameel pic.twitter.com/ID0nlnXOkc

— Gia Khan 🇵🇰🇨🇦 (@Miss_Khan990) January 11, 2019
the angry and vulnerable side to jameel! I can't wait to know him more. @ahadrazamir #aangan pic.twitter.com/tA1na0P5n6

— Nims (@thatgirlnims) January 11, 2019
And they just can't stop drooling over Jameel!
I can stare at this gif my whole life sighh 😍@ahadrazamir #aangan pic.twitter.com/kZl2kFjd1T

— Nims (@thatgirlnims) January 11, 2019
#Aangan
His Dam killing Expressions😍❤️❤️❤️😘😘 pic.twitter.com/r48XpDDyXa

— Ayesha Ash (@AyeshaArooj172) January 10, 2019
THAT EYEBROW RAISE THOUGH! @ahadrazamir 🔥#Aangan #AhadRazaMir pic.twitter.com/ntRfRnBWb3

— Joweria (@JoweriaMalik_) January 10, 2019
Everything apart and the beauty of this cap apart 💕#Aangan pic.twitter.com/WzZit1hsCk

— Abeera 💫 (@abeerayy_19) January 10, 2019
The fact that Aangan is not available on YouTube has got many fans upset but seeing their favourite onscreen couple after a long time on TV screens diluted all the anguish away!
Jameel aur Chammi. They literally put soul in this dead and boring drama. Can't wait to watch more of them 🔥💘#Aangan #JameelAurChammi pic.twitter.com/7iNNjhWPdh

— Kiran (@KiranRaza01) January 10, 2019
Apart from the drool-worthy chemistry of Ahad and Sajal, another interesting fact of the show was that our favorite Ahsan Khan is going to play two different characters in the drama.
Ahsan Khan, who is playing the role of Subhan, will now also be seen as Safdar, Subhan and Salma's son, who has been brought up by his uncle, Mazhar (Omair Rana) after Salma's death.
However, poor Safdar is not well-liked by his aunt (Madiha Rizvi) who keeps taunting him on the smallest of things.
I felt so bad for him😫❤
Safdar truely don't this at all….. Aaliya ki amma is a Devil#Aangan pic.twitter.com/BQ8icqXvNv

— MiLi (@iMiLiKhan) January 10, 2019
The promo for the next episode shows that another fan favorite Mawra Hocane as Aaliyah, the narrator of the story of Aangan will make her first appearance and we are already intrigued!
Originally published on Very Filmi.
Stay tuned to Brandsynario for more updates and news!
Sajal Aly Breaks Silence Over Her Relationship With Ahad Raza Mir