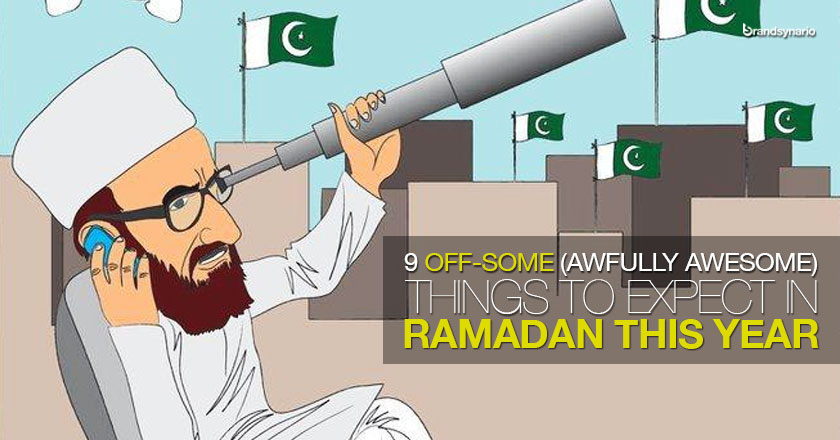 The countdown to Ramadan has begun. 
While at one side we have our mommies and daddies who are rushing to supermarkets to pile up boxes of Laal Sharbat and chutnis, on the other side, there are people like Aamir Liaquat and Waseem Badami who are gearing up to fight the battle of TRPs  in the holy month.
Ramadan in Pakistan isn't just about fasting but a lot more than that; here are a few mandatory things that you should expect this Ramazan that are bound to happen, no matter what:
1. The Heat
Not to remind you about this but Ramadan is arriving in less than a week and the scorching sun has already begun all ready to fulfill its responsibility of making us sweaty and cranky.
Oh yes, there would be people who take the words "fast and the furious" literally.
A cool advice for them, this unbearable heat is for all; anger will get you nowhere, so be patient because isn't fasting all about that? 
2. Load Shedding
While the essence of Ramadan is about blessings, it seems that WAPDA and K-Electric don't really believe in that essence. 
Although they have promised that there would be no load shedding during Sehri and Iftar timings, our instincts and prior experiences tell us otherwise. 
On top of that, some areas might even face load shedding of gas, imagine your paratha waiting to get done before the call to prayers!
But anyhow, let's just hope for the best and pray that they stick to their words.
3. Price Hike
OUR REACTION WHEN WE HEAR AALO IS NOW RS -80/KG
In other countries, Ramazan calls for products to be sold at cheaper rates. In Pakistan it is quite otherwise. Fruits, vegetables, milk, you name it and we've got it; all would be sold at rates higher than those in the previous month.
As if the Budget 2016 isn't enough to add more woes. 
4. Ramzan Transmissions
Oh boy yes! Within a few days the hoardings of the city will be replaced with the promotion of Ramadan transmissions and those pretty Lawn ladies will go in the back-drop (duh, sanctity has to be maintained).
Running on every channel during Sehri, pre and post Iftaar timings these transmissions will have many shows about the importance of Ramadan.
Famous hosts, celebrities and religious clerics would turn into entertainers, singers, counselors and what not, only to lead the ratings or drop them real low. 
5. The Ultimate Cat Fight
Love it or hate it, these cat-fighting transmissions have now become a trend in Ramazan.
Instead of respecting the virtue of the month we'd see "great" hosts like Amir Liaquat and the duo of Waseem Badami and Iqrar-ul-Hassan pulling every possible stunt to get in the lead.
These stunts would vary from giving up orphaned children for adoption to huge game shows to insulting a man on his hairstyle, making the 30 days of Ramazan full of meaningless competition. 
But oh well, this is how one becomes the "Entertainer of The Year"and bags a huge contract, no?
6. The Social-Media Maulvis
As soon as the moon would be sighted, there would be many on Facebook, Twitter, Instagram getting in their holier-than-thou mode criticizing every move you make.
They themselves would have updated their Baby Doll statuses a day earlier but in Ramadan it'd all be holy and pure. They would post pictures of all those holy quotes on IG and oh their new Hijab style too.
But after each Tarawih, they'd catch upon all the movies until Sehri arrives and till they get back to their Ramadan mode.
7. Food and Some MORE Food
How can we forget one of the best aspects of Ramadan? The food itself!
From scrumptious Khajla-Pheni in Sehri to Hot Samosas, gooey Jalebis and tasty Chaat in Iftar, Ramadan becomes a month of sharing happiness through food.
Even the advertisements give such a blissful feeling of Ramazan.
8. All-You-Can-Eat-Deals
Be it Pizza, Burger or just Desi cuisine; all, I repeat all eateries come up with the best deals in town for both Sehri and Iftar. With discounted rates, families and friends plan their Iftaar parties accordingly. 
And those All-You-Can-Eat deals are always super popular and sometimes they are so popular that some people take the deal literally, stuffing themselves more than enough to skip the sehri of the next day and in some cases, the roza itself. 
9. Iftar Parties and Sehri Meet-Ups
Ramazan also becomes a reason for sharing joys and happiness. While families plan Iftaar parties and hold reunions, guys plan night-outs, playing Night Cricket matches till Sehri.
No matter what happens, Ramadan brings with it an air of peace and harmony. Amidst all the problems we do wait each year for its arrival and cherish it later.
Most importantly, let's hope that this year's Ramazan brings tolerance, prosperity and becomes a reason for our eternal bliss.
Contributed By: Zoya Anwer