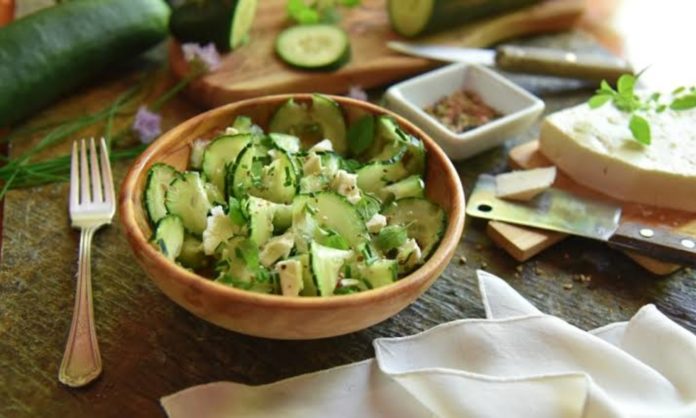 When the weather gets warm, it's hard to resist the allure of a classic cucumber salad. Crunchy, juicy cucumbers combined with a zesty or creamy dressing will always leave you feeling refreshed on a hot day. It's a great side for just about anything you put on the grill – chicken, steak, and fish.
Try these delicious recipes when you are in the mood for light and healthy lunch.
1. Cucumber Vinegar Salad
This cucumber-vinegar recipe has the perfect balance between sweet and sour flavors, plus a hint of fresh dill. The red onion adds nice crunch. Enjoy this salad right after you're done making it or store it away to snack on for later.
2. Pineapple-Cucumber Salad
Enjoy this sweet, refreshing salad alongside grilled meat or fish to cut through the richness and refresh the palate. When pineapple is in season, it's best to buy fresh and chop it yourself. Look for a pineapple with a golden-yellow exterior, which is a good indicator of ripeness.
Read More: 5 Places To Find The Most Refreshing 'Matka Chai' In Karachi
3. Creamy Cucumber Salad
A refreshing accompaniment to a main course of meat or fish, this cucumber-yogurt salad also makes a tasty filling for pita bread. If the cucumbers are grated instead of chopped, this mixture can be served as a dip.
4. Cucumber Pasta Salad
This light and tangy pasta salad is fresh and bright. The pasta holds the dressing for flavor in every bite, and you can use different small pasta shapes if you like. This easy recipe is perfect for a warm day or to serve as a lunch dish for company! For a fruitier flavor, try apple-cider vinegar in place of white distilled vinegar.
5. Creamy Tuna Pasta Salad
This creamy tuna-cucumber recipe is an easy side dish for any summer BBQ. The tuna provides an enriched flavor without feeling heavy on the stomach. Enjoy this salad the day you prepare it so the ingredients don't turn watery.
6. Watermelon, Cucumber & Corn Salsa
This refreshing summer salsa combines cooling watermelon and cucumber with the kick from tomatoes. The tomatoes provide a tangy flavor while balancing the overall taste. Serve with tortilla chips on the side.
Read More: 5 Places To Find The Best Hotpot In Karachi
7. Cucumber & Avocado Salad
This healthy cucumber-avocado salad takes just five minutes to prep. Lime juice and fresh herbs boost the bright flavors in this crunchy recipe that's a perfect side dish for grilled chicken, fish, or steak.
Which recipe did you enjoy the most? Let us know in the comments section below.
Stay tuned to Brandsynario for the latest news and updates.