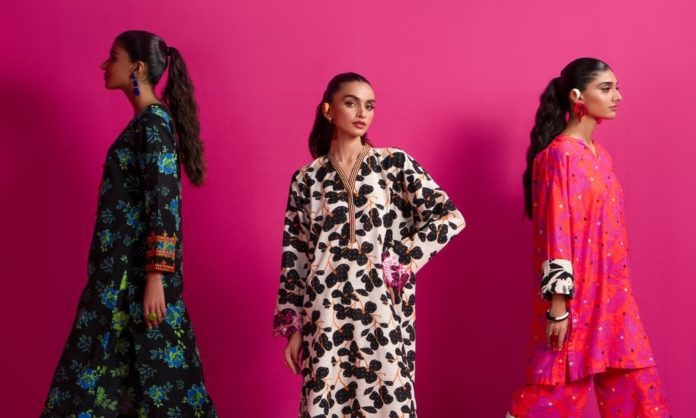 The fashion landscape in Pakistan is ever-evolving, and the fall-winter season of 2023 is no exception. With the brisk winds and cozy vibes of autumn setting in, fashion enthusiasts across the country are eagerly anticipating the newest trends and collections to grace their wardrobes. Pakistan's fashion designers and brands have once again dazzled us with their flair, unveiling collections that perfectly blend style and comfort for the fall-winter season.
Here are some of our top picks from this year's winter collection.
1. Misha Lakhani – Old Money 
Misha's fall-winter collection is a harmonious blend of tradition and modernity. Expect to see rich colors and delicate prints that reflect the brand's signature aesthetic. Their versatile range offers everything that exudes class and old money trends.
2. Sana Safinaz – The Epitome of Luxury
For those who seek luxury in every stitch, Sana Safinaz's fall-winter collection is a dream come true. Their collection boasts lush fabrics and opulent embellishments.
Read More: Hussain Rehar Rubbishes Alisha Yazdani's Accusation Of Stealing Art
3. Sapphire: Embracing Elegance
Sapphire, known for its contemporary yet traditional designs, is making a statement with its 2023 fall-winter collection. This year, they are all about rich, deep hues and intricate embroideries. From sumptuous velvet suits to cozy shawls, Sapphire offers a wide range of options for women looking to stay chic and warm.
4. Agha Noor – True To Name
Agha Noor is offering its collection staying true to warm tones and neutral colors a perfect option for those who like to keep their style chic without experimenting. The use of warm, earthy tones and soft fabrics ensures that you're both comfortable and fashion-forward during the colder months
5. Nishat Linen – Old School Charm
Exude old-school charm with their collection of karandi shawls and intricate embroidered patterns in both pret and unstitched collections. From plush coats to regal shawls, it's all about indulgence this season.
Read More: Formal Dresses You Can Rent Online In Pakistan
Which one reflects your personal style? Let us know in the comments!
Stay tuned to Brandsynario for the latest news and updates.