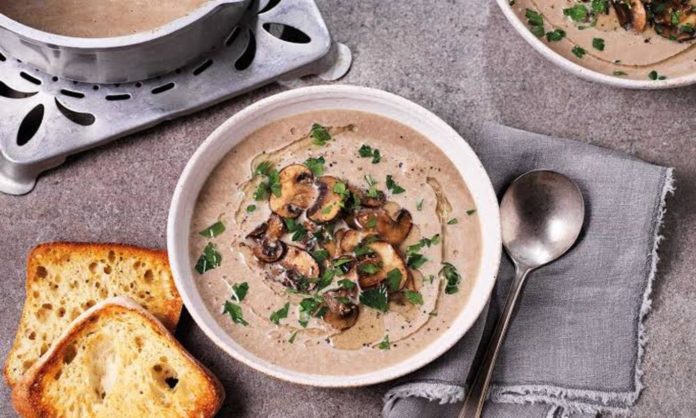 The cream of mushroom soup is a must-have for any dinner or luncheon. It sure feels like a warm bowl of hugs and if you haven't tried it, you are missing out on something big. If you are a big fan then chances are that you have tried the best ones available in the city. However, now is the time to try cooking it at home so you can enjoy it whenever you want.
Here we are sharing some of the best mushroom soup recipes delicious enough to make you ditch your next dinner reservation.
1. Easy Mushroom Soup 
This easy-to-make and quick recipe by food fusion is everything you need to try this winter. Served with fresh homemade bread the perfect balance of spices and the texture of the bread is enough to give your meal the perfect touch.
2. Mushroom Soup 
This mushroom soup recipe is not your average soup recipe. However, it is still easy enough to be tried by newbies. All you need is a big skillet pan and a handful of ingredients.
Read More: Pasta Hacks That Will Take Your Cooking To A Whole New Level
3. Homemade Cream Of Mushroom
This recipe is probably one of the best handpicked we have seen on the internet. The elaborated cooking tutorial is enough to make you crave a warm bowl of soup. Not to mention the easy instructions and easily available ingredients which you can find in your pantry.
4. Mushroom Soup
This recipe is a perfect pick for when you are craving soup on cold winter nights. The recipe is delicious, easy to make, and a perfect option for beginners.
5. Creamy Chicken & Mushroom Soup 
This recipe is not your traditional mushroom soup recipe. Yet it offers a traditional taste adding the perfect hint of taste to your palate.
Read More: 4 Places To Find The Best Roadside Chinese In Karachi
Which one would you try first? Comment below.
Stay tuned to Brandsynario for the latest news and updates.