Pasta can be ridiculously delicious and comforting. With so many types to choose from, you can come up with endless options to experiment with. Be it summers or winters; pasta can be enjoyed all year long. That's how amazing it is! *getting carried away here*
Even if you're inexperienced, cooking/baking pasta is the easiest thing to do. You just can't go wrong with it. However, for beginners, skipping the baking would be a wiser option to prevent your pasta from burning. Yeah, burnt pasta is a no-no.
Pasta is usually one of the first few things people opt for making when they're learning how to cook. Moreover, it is one of the dishes where one can be extremely creative! So, it can be made with types of meat and veggies. No kidding!
Oh yummmm…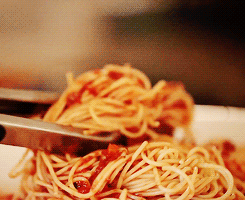 Not only that, but in case you think pasta is unhealthy, you're wrong. As mentioned above, pasta comes in so many various forms; Even in whole wheat! So, yes, you can add in all your veggies, proteins, olive oil and enjoy it like there's no tomorrow without worrying about gaining a pound!
Making it is so simple, especially if you're planning on making a one-pot pasta. 
What is one-pot pasta?
To make one-pot pasta, all you need is a single pot/pan and your ingredients. Just ONE. No extra bowls, utensils, and pots. Everything goes in that one pan/pot making your lives easier and super convenient!
One-pot pasta is best for couch potatoes or a busy weekday
On a super busy day or when you just to be a couch potato, this is IT. One-pot pasta  So, to save lots of time and a sink full of pots and pans, we're about to make your lives so much more comfortable with these 'one-pot' pasta recipes.
So, whether you're in the mood or not, these one-pot pasta recipes are sure to please your tummy. Also, the weekend is right around the corner t
1. One-Pot Chicken Fajita Pasta
2. One-Pot White Sauce Pasta
3. One-Pot Easy Spaghetti
4. One-Pot Vegetarian Pasta
5. Easy One-Pot Mac n' Cheese 
So, if this wasn't easy, I don't know what it is. Just some pasta, few ingredients, a pot, and voila! Well, since it's almost the weekend, surprise your fam by serving them a beautiful warm dish of this one-pot pasta and enjoy it with your favorite Netflix show. You'll thank us later!
Did these easy one-pot recipes make you drool? Which one are you planning on trying first? Let us know in the comments below!
Keep following Brandsynario for the latest news and updates.